OCC Rescue

Beez Neez
Skipper and First Mate Millard (Big Bear and Pepe)
Tue 20 Jul 2010 22:51
OCC to the Rescue of a Baby Leatherback Turtle
Ocean Cruising Club members from sailing yachts Badgers Set, Beez Neez and Freya of Clyde were joined by non members El Lobo (but we are working on them) on a trip organised by Jesse James – Maxi Taxi Tour Service - also Port Officer for the Trinidad and Tobago Branch of the OCC. We set off from Chaguaramas in the early evening, stopping for a Chinese meal en route to Matura Beach, hopefully see baby Leatherback Turtles leaving the nest to begin their epic journey of survival with the hope that many return to mate and nest in the future.
Matura Beach on the east coast of Trinidad is a globally important nesting site for the endangered leatherback turtle (Dermochelys coriacea). Supporting two to three thousand leatherbacks annually, one of the top five most valuable nesting beaches in the world for this Critically Endangered (cf. IUCN) species. Due to the high rates of slaughter of egg-bearing females during the 1970' and 80's, the Wildlife Section of the Forestry Division met with the Matura community to find a solution to the problem.
Historically, hundreds of nesting turtles were killed annually for human consumption and sport each year at Matura. In recognition of their inability to adequately manage the leatherback nesting population and realising that most killing was not down to the local villagers or their friends, the Wildlife section promoted the concept of a village based management effort. In 1990 a state-sponsored community training course led to the formation of a non-profit organisation called "Nature Seekers". Later with further technical training and support of the Wildlife section and the Wider Caribbean Sea Turtle Conservation Network (WIDECAST) and certification as honorary game wardens, these trained volunteers continued patrolling the beach on a nightly basis to prevent turtle poaching and to collect data on the nesting turtles.
Over eight years of tagging from 1998-2005 a total of eight thousand, two hundred and thirteen Leatherbacks, fourteen Green and eighty four Hawksbill turtles have been recorded on Matura Beach. After turtles were tagged here they have been seen in the waters of, or nesting in Venezuela, Nova Scotia, French Guiana, Surinam, France, Spain and almost every state in the US on the Atlantic coast. Starting in 2005, Nature Seekers began a project to weigh a sample of all nesting female leatherbacks at Matura Beach to compare that weight to a number of size variables of each turtle. This study will evaluate the relationship between the size and weight condition of the female and their egg production. When preparing for reproduction the female must sequester large quantities of fat, which is used in egg production, migration and to support the turtle during the nesting season, most species, it is believed do not feed during this time. The need to have appropriate fat stores is so great that is a factor controlling whether the female nests each season or only every two to five years.
Matura Beach welcomes over nine thousands visitors annually. Nature Seekers is monitoring this activity to determine whether a nesting turtle is disturbed or if this disturbance has any long-term impact. Leatherbacks have a higher resistance to aborting a nesting attempt than other species, which makes the assessment of the impact of visitors more difficult but beach workers have long noticed the amount of time spent on each part of the nesting process when bothered.
How can we help?
Invite friends and relatives to visit turtle nesting beaches to support conservation efforts.
Write articles to the newspapers with information to educate people about the need to protect the endangered marine turtles and their nesting habitat.
Avoid dumping garbage and other pollutants into the marine environment. Turtles mistake plastic bags for jellyfish, eating them can make the animal feel bloated so they starve to death.
Refrain from buying products and food made from turtle shell and meat.
Adopt a turtle.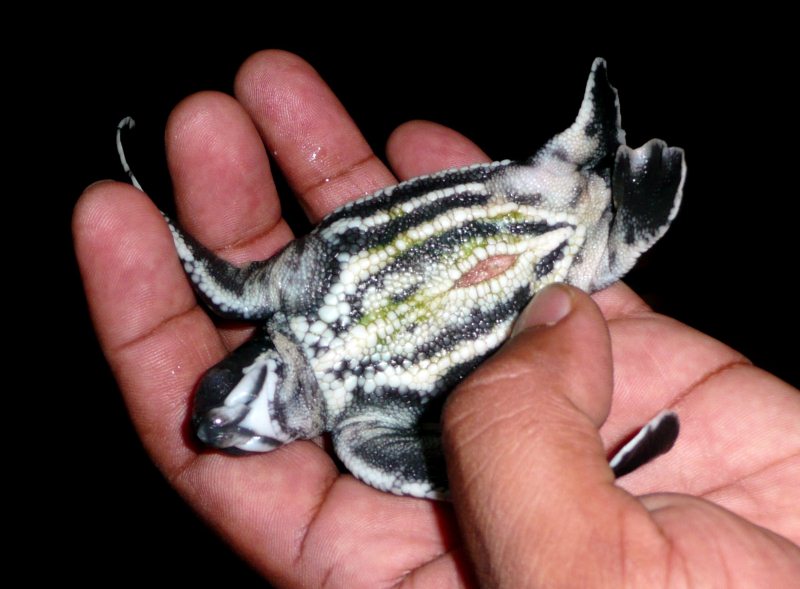 We arrived at Matura and were met by Curtis one of the volunteers who showed us three babies that had hatched that very evening. He pointed out the yolk sack on the underside of one of the babies - this sack will sustain nutrition for up to two weeks until the baby can feed himself. Then as a group led by Jesse we went off in search of hatching nests. We walked up and down the five mile beach several times with no luck. Then Jesse using red torchlight found a nest that had recently hatched and began digging.
Jess showing how deep the nest is. It had a well defined 'bowl shape' he could feel around
He has been to this beach many times each season for some fourteen years. He is well aware that the stronger babies push out of the nest first and sometimes weaker ones end up below the leaving mass and effectively get buried alive. As he dug deeper he began to pull empty shells from the sand and the smaller false eggs that are laid to aerate and pad the fertile eggs.
Soon he pulled out an exhausted but spirited youngster.........
......who after a wash and some tender loving care from the very concerned group, seemed to rally.
After half an hour we all watched with the gazes of worried parents ............
..........as our little chap headed down the beach and out into the waves. We wish him all the luck in the world.
To celebrate this rescue and to fulfill the need of a bottle of suds (Ken), Jesse found a bar in the middle of nowhere. Photograph of the evening was taken by the bar lady. Holding the OCC flag is Anne and Alan – Freya of Clyde. Us behind. To the right is Judith and Ken – Badgers Set (celebrating their forty-second Wedding Anniversary. Congratulations to them). To the left is Pat and Mike – El Lobo, the ones we need to persuade to join the club. Jesse at the front was very concerned about his attire, but after his valiant digging efforts had removed his sandy outer garments – fine with us Jesse. Then it was back on the bus to get home for two in the morning. Tired but full of hope for our "Little Chap".
ALL IN ALL EVERYTHING IS CROSSED FOR OUR "LITTLE CHAP"
---