Day 1 little look

Beez Neez
Skipper and First Mate Millard (Big Bear and Pepe)
Sun 3 May 2009 21:52
Day One
This was what we got up to this morning. To our starboard side we can just see Jolly Harbour Resort ( the next bay to us ). Behind us just the most beautiful water and a catamaran heading south.
Bear sprung up to go and check us in at 08:00 to be told to "return later", he came back with a few forms to fill in and we sat for a while just taking in the scenery. At ten thirty we both went, something I have never done, but Bear wanted us to both spuddle together. The view in front of Beez - turn right just beyond the sand to find the entrance to Jolly Harbour proper, here there are a few mooring buoys at $10 per night. Some of the original properties are this side, built around a man-made lagoon.
Straight ahead was the Customs, Port Authority and Immigration Offices to the right Jolly Harbour Marina, which looking at it is on the left of this photo.
Bear was second in queue and we thought as most of the forms were complete we would be done in minutes. WRONG. The customs man - who was wearing heavy jeans and proper shoes with his polo shirt - was having a hissy-fit because his air-con had stopped. He sat outside and the queue just got bigger. He said he "would give the engineers half an hour to arrive to fix it, or he was going home". Eight sets of crew wanted to leave the next day for a rum tour down the chain to St Lucia. One of the chaps shut the Customs door which help cool the inside as he thought he could hear the air-con working. We were told that IF the Customs man went back inside he would only clear in/out five boats. So we all sat around and chatted and had a thoroughly nice time, there was an American who told us about the San Blas Islands, a local who was English, gave us a run down of the island and where to explore. He also told us of the 340 new builds 70 were still vacant, we may go for a nozz at those before we leave and a German boat that had arrived with a crew of three, leaving with nine. Eventually Bear was called in.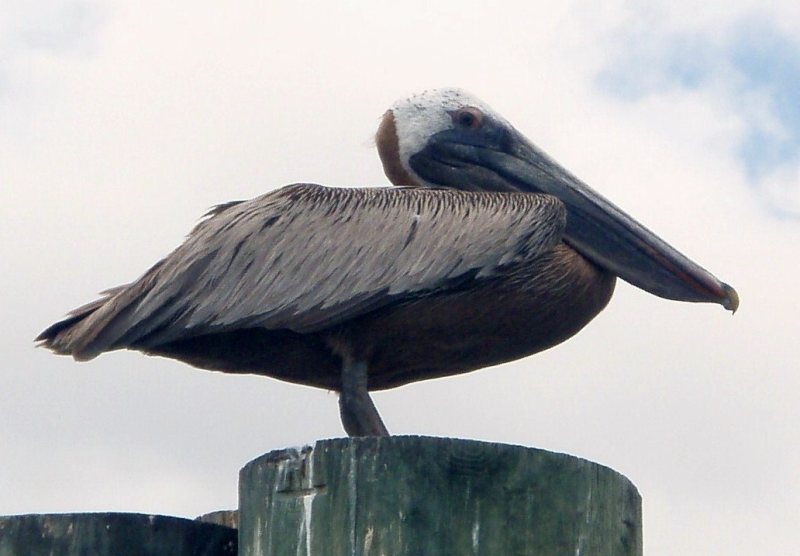 While Bear was in - I went meet a new friend. Two hours later we found the supermarket bought some bread and mince. Found an internet cafe, fed some mince to a huge land crab and off back to Beez.
We went round to the bay to our left called Five Islands Harbour and found a smashing beach on Stony Horn Bay but very steep after ankle deep to four feet deep, then it levels out into rocks to snorkel over. Bear was very chuffed with himself finding some shells without my glasses on.
This hermit crab according to his footprints had walked miles, we thought he may be in need of a new shell and offered him two. He examined them both, said "You offer me the choice of a mansion or a block of flats, I'm not interested in moving or your sales patter, I was quite happy bimbling along in my cottage."
"In fact I'm moving no further until you have gone", with that we left him alone.
We found a sea cucumber and it sprayed Bear. Driftwood and a marvellous rain-cloud.
One of the Five Islands (small outcrop) next to us is a nesting ground for black headed terns, beginning to pair up, chatter, bathe and dig in the sand for bits to eat. The colour of the rocks go from sand to deep red.
Back to Beez for a gentle sunset.
ALL IN ALL a happy day
---