Leaving Moth's

Beez Neez
Skipper and First Mate Millard (Big Bear and Pepe)
Fri 30 Mar 2012 22:37
Sadly, Time to Leave MOTH's
Wednesday. During the week – when not being dragged out "to fill the lungs with fresh air", I have been slowly taking over Low Barn conservatory with all things wedding flowers. Here is the dining room table (thank heavens it's a big one) being readied for the production of the decoratives that will adorn the main staircase of Mount Edgcumbe. Miffy and Rachel have been to visit once or twice with encouraging words like "Oh, just give us a shout and we can come over to lend a hand." ........as they are seen hot-footing it to their car manfully switching off mobiles as they rush away.............
"Nothing for it but to get a prototype built and follow it." Yes Moth
The production line begins, not without stiff libations of course. "No ice, relatives on the Titanic you know." Yes Moth
Thursday. Last bits in production and the dining room table begins to reappear
Biaga can sense our imminent departure from Chez Low Barn and becomes very clingy – even Beds is heard to say a few comforting words
She is unmoved as Bear wiggles in and stays put as I climb aboard. She stays with us for most of the night, knowing looks at our bags
Saturday. Sees Moth and I working at the staircase. Ever the Girl Scout she has come armed with chicken rolls and cappuccino. Bear was busy loading our kit into our room at the pub down the hill.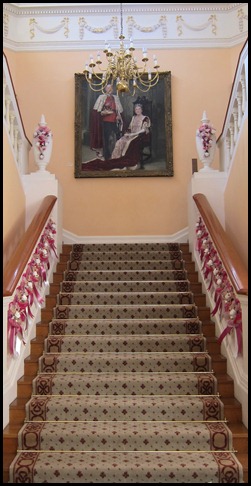 Staircase finished, there are a few minutes for Bear to get his 'gunney finger' in use, then take me on the Torpoint Ferry to pick up the real flowers. Moth behind us in Gloria, trotted across the ferry to begin the degrees of separation.
In the small wee hours, things start to take shape. Our room smelling like a perfume factory and needless to say a couple of sherbets to keep mind and soul together
ALL IN ALL TIME TO CEASE BEING CONJOINED
---