Chaguaramas

Beez Neez
Skipper and First Mate Millard (Big Bear and Pepe)
Mon 27 Jul 2009 12:49
Chaguaramas
Trinidad and Tobago is now a favourite destination for cruising sailors. Oddly enough a few years ago, yachts rarely visited these islands. It was felt that Tobago was too far to the east, hard to get to and most yachties thought there was nothing in Trinidad for them.
Attitudes began to change when Don Stollmeyer, the manager of a yard called Powerboats decided to invest in a used fifty ton travel lift. The only way to justify it was to expand into hauling visiting yachts. Within twelve years this has grown into a thriving industry of yacht services involving well over a hundred businesses and thousands of people.
It also put Trinidad and Tobago on the map for cruisers who came to haul out, have work done and stayed to explore another side of Trinidad; an island whose exotic and flamboyant nature includes rainforests and swamps with monkeys, macaws and manatees as well as being the biggest nesting ground for the giant Leatherback Turtle in the Caribbean. They fell in love with Scotland Bay where you can wake to the sounds of Howler Monkeys and parrots. They discovered one of the most fun-loving and hospitable people in the Caribbean. People who invented steel pan and calypso and whose carnival is considered by many to be the best in the world. When the fun gets too much, they found, as Trinidadians have long known, that a week or two in Tobago is the perfect way to relax.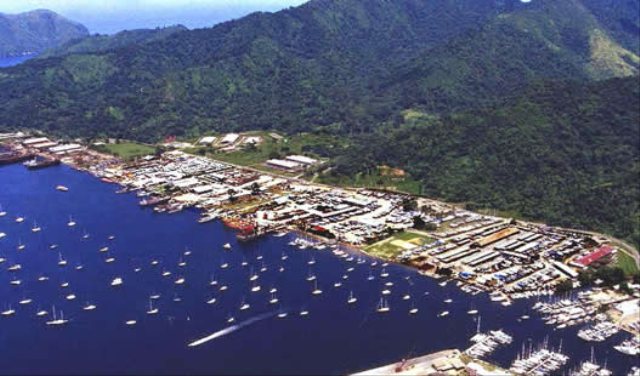 Chaguaramas Bay we are anchored just where you can see the streak of the path of a speedboat
Boatyards
Chaguaramas Bay was a major base for the Americans during the WWII and over thirty thousand used to live here. There were major shipyards among other facilities. It is now a National Park, which aims at combining park areas with eco-friendly economic activities. Yachting has taken a firm hold in this area and tourism is encouraged.
Chaguaramas Bay is in hilly countryside and from the anchorage you get a pleasing view of several islands. The area supports large numbers of pelicans, corbeaus (vultures) and frigate birds. Laughing gulls are noisy and parrots fly overhead. On the dock, Kisskadees wake you in the morning with their cheerful cries and sound a lot better than an alarm clock.
Most yachting facilities can be found here in Chaguaramas, it is close to Monos Island, Gaspar Grande and Scotland Bay. It is within walking distance of the TTSA - Trinidad and Tobago Sailing Association, access to town is easy, not far from the airport and most yachts use it as a base in Trinidad.
IMS is a haul out facility with a seventy ton marine hoist and room for one hundred and thirty boats on the hard.
The boat hoist, the list of services here and one area of stored boats taken at 22:00 showing how well lit the yard is
Peake Yacht Services, the one we chose, is both a marina and haul out yard. The stern to dock has room for about seventeen boats. A small hotel called The Bight has ten rooms at fifty US Dollars per night and an indoor/outdoor bar/restaurant, all other services such as laundry, dinghy dock etc.
Peake has a one hundred and fifty ton hoist that can handle yachts with as much as a thirty one foot beam and fifteen feet of keel below the straps. One advantage to us is the size of the hoist means we don't have to take down the fore or backstay. Room for three hundred and fifty yachts and catamarans on the hard with shrink wrap facility for the long term storer, also a secure locked area at extra cost but you cannot live aboard there OR have work done on the boat.
The amazing racks of powerboats, we watched a forklift truck very busy at the weekend unloading and reloading.
Powerboats despite its name deals with more yachts than powerboats. It is both a haul out facility and a marina with room for about thirty boats. It has the only general fuel dock in the area, you can fill cans in opening hours but if you want to fill your yacht you have to book first or they get stroppy - we have been told - sometimes. Fifty ton travel lift and can store about two hundred and fifty yachts. It also has huge racks for powerboats which the locals are passionate about. The Roti Shack is closed on a Sunday evening but they allow yachties to use their outside tables to meet up, taking their own drinks and nibbles.
Sweet Water Marina deal with mainly sport and fishing boats.
Tardieu Marine is usually full of commercial fishing boats and their support services.
Coral Cove Marine is both a marina - about forty boats with some finger berthing and haul out yard with space for seventy boats. We heard on this mornings "net" a local information broadcast where yachties can listen and take part on channel 68 that a boat here had been broken into, indeed the locked compound was reported as never locked. We have been generally warned here to nail everything down. Coral Cove has a sixty ton marine hoist and has a fourteen room hotel with cooking facilities in each room, twin at fifty five pounds and Queen size deluxe room at sixty pounds per night. Small swimming pool also. Joe's Italian restaurant and sign, just for you Joe.
At first glance this lady seemed destined for the "one careful owner" file, but then we saw the for sale sign AND someone tinkering around on her
Tropical Marine seem to be a bit of a graveyard and is mentioned to show this fine specimen "for sale". Can take about twenty boats, not sure how they get into the field though.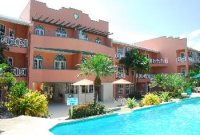 Crews Inn. The location, parsey entrance, posh facilities, hotel seen through the slips, the pool
Crews Inn Yachting Marina and Hotel is the largest dock facility to date. Customs and Immigration is here and this is your first port of call on entry to Trinidad. They offer by far the fanciest marina with seventy slips with water, telephone, optional wi-fi, cable TV and electricity. They regard all slips as hotel rooms providing laundry, dry cleaning, food service and use of the pool and other facilities. There shower and Laundromat are the best and the most luxurious with hot showers included. A daily newspaper is dropped on the boat before breakfast. We had lunch in their Lighthouse Restaurant and we thought the marina was particularly rolly. The hotel may be posh but at one hundred and fifty US Dollars a night, way too expensive. If your yacht is in their slips the price is reduced to one hundred and thirty seven Dollars PLUS slip fees. At the moment due to the credit crunch they are offering one night free if you stay three. Two nights free if you pay for five.
The crane and Shipwright building, Bear in the Lighthouse Restaurant and the slips
Crews Inn has the largest marine hoist in the region at two hundred tons and all work is done in a giant converted bauxite shed with two point seven acres under cover and eighty feet of vertical clearance, known locally as the Shipwright Building. We can see no sign of outside yacht storage and wonder if it is actually a crane that does the lifting.
The list of services here as taken from Doyle's
ALL IN ALL QUITE A PLACE
---