Final Clean Up

Beez Neez
Skipper and First Mate Millard (Big Bear and Pepe)
Sun 7 Jul 2019 23:57
Final Clean Up
Today we went to tame the very heavy net set. We began by floating the beast and soon noticed this was two net hobbled together. Sharp knife, some sharp maneuvering and we ended up with a decent sized cargo net for the rubbish pile and a heavy piece to hold all the old fishing floats from wandering off.
So neat, once we had the net in place, then we found a slatted wooden whatever which became a decent weight.
The storm of a few days ago brought in a huge amount of coconut flotsam.
Bear found a few more bits for the pile.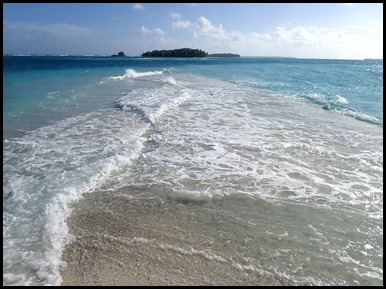 A really high tide had seaward and atoll waves clashing.
The terrific force, just ankle deep, was not to be messed with.
Wave watching in lovely blues.
A chap on his way to a meeting.
Hard to believe, but each and every shell in the picture is a hermit crab.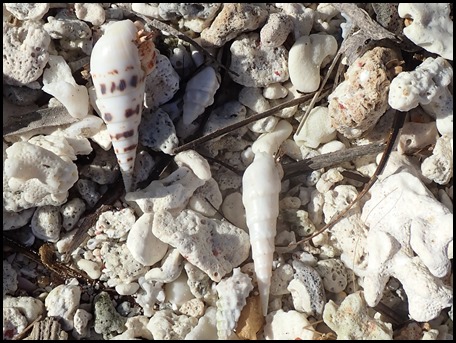 Still not sure if long shells are an efficient shaped home.....
Quite proud of our tidy beach, that is, until the next storm brings in more rubbish.
ALL IN ALL A GREAT SENSE OF ACHIEVEMENT
OCEAN RUBBISH SCOURGE – MAINLY PLASTIC BOTTLES & FLIP FLOPS
---