Dorothy Falls and Creek

Beez Neez
Skipper and First Mate Millard (Big Bear and Pepe)
Mon 1 Sep 2014 22:57
Dorothy Falls and Creek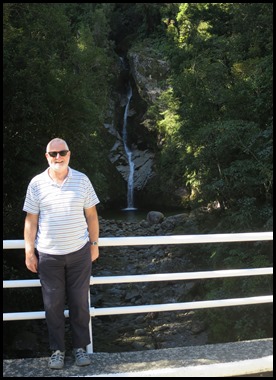 I knew this day was getting closer, to write a blog that is, well how suitable to write one dedicated to my mum – Dorothy Millard. We parked Mabel just behind the bridge over Dorothy Creek. I posed in front of Dorothy Falls and then we took the dozen or so strides to stand in front of the falls.
The bottom of Dorothy Falls. If we zoomed in we could make out the top.
Next up was the Dorothy Creek Walk through the woods along the track.
The path went through a natural 'gateway'. The trunk was a deep red colour.
The trees thinned out and we found ourselves walking beside Dorothy Creek.
The very shallow water slowly joined Lake Kaniere.
Lake Kaniere was huge and mirror still.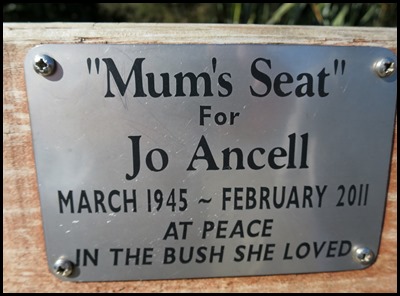 Incredibly, just behind my mum's creek was someone else's mum's seat. I sat for a while and thought about mum.
Meanwhile, mischief was planning. "We've done enough reflections, we've done the splosh at Peter's Pool. Now I'm after the reflection in the reflection." Right then. I tried to please with a couple of small stones, but refused flatly to lift the suggested railway sleeper, although I had to agree it "would have made one girt big splash." Back to stone selecting.
I had to agree that this effort was a puny one. "Our blog readers demand more." Yes dear. So we went back to the original launch site, bigger stone......grr.
I was rather pleased with our best effort.
Back to Mabel and onward to find a picnic spot by the lake. Farewell to the Dorothy's.
ALL IN ALL MUM'S FAME HAS SPREAD
A LOVELY LOCATION
---