Exploring Gustavia

Beez Neez
Skipper and First Mate Millard (Big Bear and Pepe)
Sat 27 Mar 2010 23:57
A Bimble Around Gustavia
Just near Beez Neez was Artemis, her friend from St Thomas seen in all her glory as we headed to explore the town
Off we went with my cool looking co-pilot
First the Tourism Office to gather detailed maps, info and amazing booklets on the town and the island
The Sous-Prefecture, The Swedish Bell Tower and the very Parisian side streets
In the early eighteen hundreds the Sous-Prefecture was planned as the first school in Gustavia. This solid stone building was used instead for meetings, parties and galas. In 1819 it became a prison and during the twentieth century served as a school and cafeteria for short periods of time. Since 1975 it has been used as the administrative headquarters for the French Governmental Services in St Barthelemy.
The Swedish Bell Tower was, like so many buildings, seriously damaged by the hurricane of the 2nd of August 1837, but it was quickly restored. The bell served to call the faithful to services, a signal previously given by drummers in the garrison. Since it was restored again in 1931, the bell tower has had a large clock on the façade facing the centre of town.
We could not get over the very Parisian feel of the whole town, along the harbourside were the sorts of high end, designer label and exquisitely expensive shops you would expect in Paris
The Wall House
This stone building sits on Place Vanadis, one of the largest structures in Gustavia - its history is largely unknown. Some people think it served as a space for performance and entertainment, while others think it may have been a hotel, a place for political meetings or simply a store. No matter what it is the only building of its type in the town. The name may have come from Job Wall, an American who called himself the Consul of the US in the late 18th century. Today the ground floor is a museum, the upper level a library
Time for Bear to choose an eaterie - many wide and varied types of food in all kinds of buildings (The Vietnamese is in what was the Swedish Vicarage)
He chose a very French café by the waters edge so we could watch the big ships come in
At dusk we watched the big racers come stern to -
-- stunning as night fell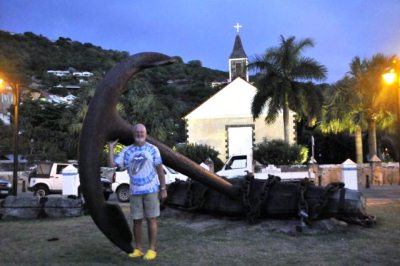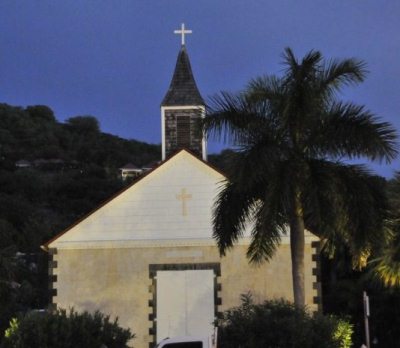 The Anchor outside the Anglican Church
Just behind the café was this huge iron anchor weighing ten tons. The words Liverpool....Wood....London engraved on it. It was discovered in 1981, when it was accidentally picked up by a tugboat - slowed him down a tad. No one is sure if it was dragged from Charlotte Amalie by a container ship or as some researchers claim, it came from a ship dating back to the American Revolution.
The Anglican Church was built over a period of five years from 1853 to 1855. The walls of this small structure are of local stone, whilst the façade facing the port, is limestone. The wooden shingle roof was replaced with corrugated iron. The decorative bell is original wooden shingles. Time to find Beez in the dark, always fun.
ALL IN ALL A REALLY PRETTY TOWN
.
---