Queen Anne's Revenge

Beez Neez now Chy Whella
Big Bear and Pepe Millard
Thu 22 Dec 2011 23:37
Queen Anne's Revenge
In November 1996, the commercial salvage company Intersal, Inc. reported the location of an unidentified shipwreck just outside Beaufort Inlet to North Carolina archaeologists. Though not yet definitely identified to date, many researchers believe the remains represent the long-lost flagship of Blackbeard, the fabled Queen Anne's Revenge. State archaeologists and historians continue on-site investigations, excavation and research.
A scale model showing the dive site and search grid
If the physical remains of Blackbeard's flagship have indeed been found, they will have lain relatively undisturbed and unnoticed for almost three hundred years. Many years of collecting, listing, analysing and preserving lies ahead. Little is known about the origin of Blackbeard the pirate. Documents suggest both Bristol and London, Jamaica and even Philadelphia as his home. He is said to have operated out of Jamaica as a privateer during Queen Anne's War (1702-1713) prior to becoming a pirate.
Historical sources vary as to Blackbeard's real name. Although popularly known as Edward Teach, documents of the time indicate that his surname was most often written as Thatch. It appears that he started his life as a pirate alongside Benjamin Hornigold whose activities began as early as 1714, it is not known however, exactly when Blackbeard joined forces. The earliest mention of Blackbeard by name is found in a ships captains report indicating he was on the Bahamian island of Providence in March 1717.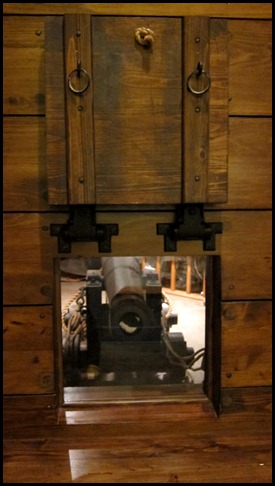 4-Pounder English Cannon: Cannon C4 was loaded, like most of the guns so far recovered from the wreck site thought to be that of the Queen Anne's revenge. It bears typical English-style weight and proof marks. The weight mark: "6-3-7" (6 hundredweights of 112 pounds, 3 quarterweights of 28 pounds, and 7 pounds) indicates that the gun weighed 763 when cast. The proof mark "P" demonstrates that the cannon successfully passed official testing (including firing the gun with a double charge of powder) and, therefore, was considered safe for service. The barrel carries no date but the initials "JF" appear on one trunnion. This mark is probably associated with Major John Fuller, who operated the Heathfield Furnace and Gun Foundry in Sussex between 1694 and 1722. (Museum exhibits staff reconstructed the carriage based on the dimensions and characteristics of 18th century English examples. Sadly there was a 'no touch' sign up but believe me Bear's trigger finger was quivering so much in anticipation, he had to put said hand in his pocket.
Blackbeard captured the Concorde – a French slave ship off the Caribbean island of St. Vincent on the 28th of November 1717. The pirate exchanged his smallest sloop for the slaver and transformed her into his flagship. French historical records indicate that the Concorde was between two and three hundred tons with an original armament of fourteen cannon and a crew of seventy five men. Her new master strengthened her fire power to forty cannon, renamed her the Queen Anne's Revenge and spent the next six months in company with smaller sloops harassing shipping throughout the Caribbean and up the eastern seaboard of North America.
Blackbeard captured over fifty vessels, some in association with others such as Hornigold and Stede Bonnet. Blackbeard had such an terrifying reputation that most captains gave up without a fight. Arriving at Charleston in late May 1718, Blackbeard began taking on all ships coming in or going out of the harbour. The blockade only ended after colonial officials met the pirate captains demand for a chest full of medicines.
Following the loss of the Queen Anne's Revenge and a smaller consort sloop, Adventure, aground off Topsail Inlet (present day Beaufort Inlet). According to reports left by some of the pirates present that day, Blackbeard did this on purpose in order to break up his company of three to four hundred men. This effectively meant that items plundered to that point only had to be shared between some forty or so men.
Blackbeard made his way to Bath. There in June 1718 he received the King's Pardon from North Carolina's Governor Charles Eden. Blackbeard however, soon returned to his former activities. He was eventually tracked down to Ocracoke Inlet, North Carolina, by volunteers of the Royal Navy and killed in a brief but bloody battle with Lt. Robert Maynard on the 22nd of November 1718.
Blackbeard's sloop Adventure being pursued by Maynard's Jane and Ranger. Blackbeard's capture.
Battle over
Maynard returned to Virginia in triumph with Blackbeard's head hanging from the bowsprit of his own captured sloop
ALL IN ALL AN EXCELLENT EXHIBITION
---