SL To AP Sea Trials

Beez Neez
Skipper and First Mate Millard (Big Bear and Pepe)
Sun 3 Mar 2019 23:57
Trincomalee To Autopilot Sea Trials
The 28th of February was supposed to be a rest day doing nothing but as happens on Beez Neez – we got busy. We stripped the bed, washed some of the salt off and Bear nipped ashore in search of the laundry while I cooked. A long lunch and back in the groove of a game of backgammon. Bear put the covers up, I wrote a blog or two and buried myself in admin (credit card bills, chasing Chagos Permit and..... etc). A minute late, so it seemed, sunset.
1st March. Bear back to his old tricks of 'laying down on the job' as he tackled the naughty autopilot............. Words were bluer but you get the drift.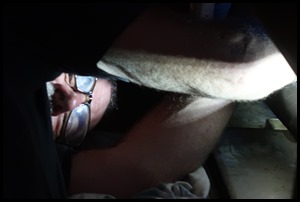 Whilst the skipper 'rested' huh and thrice huh, madam.....I stood by in the cockpit to turn all the way to the left, now right, now middle. More harsh words and a few stern words and the skipper thinks we are ready for sea trials.
2nd March. We did have a day off and it began with Bear's Egg Event, one of my Aunt Ett's had a flick of Bear's but inside – perfection. The rest of the day was spent organising our road trip. Beginning Friday the 8th, we head for Colombo stopping at Lion Rock en route. Then on to Galle, Ella, Nuwara Eliya, Kandy and then back to Beez.
3rd March. Time for autopilot sea trials. Permission needed from Port Control to lift anchor, spuddle about in circles nearby and back to anchor. "Let us know when anchor down again". Soon from 2 metres below to ten, Bear took the wheel. Much clicking of buttons, a very serious amount of concentration and an hour later I think all is well, it is performing and getting more accurate as we spuddle. A very deep sigh of relief.
I get the best view at anchor time................
ALL IN ALL HUGELY RELIEVED
SUCCESS
---