Skylon Tower Lunch

Beez Neez now Chy Whella
Big Bear and Pepe Millard
Mon 16 May 2011 17:08
Lunch at The Skylon Tower Revolving Restaurant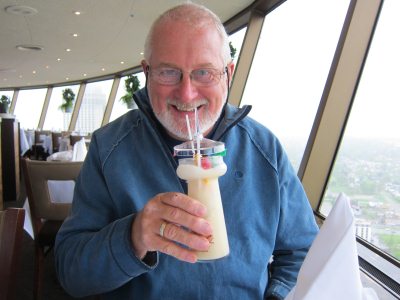 Finally, I get Bear up the Skylon Tower for lunch. Soon up the elevator, first view and a cocktail in hand
We passed the
Niagara SkyWheel which
is a 175-foot tall

Ferris wheel

in the middle of

Clifton Hill

, taking 12-15 minutes to go round. It has 42 Swiss-manufactured, fully enclosed passenger cars for 8 people, designed to resemble the London Eye. Designed by

Ronald Bussink

Professional Rides and manufactured by

Chance Morgan

, Niagara SkyWheel opened in 2006 at a cost of $10 million.
We pass the river with views of the American and Luna (aka Bridal Veil) Falls.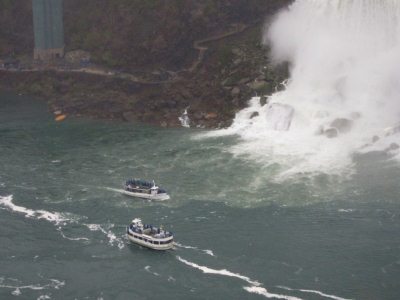 We watched the Maids of the Mist as they carried their frozen passengers, feeling cold for them
We watched them fight their way up to the Horseshoe Falls and turn with their now soaked and frozen passengers
We enjoyed going a full circle twice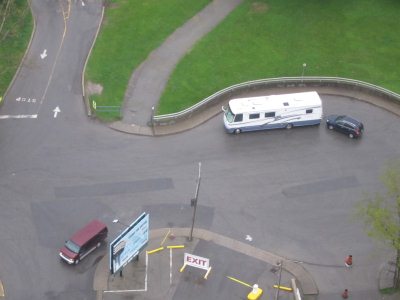 Everything looked so small below, we watched as an RV did a quick u-ee

Some of the information signs as we circled. Must not put gloves on the side as they slowly disappear..........
Bear gets his decorated piece of cake - at last
After lunch we actually got to spend a little longer on the observation deck, but not that much longer in the freezing wind.
Quick Facts about the Skylon Tower:
520 feet high.
800 feet above lower river.
80 miles is the maximum visibility on a clear day.
265 seat dining room rotates once each hour.
14.5 miles per hour is the average wind speed.
91 miles per hour is the maximum recorded wind speed.
200 tons and 108 foot wide is the dome, it was assembled at ground level and raised 380 feet, lowered after concrete was poured and set.
662 steps to the top.
1000 pin hole lights
24 hours per day for 38 days, the shaft was poured continuously as the slip form was raised at one inch every ten minutes and gradually reduced in size as it moved upwards.
72 feet is the shaft diameter at the bottom of the tower.
33 feet is the shaft diameter at the top.
3,200 miles of electrical wire and cable.
Lower areas contain 180,000 square feet of display area.
50 feet below ground the foundations extend.
13,200,000 pounds of concrete is contained in the base.
48,000,000 pounds is the total concrete poured.
Construction began May 1964.
Skylon Tower opened on the 6th of October 1965.
Architects: Bregman and Hamann of Toronto, Ontario.
Constructed by: Pigott Construction Company of Hamilton, Ontario.
ALL IN ALL A SPECIAL LUNCH
SOMETHING I HAVE ALWAYS WANTED TO DO - LUNCH ON THE TURN
---