Delhi Bits 1

Beez Neez now Chy Whella
Big Bear and Pepe Millard
Thu 11 Apr 2019 22:07
Delhi Bits – Day One
We started our exploration of Delhi at the Jama Masjid, took a rickshaw ride and headed to where Gandhi was cremated (
Raj Ghat)
, along the way we passed several 'patches' of land that have seen famous people cremated.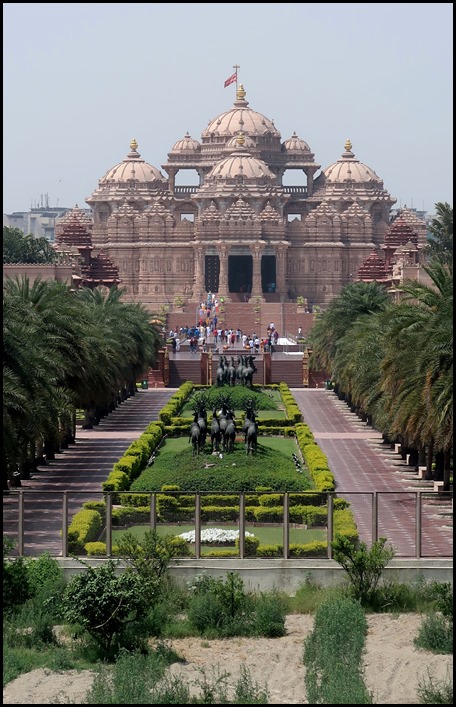 The impressive Akshardham Temple, the second biggest Hindu complex in India.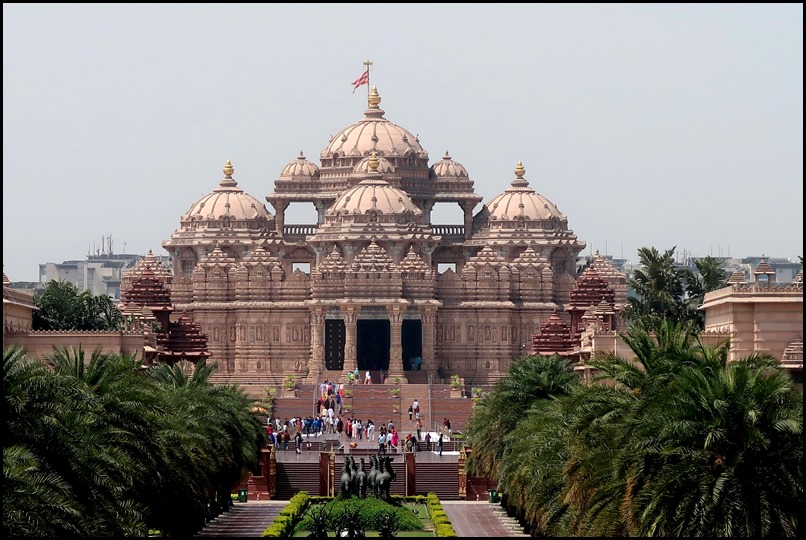 The redstone Akshardham
Temple
rises 43 metres high, spans 96 metres wide and is 109 metres long. It is intricately carved with flora, fauna, dancers, musicians and deities.
Top Bits:- Akshardham
Temple or Mandir – abode of God
Opened 6th November 2005
Constructed by Bochasanwasi Shri Akshar Purushottam Swaminarayan Sanstha (BAPS) using skills first used 800 years ago.
Inspired by HH Yogiji Maharaj (1892-1971 CE)
Created by His Holiness Pramukh Swami Maharaj
More than 300,000,000 volunteer hours went into making the complex
Over 8,000 volunteers from across the world participated in building it
Mandir built from intricately carved sandstone and marble
No cameras are allowed on the site itself but there is a brilliant website that has a booklet in English and many pictures in the various galleries set out by section – found at - www.akshardham.com

The Rashtrapati Bhavan, Presidential Residence previously "Viceroy's House" is the official home of the President of India located at the Western end of Raipath.
Government buildings each side as we did a u-turn.
We drove along Rajpath (constructed as and formerly named King's Way during the period of the British Raj) is a ceremonial boulevard in New Delhi, that runs from Rashtrapati Bhavan on Raisina Hill through Vijay Chowk and India Gate, National War Memorial (India) to the National Stadium. The avenue is lined on both sides by huge lawns, canals and rows of trees. Considered to be one of the most important roads in India, it is where the annual Republic Day parade takes place every 26th of January. Janpath (meaning "People's Way") crosses the road. Rajpath runs in east-west direction. Roads from Connaught Place, the financial centre of Delhi, run into Rajpath from north.
After our u-turn, Sansad Bhavan – Parliament of India was to our left.
We headed toward the War Memorial.
India Gate is a memorial to 70,000 soldiers of the British Indian Army who died in the period 1914–21 in World War I, in France, Flanders, Mesopotamia, Persia, East Africa, Gallipoli and elsewhere in the Near and the Far East, and the Third Anglo-Afghan War. 13,300 servicemen's names, including some soldiers and officers from the United Kingdom, are inscribed on the gate.
Lunch was interesting. Bear asked for medium chicken korma and rice. I needed something plain so asked for Chinese spring rolls.......Mine were far spicier than his so we ended up sharing. Mouth on fire we headed to Gandhi's Museum.
ALL IN ALL IMPOSSIBLE TO SEE EVERYTHING BUT SO INTERESTING
WE SAW AN AWFUL LOT, FASCINATING
.
---