Beaconsfield

Beez Neez
Skipper and First Mate Millard (Big Bear and Pepe)
Wed 20 Jan 2016 23:27
Beaconsfield Memorial Park
The area around Beaconsfield was first explored by Europeans in 1804 when William Paterson led an expedition to Port Dalrymple and established a settlement at York Town. Settlement of Beaconsfield itself, then known as Brandy Creek did not occur until the 1850's. Limestone mining led to the discovery of gold in 1869. Gold mining began in 1877 and the area's population boomed. Brandy Creek Post Office opened on the 1st of December 1877 and was renamed Beaconsfield in 1879.
The town was named Beaconsfield in 1879 in honour of Benjamin Disraeli, 1st Earl of Beaconsfield, who was the Prime Minister of the United Kingdom at the time. In 1881, the Beaconsfield newspaper was called the Beaconsfield Tickler. In 1953, Beaconsfield was the first town in Australia to fluoridate the water supply.
Gold was first discovered in Beaconsfield in 1847. When the gold rush hit Victoria and New South Wales in 1851 and the Tasmanian Government offered a reward for the discovery of a payable goldfield. In 1877 the cap of a payable gold reef was discovered on the eastern slope of Cabbage Tree Hill by brothers William and David Dally. This became known as the fabulous Tasmanian Reef. In October 1877 the Dally brothers sold their claim on the Tasmania Reef to William D Grubb & William Hart for 15,000 pounds, and 1/10 share in any company formed.
At the peak of the gold rush 700 men were employed in the gold mine and 26 tonne of gold was recovered. We came to visit the Mine and Heritage Site but stopped to pay our respects in the Memorial Park first.
Trigger finger – of course he did.
Fun lining up the trigger finger.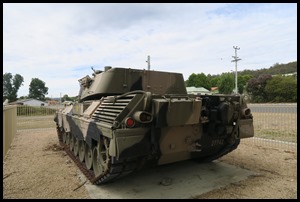 Next, we parked Mabel opposite the Mine Site and saw this handsome chap having Zzzzz's.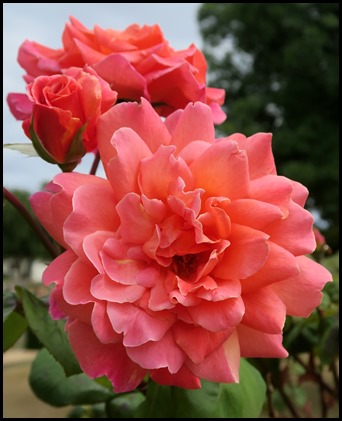 We enjoyed the roses in the Miner's Garden.
All very pretty, now time to be tourists.
ALL IN ALL A LOVELY OPEN SPACE
QUITE IMPRESSIVE
---