Nuwara Eliya Bimble

Beez Neez
Skipper and First Mate Millard (Big Bear and Pepe)
Tue 19 Mar 2019 23:37
Nuwara Eliya Bimble
Flower outside, digs breakfast and later we watched as two men measured with hairy string.
We walked up the hill from our digs to the main road. Tuktuk time. "Tuktuk madam", how much to Victoria Park, "650 Rupees", 300, "No", OK, no problem we will walk. We get about fifty feet and there he is next to us. "OK get in". This is now our benchmark price. Actually very fair, we know from taking metred tuktuks in Colombo with Bear measuring the mileage on Google Maps. So, before we set off anywhere I ask the skipper how far and work it out, rounding up for whole numbers of Rupees. Return journeys are the same. "800 madam", "It's dusk". "It's long way". Having cut our teeth with this sort of malarkey in Morocco............ but once the price is sorted the chap (never had a lady) become chatty – if they speak English, and many do, quite well. After bimbling through and crossing Victoria Park we popped out at the Post Office and crossed the road by a Council building.
We saw a Mackwoods tea shop and upstairs there was a museum. Better mention tea then. Many an absorbing tale is related to the origin of tea based on religion, myth and philosophy. The more famous story dates back to 2737 BC when the legendary Chinese Emperor Shen Nung, on one of his long travels, rested under the shade of a wild tea tree. A few leaves from this tree had fallen into a pot of water, which was bing boiled for drinking. The glorious aroma attracted his attention, and on sipping this brew he found it tasted as good as it smelt, and this delectable drink was firmly launched in Courts of Cathay. At the beginning of the 17th century tea reached the west and the first public sale of tea in England took place in 1657, and swiftly became an integral part of daily life of British Society.
History of tea in Si Lanka: Ceylon, as Sri Lanka was known in the 19th century, was a major grower of coffee. In the 1860s came the great coffee crash following the coffee blight, which destroyed the coffee plantations in the country.
The tea plant is not indigenous to Sri Lanka. Its origins being in China and North Eastern parts of India. The seed was imported from China in 1824 and Assam in 1839, and grown in the Botanical Gardens of Peradeniya (Kandy) and Nuwara Eliya on an experimental basis. However, it was not until 1867 that the first commercial scale tea plantations were undertaken. The first clearings were opened by the brothers Solomon and Gabriel de Worms on Labookellie Estate in Ramboda District, from seed procured from China. At the same time, James Taylor planted tea on Loolecondra Estate in the Hewaheta District from seed of Assam origin.
The first teas exported from Ceylon: 23 pounds. Arrived in London in 1873. (this is the same information board that just said 1657 a minute ago.....)., the exports increased to a staggering 82 million pounds in 20 years, with the expansion of tea planting. Today, Sri Lanka has emerged as the leading exporter of tea in the world exporting 294.5 million kilograms in the year 2001.
History of Mackwoods: Established in 1841 by Captain William Mackwood has the distinction of being the second oldest Mercantile Firm in Sri Lanka, and this year enters its 176th year and is part of Sri Lanka's heritage. Mackwoods is also one of the oldest members of the Ceylon Chamber of Commerce, since 1847.
Today, Mackwoods is a conglomerate of several companies engaged in the following key sectors: Healthcare; Agribusiness and Plantations; Industry and Manufacturing; Import and Export trading; Energy and Infrastructure; ICT Education and Software Development; Hotels and Leisure; and Financial Services. Amazing, all from a small tea bush or two.....
Mackwoods has been associated with tea almost since its inception and the name Mackwoods is synonymous with some of the world's finest single estate teas, in concert with its 176 year old tradition of excellence, and through its International Tea Marketing initiatives including "Fine Tea & Opera Events", Mackwoods has created a platform for "Fine Tea Estate Connoisseurs Sri Lankan Teas" worldwide.
So why did I choose Mackwoods as opposed to Edinburgh or Pedro Estates (also in this area) ??? Because Melian, our dear friend on Indian Summer sent me this message:-
"
Upstairs there is a museum and on the wall, there are portraits of the founders. My great great great grandfather is the first one and when it splits from Mackwood name is when it was left to my grandmother in 1924 (ish). We eventually sold it in 1956 (

57000 acres under leaf)

to the Noris family and we met with Chris Noris the present chairman and high commissioner to the UK".
The family
kept a few hundred and still produce the finest tea in the world, Her Majesty the Queen and Prince Charles are frequent customers. That is a wow.
Another site said: It was as far back as the year 1824 in which the British brought a

tea

plant from China to

Ceylon

(as Sri Lanka was known at the time). It was planted in the Royal Botanical Gardens, Peradeniya in Kandy and is considered to have been the first non-commercial tea plant in Sri Lanka.
After nearly two decades in 1867, James Taylor, Scottish by origin, planted nineteen acres of tea in the city of Kandy, at the Loolecondra Estate - the first commercial tea plantation. Sale of Loolecondra teas first occurred in 1872, the first batch arriving in London in 1873. These pioneering efforts were done by trial and error and improved over the years via the introduction and improvement of tea processing machines and methods, by different individuals and companies.
The first broking firm John Brothers & Co. was established in 1876 and the first public Colombo auction took place in 1883 under the guidance of the Ceylon Chamber of Commerce (which was established in 1839). The Colombo Tea Traders' Association was formed in 1894 and in 1925 the Tea Research Institute was established. These organisations helped boost the production and export of Ceylon Teas in its early stages.
Factoids and Milestones:
· One million tea packets sold at Chicago World's Fair - 1893
· The prohibition of export of poor-quality teas - 1932
· Ceylon as world's largest tea exporter for first time - 1965
· Establishment of the Sri Lanka Tea Board - 1976
· Export of Tea Bags – 1976
· Export of Green Tea – 1982
· Abolition of Tea Export Duty and Ad Valorem Tax- 1992
· Establishment of Tea Research Board - 1992)
· Ceylon tea production exceeds 300,000 metric tons – 2000
Quick Facts:
Chinese Emperor Shen Nung accidentally discovered tea in 2737 BC
Tea is the most popular beverage, next to water, in the world.
In the U.S. approx. 1.42 million pounds of tea are consumed a day
Four pounds of fresh tea leaves produce one pound of dried tea.
About 165 million cups of tea are drunk in Britain, about 3 billion cups of tea are consumed daily worldwide. Bear and I drink at least two litres of tea each and every day. I'm sure the tea sales in the UK dropped a bit when we lost my aunties Maud (especially, who had a constant pot on the Aga), Em, Lil, Phil and my mum after they passed.....

On we bimbled crossing the road to see – is this an appropriate name for a police house ???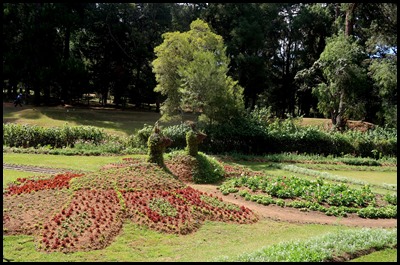 Taking The Grand Hotel Road we saw the garden at the entrance to the golf club. The Nuwara Eliya golf course was constructed in 1889 by a Scottish soldier of the Gordon Highlanders for the British servicemen and officials who were posted at Nuwara Eliya. The 18-hole course covers approximately a hundred acres of land and was originally built amidst the tea plantations of this central highland region. Membership stands at over two thousand.
Along Grand Hotel Road and around a corner we looked through a gate across beautiful, manicured grounds, at the next gate we could just see The Hill Club. Founded in 1876 by W.H. Walker, J. Wickwar and H. Saunders it began with only a billiard room and a bar. Established by the early coffee, cinchona and tea planters and unsurprisingly most members were foreign planters. The first president was Edward Rosling, elected in 1899. British, Colombo-based firm of Edwards, Reid and Begg built the present club building in the 1930s. The Club did not allow membership to women or locals until 1967. (Cinchona bark also known as Jesuit's Bark was the first treatment for malaria. King Charles II called upon Robert Talbor, who had become famous for his miraculous malaria cure. Cinchona over time has been used for increasing appetite; promoting the release of digestive juices; and treating bloating, fullness, and other stomach problems. It is also used for blood vessel disorders including haemorrhoids, varicose veins and leg cramps. Mmmmm).
The next corner brought The Grand Hotel into view. High tea it was and very lovely.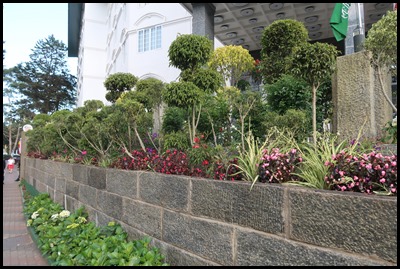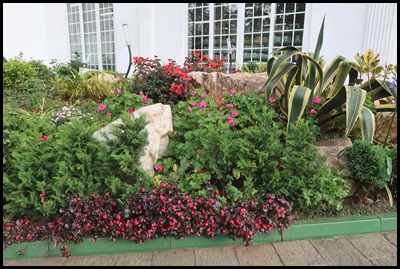 Neat buildings, walls and planting as we headed for the Food Court. Supper here tomorrow night.
The area is known as Little England and certainly these blooms were in our garden (when we had one).
The Food Court serves many Asian, European, Arabic, Italian dishes and burgers........... The cakes look divine, but for now we head to the little supermarket to get Bear more cough mixture – his Colombo cough keeps us both awake for much of the night........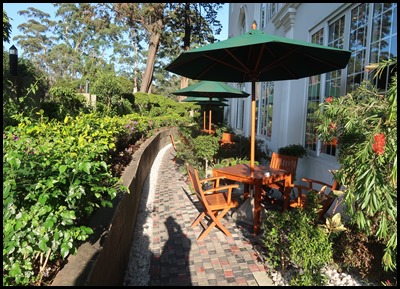 We took in a bear shop, passed the outside seating of the Food Court, crossed the road at the roundabout and headed toward the tuktuk rank.
A nice elephant mural and our first tuktuk man started at "800 Rupees", the chap in the next trusty steed heard that we had paid 300 on the way down and welcomed us aboard. Just as well we had no luggage or shopping as the entire back shelf was one big loud speaker.............
Back to base at dusk. No television since we arrived in Sri Lanka, no change there and not a bother to us, but I have introduced Bear to finding programs on Youtube. Who Do You Think You Are episodes have become a firm favourite with our various digs wi-fi.
ALL IN ALL A NICE TOWN BUT TOO COLD FOR ME
A PLEASANT BACKWATER BUT SOMEWHAT COLD
MUST BE IF YOU THINK SO.......
---