Birla Mandir

Beez Neez now Chy Whella
Big Bear and Pepe Millard
Sun 21 Apr 2019 22:37
Birla Mandir, Jaipur
We set off at eight thirty for a couple of local places of interest – the temple Gatore Ki Chhatriyan (where the kings were cremated), a jewel factory – see Bear shudder, a clothing manufacturer – see Bear shudder some more..... and the Birla Temple. En route we passed a cinema.The Raj Mandir opened on the first of June 1976 showing the film Charas. Today, it is still a popular gem in the city, it was closed when we went by so I used a picture of the inside taken by Antoine Taveneaux in 2011 (with thanks). The cinema was designed by architect W.M. Namjoshi in Art Moderne (or late Art Deco).
Another pass by the founder of Jaipur, 1727 – Maharajah Jai Singh II holding his astrological equation and joined today by Thora (lapwing, bottom left corner).
In front of us, on the hill of the same name, stands Moti Dungri Fort and temple.
One or two pigeons as we turn into the car park.
Loved watching the groundsmen attacking the bougainvillea that will sepallike bract by the thousand in grateful thanks.......
Shiva with the fort behind him.
Lovely little sign but we shoes kept with everyone else under bushes along the edge of the path.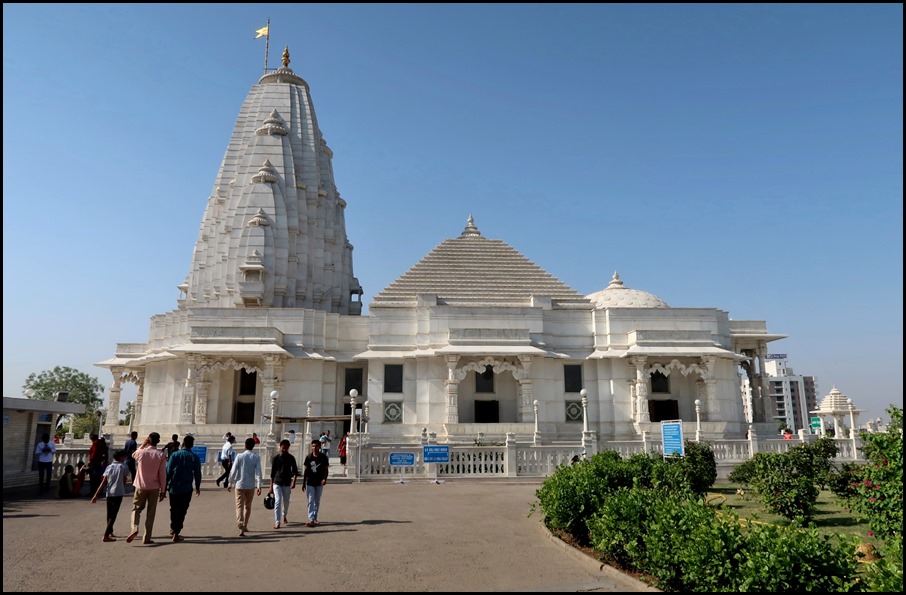 Beautiful Birla Temple stands at the foot Moti Dungri Fort (Moti meaning pearl and Dungri - small hill).
Construction began in 1977 and the temple opened for prayer on the 22nd of February 1985. It is one of fifteen built by the Birla Group of Industries, business tycoons of India. The first one was built in 1939 in Delhi collectively by Ghanshyamdas Birla and his brothers, as well as his father. Later temples have been built and managed by different branches of the family.
Each temple is built in marble or sandstone and is said to fill a gap "to conform to modern ideals of philanthropy and humanitarianism, combining the worship of a deity with a public institution that contributes to civil society".
Birla Mandir was built using the finest quality white marble and is dedicated to Lord Vishnu (Narayan), the preserver and his consort Lakshmi, the Goddess of wealth.
The three huge domes of the temple represent three different approaches to the religion. Stained glass windows depict the scenes from Hindu scriptures. Ganesh the protector of households, is above the lintel, and the fine quality of the marble is evident when you enter the temple and look back at the entrance way. The marble is sheer enough to see Ganesh in silhouette, we went in and out several times to take in the wonder of it. The large images of Lakshmi and Narayan attract much attention (and prayers of course) as they are cut from one piece of marble. Many of the deities of the Hindu pantheon are depicted inside the temple, and on the outside walls great historical personages and figures from all religions are shown, including Socrates, Zarathustra, Christ, Buddha, and Confucius.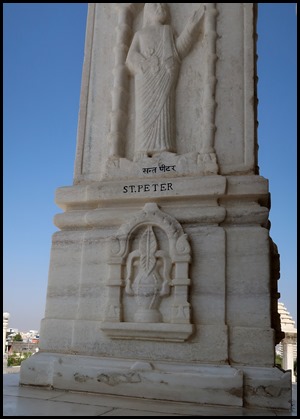 St Peter, St Francis of Assisi and St Anthony (spooky – this would become very apparent later.......). This was the first time we have ever seen Christian carvings in a Hindu Temple. St Anthony, patron saint of lost things was not an Apostle or in the top list of recognised saints, maybe we picked up on him as it was my father's name......... When we got back to our digs later in the afternoon Bear saw a newsflash come across his IPad, Sri Lanka had suffered bombings. St Anthony's Church was one of three churches that suffered terrible loss of life. We finally got an answer to the message we sent Kerri (only those who use VPN's can, as FB and the internet have been shut down for security reasons – sad for people who cannot get messages out). She, Nick and Harri were safe but Harri lost a classmate. In the week that followed Kerri told us that she had had to go out a few times and was terrified every time she saw a backsack. All schools and churches are now closed until they can be thoroughly searched. The family are fortunate to live in a tower block that has extremely tight security, but Nick still has to go out to work. Many workers are staying at home and the tower now has a 'club' feel with baking, activities and a more close-knit feeling of support. Our hearts go out to those who lost family and friends. It brought it home to us as one of the hotels hit was the Kingsbury where Kerri took us for a delicious supper. So hope there are no reprisals and things can settle, although this lovely island people will bear the scars for years to come.
We left the temple and the shrine to Shiva and on the road again passed a statue of Jawaharial Nehru who became the first Prime Minister of India after independence.
A War Memorial at a roundabout, a tuktuk is never far in a picture.
Another look at the Albert Hall.
Through the City Gate, prettier from the other side.
We are now so very used to seeing a cow out for a bimble.
These men are waiting for a bus to take themselves and their empty milk churns back to the hill villages from whence they came. Once home they will milk their cows and return this evening with more milk to sell and then back on the bus once more, a very long day indeed, all repeated tomorrow and every day. Many housewives buy their milk (unpasteurised) mostly for use in cooking and some to make curds.
The usual tuktuk activity as we made our way to our next place of interest.
ALL IN ALL A VERY PRETTY TEMPLE
VERY SPLENDID FOR A MODERN BUILDING
---