Church x 2

Beez Neez
Skipper and First Mate Millard (Big Bear and Pepe)
Sun 13 Oct 2013 22:57
We Went to Church, Not Once but Twice
The 'big church' and Sunday School we can see behind the football field from Beez
We pulled in yesterday and en route had tried to radio Customs and Immigration before they left at eleven. (On Monday we found out that they don't have their radios on, on a Saturday...........). No problem, as by the time we had waited for high tide and got in, then anchored, waited for Beez to pivot in between the two other boats, settled and put out a stern anchor, it was almost supper time. Technically, we are not allowed to go ashore as we are not cleared in, but we didn't think anyone would mind if we nipped in to church. According to the books on the skippers IPad, one of the must-do things on Aitutaki is to go to mass, tempted, as we haven't read that about anywhere else, off we went. We left Baby Beez at the small dock and walked a short distance toward the bank.
Every second Sunday of the month the 'big' church band plays and marches. Wonderful to see so many youngsters, all in uniform, playing well and thoroughly enjoying themselves.
Up the road the congregation was gathering.
Down the road we could see St Joseph's Catholic Church.
A humble little church, with a massive welcome.
The assistant priest led the mass, half in English and half in Maori, the local language, sounding much like Polynesian. We did well because there was a computerised prompter for us to follow. The congregation may have been just a few dozen but the singing was as if there were hundreds. The lead singer made Montserrat Caballe seem timid voiced. Goose pimples begin. We said the Nicene Creed and I had to look at the broadsheet to manage this one........begotten, not made, consubstantial with the Father.........don't think I have said that in my life before.
A very elderly lady, extremely slow on her feet, stopped en route back from Holy Communion, shook my hand warmly and wished my stay on her little island a very joyful one. Well, I felt my bottom lip go. More hymns and more goose pimples. This experience is only third to being in the Harlem Cathedral with the Harlem Choir belting it out.
After mass, the curate, a dead ringer for Don King (the boxing man), complete with mass of white hair, was very thrilled to hear we had sailed here to be on his island. He apologised for not saying the Our Father as the Parish Priest, along with those from neighbouring islands was at a conference and retreat on Rarotonga. He was very humble about the size of the congregation in comparison "to up the road." But I reassured him that He had been listening intently.......
We watched as this son patiently waited for his mum, who spoke a word or two to everyone in attendance. Held her two bags, helped her aboard and slowly headed home.
'Up the road', the band was just finishing off.
We bimbled up to 'the big church' to see if they had an evensong, yes, at five.
Now that most people had left, we went in for some pictures.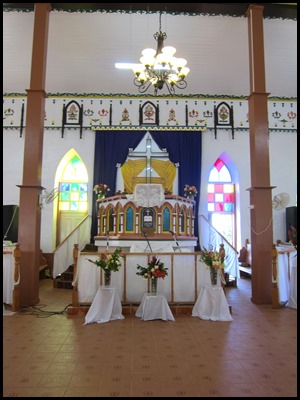 Simple, but lovely.
The anchor on the ceiling speaks of a sea-faring people.
The list. Tauturu Orometua means assistant pastor.
We did indeed return at five. The ladies broke out into a rousing soft, almost nasally sound, then the crescendo. The men harmonised in deep, bass baritone voices that got the goose pimples leaping off the skin. Definitely a close second to our Harlem Choir experience. A man helped us find the bible passage in English as it was being read in Maori. The pastor warmly welcomed us and said he "would try to put in a bit of English." We didn't mind that he forgot as just to listen to the local dialect is enough of a pleasure. Everyone, but everyone said hello and welcome. We learned from one lady when I asked if "hello" was Yo-rah-nah", she laughed and said that we had moved to "Kia Orana". Was bye-bye na-na. "No, Ta-ta." OK.
Perhaps the most amazing thing was as we left by the side door, why, by chance I had gone to look at the altar and the flowers. The main door was being locked. The last thing we saw as we left was The Bible above. St Paul's Church, Bermondsey was my mum's Parish Church when she was small, before she converted to the Church Down the Road................
The story goes, my mum had a belting voice, as did her sisters and brother. Mum was invited to sing in the choir. The Salvation Army also asked her to join their choir and she went as they gave out lemonade, the sort when the bottle had the marble in the top, attached by a piece of shaped wire. Not really fizzy, but it made a "pop" when it was opened. Now the Roman Catholics heard her as well, joining their choir was not a hardship as they gave out the same bottle of lemonade with the addition of a rock bun. Soon she was attending there full time and converted at the age of eighteen, much to her mothers displeasure. Just think, had it been the other way round, I would have been born a Salvationist and not an oft heard - Rat Catcher........... You'd have looked great with a tambourine.
ALL IN ALL STILL TRYING TO GET MY GOOSE BUMPS TO SETTLE
LOVELY TO HEAR POLYNESIAN HYMNS
---