To Vuda

Beez Neez
Skipper and First Mate Millard (Big Bear and Pepe)
Tue 15 Sep 2015 03:02
To Vuda Point Marina
Fancy living here in this little house. No bank account, no credit cards, no modern chattels. Just a view, the sea to fish, the land to grow and a few tourists and yachties visiting from time to time. Our last anchorage in Fiji was very rolly last night but what a scene to wake up to. Unforgettable.
Passing our last islands in the Yasawa Group.
Popping out of the shallows into water some seventy metres deep with Viti Levu ahead.

Having spent the last month or so looking for broken twigs, dodgy looking drain pipes and the odd rusty pole with a lop-sided marker, we found it very hard to spot the massive sea-going marker away to our right, that the big ladies and chums use.
A yacht to our right en route to Musket Cove.
Lautoka to our left.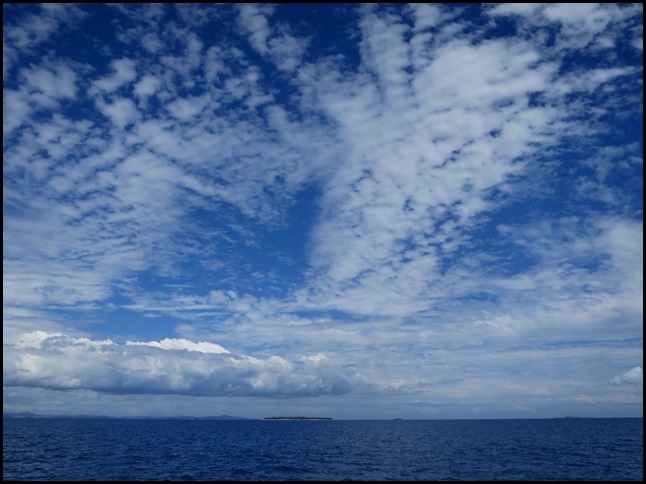 A lovely sky.
We pass Geri and Richard aboard Panthera. Drifting as they wait for the incoming tide.
Bear radioed the marina and then began to ready ropes and fenders. Vuda Point Marina – pronounced Voonda – of course it is, is by Bear's right elbow. Shortly after I took this picture Bear badly twisted his knee as he stepped into the cockpit and crashed in beside me. Oh dear. Knee brace to the ready. Assess the damage when we get in.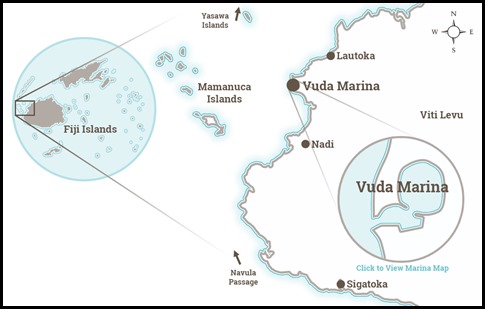 When we leave on the next weather window, we will check out at the marina, head toward Navula Passage and be in ocean deep water in three to four hours en route to Vanuatu – yeeha, but for now, the business of entering this fairly unique 'doorway' through the reef. [map taken from marina website].
The way in is through three sets of posts carved through the reef, the entrance is twenty five metres wide. Sounds quite a lot but having had zero wind all morning – a very rare thing to see the wind generator at rest, the chop picked up and the wind began to gust at a steady fifteen knots, I was drifting right all the time. I knew the entrance was two and a half metres at the lowest tide, in theory the depth sounder shouldn't go below 0.8. Coming in from deep water, staring at the depth and trying to aim in the centre of the posts did make for a serious minute or two and the speed limit is three knots, I had to gun in at five and a half just to keep some sort of control, a very quick reverse to regain the correct speed, add to that the worry of 'you-know-who's' injury. Janelle and Howard were waiting on the restaurant side [to the left of the photograph from the marina website], lovely to see them waving. I had been told there were no berths available today and I would have to aim for the wall. I was also told that a man would be waiting and pointing. By the time Beez beak was nearly passed the wall on her way into the basin a small voice pointed behind me. Mmm. Bear threw a rope and I asked for a tight hold on my bottom but my new friend just stood there. Mmm. Eventually a younger man appeared and bottom now secured against the wall - seen with a yellow arrow - I could settle into place.
We quickly switched everything off and scurried up the tires and headed for a beer with Janelle and Howard by the little shop. We had a tour of Double Trouble and as Bear's knee was sore we thought we may as well stay put until Happy Hour at half past five. Half price pizza, well we may as well stay out for that too. Bear went to stand and his knee collapsed. Strapping tonight then..........
While we were sitting on Double Trouble catching up on news since we last saw Janelle and Howard at the end of 2012, we watched Breeze come in to a pre-booked slot. She looked massive compared to her neighbours and stuck out a fair way. As Bear went to climb out of Double Trouble his knee gave way and more concern.......
We watched a boat being launched from the crane, apparently over seven hundred boats are lifted annually here, a very busy marina. Fidelio is actually tied to the over-flow buoy in the middle of the lagoon, rafted next to Panthera. They had switched the motor on after we had passed by and nothing happened, the marina went out and towed them in. Scratching of heads later over a beer as starter motor were discussed. We had thought to be on the buoy but clearly not enough room and it would have meant Bear having to launch Baby Beez to get ashore.
Dusk, sitting at the bar looking across the other side to Beez Neez. Richard and Geri were kind enough to give Bear a lift back as climbing up the stern platform would be easier for him. I bimbled home with Janelle and fortunately the tide was in so I could step across to Beez. After a game or two it would be to bed to consider chores, cleaning, diesel and gas runs, stocking up until New Caledonia – lists and more lists........... but for now, strapping knee and Zzzzz's
Sunset after a stunning morning, a fraught middle bit and ending the day with friends over beer. Smashing.
ALL IN ALL HOPE HOPPY GETS MORE NIMBLE SOON
A NICE, GENTLE DAY UNTIL THE OUCH BIT
---