Happy New Ears 2014

Beez Neez now Chy Whella
Big Bear and Pepe Millard
Wed 1 Jan 2014 00:00
To Our Family, Friends and Fellow Cruisers
We wish you all a peaceful, healthy, happy and prosperous New Year and may 2014 bring you all the blessings and joy in the world
We have had the busiest year yet and to choose our favourite moments has been nearly impossible, but, perhaps the most notable event was Beez Neez passage through the Panama Canal and touching the Pacific Ocean for the first time.
Our Year: We left Roatan and sailed to the island of Providencia. Then our most important step to Shelter Bay, Panama to ready Beez for her canal transit. That done, Yeeha it was to La Playita. Our first short journey on the Pacific Ocean was to the Pearl Islands where we anchored off Contadora. Next came the exciting sail to the Galapagos Islands, where we anchored off Christobal, Floreana, Santa Cruz and Isabela. We took the tour catamaran, Galapagos Vision to visit Sullivan, Bartholomew, Santiago, Isla Lobos, Espanola, North Seymour and Mekiro as well.
Bear in victory pose having just done 'the long one'.
Next came - possibly the longest passage we will ever make - the 2957 nautical miles to Mangareva in the Gambiers followed by Taravai and Akamaru. Ravavai and Tubuai in the Australs. Tahiti, Moorea, Huahine, Raiatea, Tahaa, Bora Bora, Maupiti, Mopelia, Aitutaki, Palmerston and Nuie. Tonga: Vava'u Group – Port Maurelle, Neiafu and in Baby Beez - Nuku. Ha'apai Group – Lifuka, Ha'afeva, Nomuka and Nomuka Iki. Tongatapu Group – Nuku'alofa, Pangaimotu and finally entering the beautiful Bay of Islands to be here in Opua, New Zealand.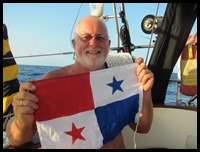 The Countries: Honduras, Columbia, Panama, Ecuador, French Polynesia, Cook Islands, Nuie, Tonga and New Zealand.
The Island Groups: The Galapagos, the Gambiers, the Australs and the Friendly Islands
.............................. Nine countries - forty islands or thirty two anchorages, six mooring balls and four marinas.
My favourite picture is an easy one to choose – Pepe and her new friend.................
..........................but I asked for this series of three to be included...........The boys – Roland and Ruben - getting told off was the funniest thing I've heard at sea. Pepe shouting "

Enough, stop the noise, not only do we have three solar panels for you to sleep in four-star isolation but as this is my watch, it is therefore my boat, so you will adhere to this command."

Very hard to get to sleep at three in the morning whilst giggling my head off.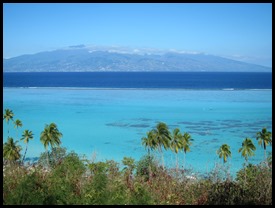 How do I pick my favourite. Thousands of pictures, hundreds of memorable events. I eventually chose us, with the tiny Beez behind us, in Maupiti. The fantastic blue-footed booby sent to us from Australia by Graham and the stunning scenery we saw from Tahiti looking toward Moorea.
Sammy had to be included and his cousins on the beach.
End of year games tally which always swung between rough waters and a good storm.............
Backgammon
BB 191 Me 192 and I won $538
Upword
BB 16 Me 65
Rummikub
BB 484 Me 1084 and I won $16,669
Sequence
BB 36 Me 35. In our last game I was three one up and fell apart – such a shame. I lost the clean sweep. Just as well..............Grrrrrrrrr.
The biggest thank you for our continued safety, shelter and journey goes to Beez Neez our trusty friend. She protects us on our At-Venture, takes on all challenges but she's not afraid to let us know her mind, on occasion. She makes our lives really comfortable and she always enjoys herself immensely. Here's to the second half of the world, girlie.
ALL IN ALL AN INCREDIBLE AND AMAZING 8848.4 MILES
A FANTASTIC AND MEMORABLE YEAR
---