3rd Feb - Switch On

Beez Neez now Chy Whella
Big Bear and Pepe Millard
Sat 3 Feb 2018 23:57
The 3rd of February – Grand Switch On on Beez Neez
This morning I was asked to accompany the boys to Beez Neez at half past nine. A much later start, but very needed as the boys have worked so hard all week. Today, Saturday, is the special end to that week. Beez herself has had her undercoat rubbed down and now she sports a pink stripy look.
Lady, Princess, Happy or Lucky, depending on which boat is chatting to one of the marina dogs. This girl was found mangy, flea-ridden, pregnant and starving. One yacht crew decided to put her right with visits to the vet, cream, spaying and tender care (all before our time here), she is a splendid dog and so friendly, she popped over to see how Beez was getting on.
Very stripy girl up close.
Once on board I was asked to settle in one corner and read the new chartplotter manual as "we need half an hour for a last minute adjustment" Mark announced.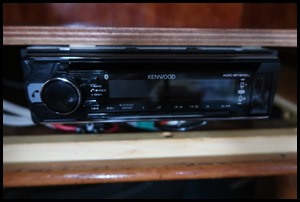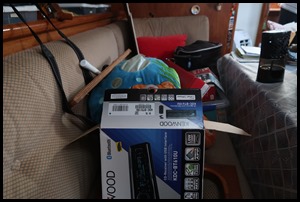 I did indeed settle taking in the new, rather smart stereo, the pile to sort and the new manuals to replace old ones in Beez folders.
Half an hour later I was called to sit in the office and press two buttons on the mains panel – Pilot and Radar Plotter and wait for things to happen. AIS burst into life and our new i70 office display.
Outside, it was time to uncover the three instruments on the cockpit panel and then the big cover came off the chartplotter.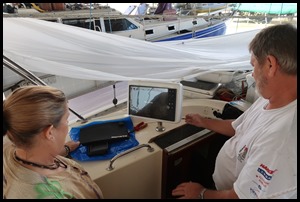 The big beast leapt into life and initial set up was completed. Not sure we will ever use the 'flock finder', a radar setting for those needing to find a gang of birds who are potentially an indication of a fish ball. Plenty more settings will have to be sorted when we get back afloat. All very exciting.
The cockpit panel awake and gorgeous. Time for me to bid farewell to Mark and head back to a pile of admin in 404.
Five boat crews met at the new Chinese. Told everything contained garlic or herbs, I was pleased I had taken a salad – just in case. The weird thing, we could order from the menu next door...... Each order came one at a time and over the next half an hour each dish appeared. Bear had ordered prawn curry and his was last to arrive. We enjoyed a good laugh with plenty of cross-nation ribbing.
Sadly, time to say 'farewell' to dear friends Anne and Brian, off on the morrow, heading back to Australia. We took in the decorations going up for Chinese New Year and by the time we had walked as far as the first pontoon it was time to kiss Jenn and Ralph, going off with Anne and Brian. Pleased for both couples but it does highlight how much Beez has still to go through before she too can sail off into the sunset.
ALL IN ALL SPLENDID LEAP FORWARD
VERY EXCITING OBSERVING THE ADMIRAL
---