Beez to 05/05/19

Beez Neez
Skipper and First Mate Millard (Big Bear and Pepe)
Sun 5 May 2019 22:57
Beez to the 5th of May 2019
Unbelievable that we have been back to Beez Neez for a full week, what have we been up to. It was after midnight that we hauled our cases aboard from our Grand Tour of Rajasthan but the kettle was soon on and cases unpacked.
Sunday the 28th. Well, sometimes a photographer is in the right place at the right time for the perfect shots........... Huh. Out came the thorn in Bear's side – the autopilot pest.
This 'important bit' (the autopilot quadrant) is held together by two bolts, there is a gnats whatsit difference in length, no instruction manual and Bear has to do the fitting by feel at full stretch and in a dark place behind Beez engine and her fuel tank. Fifty fifty chance when he put it together on which bolt went in which hole.............Yes, he managed to fit them the wrong way round. They lasted for twelve hundred miles before the shorter one gave up and let go. Bad luck or what, I felt so sorry for the skipper as he is always so diligent with his work, repairs and maintenance......
Monday the 29th. Planned shopping day today postponed until tomorrow as some feast day and opening times uncertain. Bear pottered and I set up menus to fill the freezer and list auto-food for the next three months Wayne and Russell (top) were quite mystified by the pile beside them.
Tuesday the 30th. Big shopping day. We bimbled over to the hotel and as Bear's Uber App is playing up, the lovely receptionist ordered for us. While we waited I left Bear under the porch and took in the 'living' wall.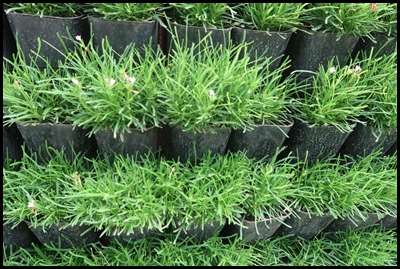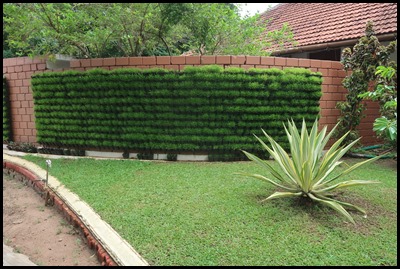 Such a simple idea – lots of pots of grass (or flowers) and a dull wall becomes a velvety carpet of green.
Bear handed over a pound to the driver and we took in our first Kochi mall – Central. We have in every country so far, and as we haven't in India – a pit stop with The Colonel.
A quick look at the many shops and we found new outfits for Bernie and Minh (promised dancing shoes for Bernie didn't fit, so may have to get some made). The supermarket was a dismal affair, wouldn't buy meat here if it was free......... Tuktuk to the much bigger LuLu's and thrilled to find proper butchers, not a lad in a pinny. Eighteen chicken breasts, three kilos strip sirloin, four packs of mince, twelve little kidneys and two packs of liver to go with the layout of sauces and stuff above. Cooking begins tomorrow. The supermarket is something to do with the UAE as many of the labels say so, along with all the juicy dates (I shut my eyes and bimbled by thinking calories....but oh.....the temptation). Outside in the posh pick up area with all our shopping barring tinned stuff. The only tins we saw were dodgy looking tuna and a few other bits and bobs, no baked beans or the like. Very heavy traffic (usual) and a real 'party' going on in the big Catholic Church.
Minh and Bernie in their smart new outfits. Minh's shoes are the squeaky sort.........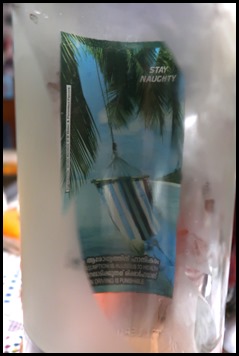 Wednesday the 1st of May. I cantered about on the wok. Red meat today, chicken tomorrow. Bear went on a recon trip via the little ferry and came back with an early birthday present for me – White Fox Stay Naughty, I couldn't resist it. Thank you, I suppose the description fits:- Sly, clever, intellectual, crafty – the perfect words that aptly describe the white fox person. Funnily enough since my head has sprouted more and more silver Bear often calls me his Silver Fox. I'm ready to take on White Fox next....... In the evening Bear helped me bag and label the meat dishes after an hour in the pool.
Thursday the 2nd of May. Chicken day and whilst it all cooled bins, storage lockers and cupboards were all sorted and Bear checked each item against my spreadsheets. I lost again. Growling harder. By days end each chicken dish was bagged and alternated with meat dishes in the freezer. Lists were complete. One hundred and seventeen meals for Bear, I have one hundred and thirty-two tins of tuna and I don't mind Bear having a few for wraps or toward a pasta bake. Thank you, I don't mind sharing a few sweet and sour chicken meals with you. Thank you and you are most welcome................
Friday the 3rd of May. Bear enabled us to get our general emails forwarded to his little laptop so we can pick up anything important at sea via the sat phone. Then he sorted his tool shed. I kept out of the way and did some blogging and some housework. Later on I turned a loaf into French toast to last until 'anything else with flour' has been eaten by himself.
Saturday the 4th. Yesterday we took the ferry across to 'the other side' for ten pence each.
As we pulled away we could see the marina, (Beez right on this side)numbers swelled with two catamarans arriving from The Maldives bringing our total to one long term, four cats and three monos.
We pulled in on the town side to watch men sorting mussels from mud. I have to say one man (bending over wearing just a sarong) was close, so close to getting in the category of 'Love to see him wearing nothing but baby oil', so, so close but........ Bear had been over once (Monday) on his own wearing his 'big boy pants' and came back with news of supermarket, fruit and veg market, ATM and a couple of beers to try. Today he led me as efficiently as any guide would. First, along the promenade before turning left to see the first stalls.
Quite a good market but Bear said, we are not there yet, the market proper is beyond the supermarket. Oh. Over the road to the supermarket. I found French toast......so all the farting about yesterday........oh well.
Past a 'usual' street scene and St Mary's Basilica but as I waited for Bear to choose his bananas I saw a shop that was quite amazing.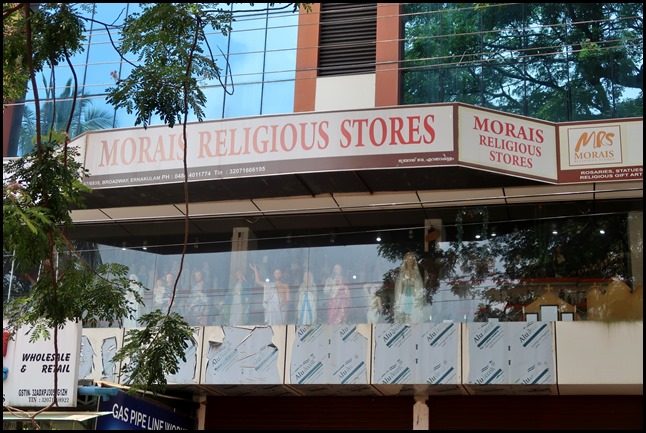 Pity about the glare on the glass but inside huge umbers of full-sized and bigger Catholic statues, I haven't seen a shop like that in years and years.
We bimbled back to the little ferry dock to find the oyster men had cleaned and bagged their mussels and were tidying up. Just as I snapped Mr Muscles his friend bent to photo-bomb. OooooooWer. Nothing left to look at but the cute steering wheel.......This afternoon after a quick loss at backgammon (growling), Bear changed Beez oil and I shuffled the freezer collection to ensure equal coolling and wrote some blogs until it was pool time. We enjoyed an evening starting with a huge salad, good music, Mex train Doms (I won, yeah. Growl) and some NCIS Los Angeles.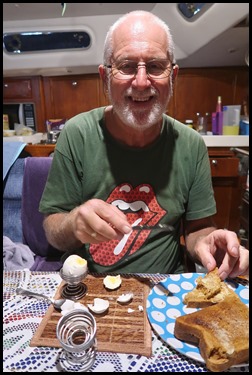 Sunday the 5th. Bear was up and ready by eight as Nazar (marina help and tuktuk man) collected him for the diesel run to fill the jerry cans. Sand Plan revisited (may not leave until Friday instead of Tuesday, suits me) and boiled eggs for brunch. Our first in India and a saucepan egg event to makes things as they should be........Perfect. Skippers face says it all.
ALL IN ALL A FAST AND BUSY WEEK
GOOD TO LOOK AROUND KOCHI A BIT, TIME HAS FLOWN
---