To Karang Kaledupa Atoll

Beez Neez
Skipper and First Mate Millard (Big Bear and Pepe)
Sun 14 Aug 2016 22:47
To Karang Kaledupa Atoll
Up and off at eight forty we followed our track in for the six point seven mile journey across to the next atoll, WT in the lead.
Wirraway close behind. The average depth crossing Lintea Atoll was fourteen metres below.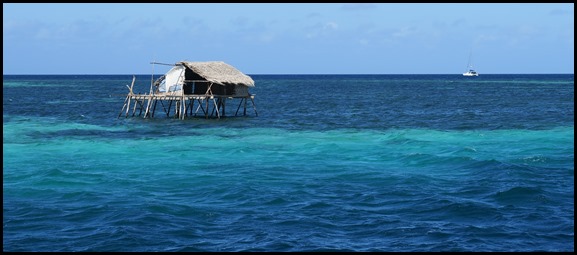 The lone house on the left this time.
The first house on the right not looking so good from this mornings angle.
Waved off by the main house inhabitants.
In the pass there was a local boat anchored.
The owner soon popped up, leg aloft and bailed out furiously.
Soon in paddling position, he gave us a big grin, hearty wave and went on his way.
Wirraway in the pass.
A local boat taking on water as she pounds through the waves. More bailing required.
Our route on the chartplotter shows little detail at low scale. At a bigger scale our waypoints ready to be moved for tomorrow as soon as we anchor.

Looking back we could just make out the houses on Lintea Atoll.
Once again our anchorage looks to be in mid ocean.
Anchored on the chartplotter, looks as if we have crossed dry land and on Bear's IPad, neither as impressive as the next picture on Google Earth.
Anchored to the right of the yellow arrow.
To our right Wishful Thinking and Wirraway, later Rock and Roll Star completed the team. Simon on Nicha had decided to press on south toward Flores Island. After some excellent snorkelling we had lunch and cleaned the girls bottom. I made croquette potatoes, chopped watermelon and arrived at WT at half past five for drinks with Gill, Matthew and baby Willow before the little one needed her bed. Gary, Bev, Gin, Michael and ourselves once again settled to delicious coral trout and later Gin introduced the dice to our game of Taboo. The boys kept rolling double time but it was fun to see such hand descriptive people as Michael and Bev roll 'statue' where their adjudicator even has to turn the card. Hand sitting was the only way forward. The boys narrowly squeaked a win, but one all, we can soon make up that ground for a lead....... Home after a wonderful evening and in bed by nine thirty for our hundred and fifty mile, thirty odd hour journey to Kroko Atoll – almost directly south on the morrow.
ALL IN ALL ANOTHER INCREDIBLE JOURNEYS END
A SHORT HOP TO A LOVELY CORAL ATOLL
---