Lake Inle Day Out

Beez Neez
Skipper and First Mate Millard (Big Bear and Pepe)
Tue 5 Dec 2017 22:27
Lake Inle Day Out
We went off at eight this morning with a lovely young man, Udin. Lake Inle was covered in mist and it was actually a bit nippy.
Very excited about our itinerary. Lots of stops during the day, most looking forward to seeing the ladies who wear coils at their neck and the Intha fishermen who paddle one-legged. Lake Inle is the second largest in Myanmar and
measures 22 kilometres long by 10 kilometres wide, and sits in a valley between two mountain ranges.
Inle Lake
is

freshwater

and sits in the

Nyaung Shwe Township

of

Taunggyi District

of

Shan State

, part of

Shan Hills

. It has an estimated surface area of 44.9 square miles (116 square kilometres), and one of the highest at an elevation of 2,900 feet (880 metres). During the dry season, the average water depth is 7 feet (2.1 m), with the deepest point being 12 feet (3.7 m), but during the

rainy season

this can increase by 5 feet (1.5 m). At the Tourist Information Centre we had read the lake had become a Wildlife Sanctuary in 1985 and was part of the UNESCO World Network of Man and Biosphere Reserve, designated in 2015.
Lake Inle is home to 124 villages, 12 of which are built directly over the water, the population of about 70,000 is made up of mostly Intha, with a mix of other

Shan

, Taungyo,

Pa-O

(Taungthu),

Danu

, Kayah, Danaw and

Bamar

. Most are devout

Buddhists

and live in simple houses of wood and woven

bamboo

on stilts, they make their living as farmers (millions of tomato plants are grown on floating nurseries), fishing and 'cottage' industries such as weaving, silversmith, blacksmith, eateries and the odd hostel. There are pagodas, stupas, schools, a big market and a medical centre. We saw hundreds of tourist boats out and about and only experienced a crowd at the market an the pagoda at Indein. The following pictures are just a part of what we saw and experienced.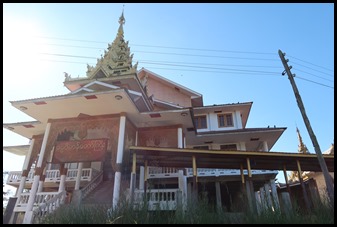 Our lovely driver, Udin.
ALL IN ALL A SUPERB DAY OUT
FASCINATING AND SO ENJOYABLE
---