Wetland

Beez Neez
Skipper and First Mate Millard (Big Bear and Pepe)
Sat 30 Aug 2014 22:37
Waitangitaona Wetland Walk
Within the broad category of wetland are several sub-categories with common names including swamp, bog, fen seepage and saltmarsh. Wetlands are home to many species of plants and animals which can't survive in other, drier places. The Waitangitaona Wetland is a swamp which means it is a wetland that receives a a supply of nutrients and often sediments, via surface run-off or groundwater, from adjacent land. Most swamps occur on valley floors, deltas and plains. Waitangitaona has formed on recent soils which were deposited during flooding of the adjacent river.
The original name for the area is 'Waitangitahuna' meaning simply ' the beach of the Waitangi River' having been named for the coastline. It is commonly known as Waitangitaona, but this is a European interpretation which has no relevant meaning in Māori.
Off we went down what has become our 'norm' following the track through the trees.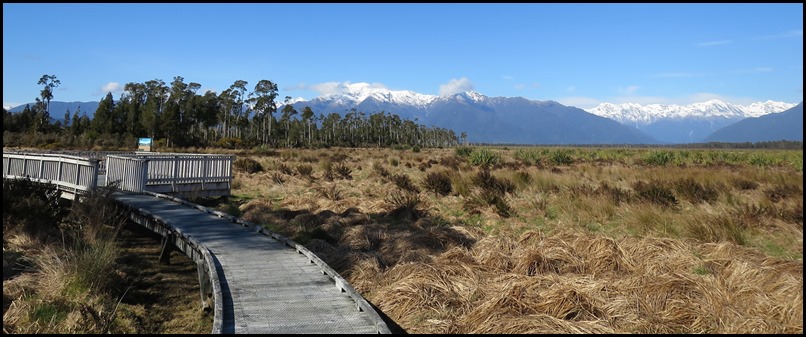 Then, all of a sudden we are on a beautifully finished boardwalk, out in the open, mountain views ahead and a viewing platform complete with benches.
Bear points to Mount Adams at 2208 metres.
Now known as Adams Mount xx xx
Alpine Faultline: The distant snow-capped Southern Alps rise abruptly from the lowland floodplains. They have been pushed up by the Alpine Fault which runs along the western base of the mountains and extend six hundred kilometres along the West Coast. These mountains continue to rise at an average rate of about ten millimetres per year, one of the fastest faultline uplift rates in the world.
From left to right Butler Range, Price Range and Bird Hill xx xx
Quite a variety of things to look at.
We walked back through the trees.
We admired the various attachments on the trees.
We crossed the road and found the river.
The water was so clear, we watched the greenery wafting in the fast flow.
On a closer look, the exact stuff we used to buy for goldfish bowls.
This little chap was very cross that we wanted him to move. Well what was he doing out in the middle of the road......
The Waitangitaona River
The views
ALL IN ALL A SURPRISE FIND
WELL PRESENTED IN THE MIDDLE OF NOWHERE
---