Namrole Bimble

Beez Neez now Chy Whella
Big Bear and Pepe Millard
Wed 3 Aug 2016 22:37
Namrole Bimble
A herd of us in blue Namrole rally tee shirts in company with our individual boat guides set off toward the market seemingly following a trio of goats, makes a bit of a change from chickens.
Within seconds Bear was driving a 'one careful owner' sporting his traditional headwear.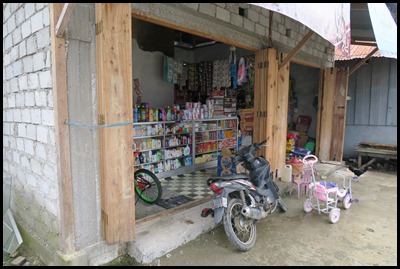 Our first supermarket and ladies boutique next door.
Berger Paint garages.
Our next shop was more hardware with a shelter and thoughtfully placed funnel. Dodgy looking fluid half filled the two litre water bottles – petrol for the motorbikes and scooters.
New build / old build – difficult to tell. A rooster and his laydee have taken the sand pile as their courting ground.
A car inspection pit next to a chapel.
Another 'petrol station in pink', no thoughtfully placed funnel. Opposite a public bin complete with chickens.
A gorgeous Berger House.
Am abandoned kiddies play park with ghost tour.
An ominous sign and B&Q.
Mrs Regents restaurant.
Not a inspection pit but a car wash we are told. A happy little house.
By the time we had taken our turn around the market the lady of the happy house had put out her washing. I loved this hardware store.
Much activity outside B&Q as an order had come in.
Quite a handsome little chap.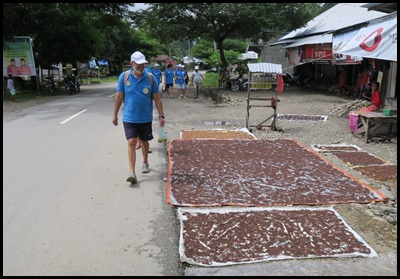 A very posh shop. Telephones, Sim cards and sunglasses on the left. Out of curiosity we all went over to look at what was on offer, A Samsung Galaxy Ace 1 was a million and a half Rupiah (about seventy five pounds). The right side of the shop was totally dedicated to shampoo, conditioner and perfume. I had to walk incredibly quickly past the drying cloves, I simply loath the strong aroma of the beastly things.
Traditional head carrying or hands free.
I stopped to take a picture of this sad sight, a gorgeous bird tied to a metal perch by a metal tether, no sign of Trill or fresh water. The idiot looking at me on the right said "Come to Papa" at which point I felt the need to be rude, I'm not sure if he knows what "in your dreams pencil p---k" means but it made me feel a little better. It didn't stop him from then roaring up and down the road on his special two-stroke rent-a-wreck acting the tool he really is.
We all spun when this trusty mobile rocketed into life with a sudden roar. Particularly struck by the Chelsea Football Club sticker proudly placed at the front for all to see. We would have loved a ride in this super, air-conditioned love bug.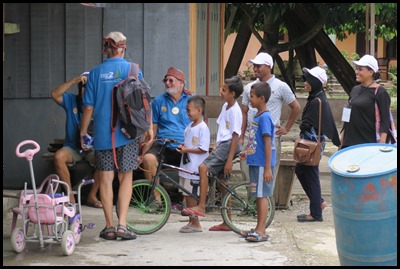 By the time we had stopped back at our first supermarket for Gin to buy bread we had quite the gang of happy, smiling children.
The sight literally outside the port entrance.
Back at base we settled for a beer, me a shandy and to watch the children having fun leaping off the rickety jetty. Michael was gleaming with hot news. Last night the boys had been rooked by Mrs-Regents-Bintang-Beer-stranglehold at 80,000 Rupiah, just over four pounds a bottle. The boys told Raymond our rally coordinator that no more of the golden fluid would be purchased by any of us – price drop to 30,000 or one pound fifty.......... Back to Beez for a shower, ready to return at five o'clock for the evening program.
ALL IN ALL A DEPRESSING AMOUNT OF RUBBISH
A VERY SPREAD-OUT VILLAGE
---