Back to Cammeray

Beez Neez
Skipper and First Mate Millard (Big Bear and Pepe)
Fri 1 Jan 2016 23:57
Back to Cammeray Marina
I was offered my first boiled eggs of the new year. Was I going to refuse - not likely. I was called to take my place at the cockpit table, as I passed the cooker I could see there was going to be something in the event line-up judging by the saucepan. My perfect eggs were delivered with just a little flotsam. Bear's appeared with more and a tiny bit of an event.
Bear showed he had acquired his first head injury of the year but he looked happy enough.
Up came the anchor at ten thirty, most of the crowd had already left so we had a good view of the Sydney Harbour Bridge.
We could never tire of this picture – Sydney CBD and the Opera House.
We leave Bradleys Head, looking back at our spot – we were anchored over on the right.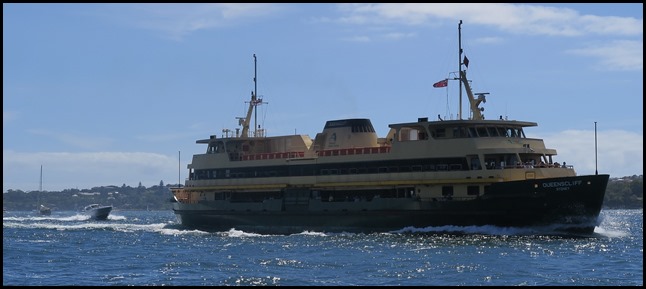 Queenscliff.
So many people dashing around gave us a merry rocking.

Very busy.
Narrabeen.
Another good wiggling..........
Oh and another......
The Heads – the way out to sea, look like a tiny gap from this angle.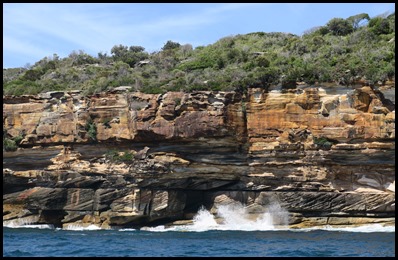 The corner was busy, tucked in we did a bit of cliff watching.
Some people just don't care about their wake, so we have a really good rock and roll.
A perfect gentleman – he slowed and made no wake.
Stunning houses overlooking Balmoral.
Balmoral.
We joined the circling yachts waiting for the eleven thirty opening of Spit Bridge.
The bridge opened and there we were following Scott-Free through.
We were actually undertaken going through.......
We admired some of the very impressive houses.
Rocks. We didn't notice this amazing rock formation at the end of Little Harbour.

Round the shallow bit.
We by-passed the cul-de-sac today, resisting the urge to go down it this time.
We took the corner by the jetty and found Goldilocks in our space. Bear rang the office and a few minutes later the offending craft was towed out.
ALL IN ALL GREAT TO BE HERE
NICE TO BE BACK TO TRANQUILITY
---