Last Erromango

Beez Neez now Chy Whella
Big Bear and Pepe Millard
Fri 6 Nov 2015 23:57
Our Last Day on Erromango
We have soon fallen into the rhythm of the village, the quiet tranquillity amongst welcoming friends.
This morning we were awoken by the humming, thrub, thrub of a helicopter, alarmed it may be someone sick, we later found out it was the Digicel people carrying timber up to the top of the hill to rebuild the telephone masts.
We have loved it here at Dillon's Bay.
Not sure about giving up Baby Beez for a local canoe...........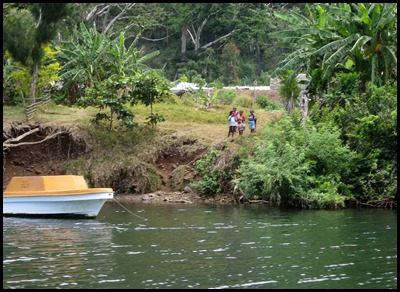 Always welcome committees.
Donald's landing place. Pepe's landing place. Donald did have to admit mine was much easier.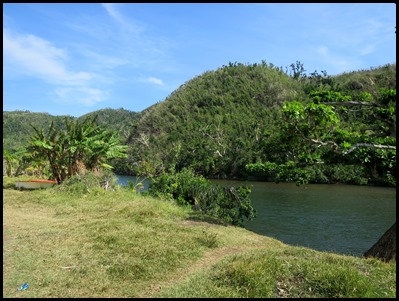 The easy lunchtime feel.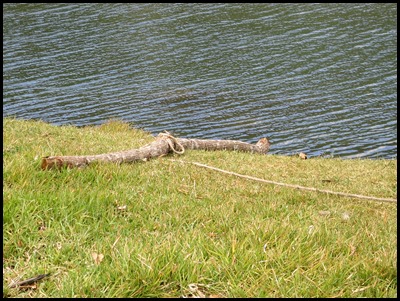 Ashore we saw a log, at the other end of the string – a goat.
We wondered what would happen if the log rolled into the river.............but for now all is well.
Mrs Goat not too far away.
The Co-op.
We loved reading the notices on the wall. We find that if we read just what it says out loud, it makes perfect sense.
Flowers give the village flashes of colour.
A peaceful village.
Our first gift from Lota was simply a shock, these people have had no decent root crop since Cyclone Pam and are only just seeing the 'quicker yielders' bring colour and substance to the table. I took the sweet potato but asked that the rest be put to use in the larder. We explained that everything fresh would be thrown away by the authorities in New Caledonia and we had enough stock on board to get us there. It would be a sin for us to waste it. Fully understanding, the next days table was decorated beautifully with flowers and a pretty cloth.
I had five packs of frozen mince bought in Fiji that I knew Quarantine in New Caledonia would take away from us. I offered to cook our final supper for all of us. After this mornings bimbles we went home and I made a huge stew with boiled potatoes, peas and baby sweetcorns. Donald was first to settle and yomped through two portions. He left the baby corn spears to one side and looked sheepish when asked. "I have never seen these before mum, I don't know how to eat them." You know your big corns. "Yes" well these are just picked tiny, pick it up in your fingers and try. "Oh, it tastes just the same". Wonderment......... I had asked that Lota be given the day off from cooking but islanders being islanders she made everything to the right of the table. Not touched, so at least she will get the afternoon off tomorrow. Slowly, the children, nieces and nephews appeared. One by one they lined up for a plate of food. There was a little left, all finished off during the evening as we were to find out – we popped ashore just to say farewell the morning we left.
Donald, Lota and a few children.
Donald and Lota.
Lota, quiet, stoical, mother of six, aunt to masses was going to be the hardest to say farewell to. Her face usually devoid of emotion, other than her toothless grin, cracked and tears flowed I almost choked on the lump in my throat and made a run for it.
A final wave from Donald and one of his sisters.
Back to the patient Beez and off on the morrow. Arrrrr.
ALL IN ALL SO SAD TO LEAVE
TOUGH TO SAY 'GUDBYE'
---