Quick Facts ESB

Beez Neez now Chy Whella
Big Bear and Pepe Millard
Tue 28 Jun 2011 16:55
Empire State Building - Quick Facts and Views
We got to the 102nd floor observation deck and looked north over Central Park
South over the Financial District
Quick Facts:
Address: 350 Fifth Avenue, New York, New York 10118
Coordinates: 40 degrees 44 '54 North, 73 degrees 59'08 West
1929-1931 – Built for offices and observation.
Cost: $40,948,900
Bricks: 10,000,000 to complete the building
Style: Art Deco
Floor Count: 102
Floor Area: 2,768,591 square feet
Elevators: 73
45 Seconds: The time it takes to ride from the lobby to the 80th floor in the elevator.
Antenna Spire: 1,454 feet
1,860 steps: From street level to the 102nd floor
Roof: 1,250 feet
410 Days: Time it took to build the Empire State Building.
Architect - Shreve, Lamb and Harmon
Management – W&H Properties
Main Contractor: Starrett Brothers and Eken
17th of November 1982 - added to US National Register of Historic Places
19th of May 1981 - designated New York CL
24th of June 1986 - designated US National Historic Landmark.
Tallest Building in the World from 1931 to 1971.
Preceded by: The Chrysler Building
Surpassed by: The World Trade Centre, currently unsurpassed in New York City until the new World Trade Centre - Freedom Tower is finished in 2013
Due west over the Hudson River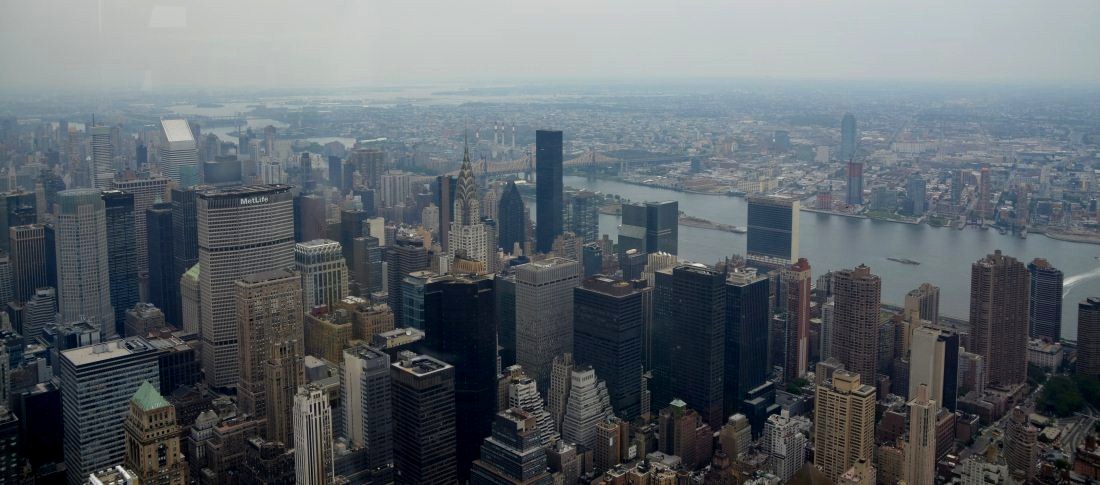 The Chrysler Building (to the left of tallest black building) and East River - toward Hell's Gate.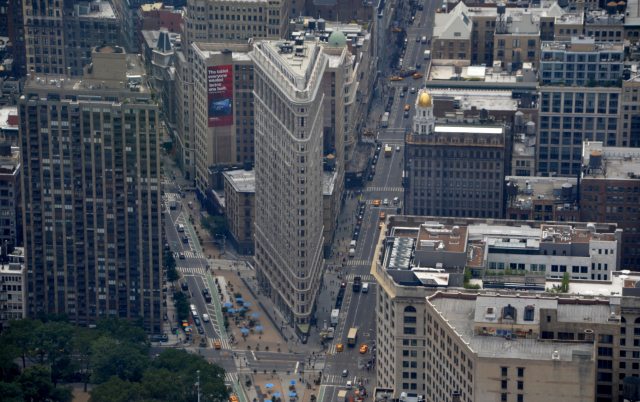 The Flatiron Building, or Fuller Building, as it was originally called, is located at 175 Fifth Avenue in the borough of Manhattan and is considered to be a groundbreaking skyscraper. Upon completion in 1902 it was one of the tallest buildings in the city and the only skyscraper north of 14th Street. The building sits on a triangular island block formed by Fifth Avenue, Broadway and East 22nd Street, with 23rd Street grazing the triangle's northern (uptown) peak. It anchors the south (downtown) end of Madison Square, and the north (uptown) end of the Ladies' Mile Historic District. The neighborhood around the building is called the Flatiron District after its signature building, which has become an icon of New York City. The building was designated a New York City landmark in 1966, was added to the National Register of Historic Places in 1979, and designated a National Historic Landmark in 1989.
East River with the gold roof of the New York Life Insurance Building on right
ALL IN ALL QUITE A CITY
---