I Did the Steps

Beez Neez
Skipper and First Mate Millard (Big Bear and Pepe)
Mon 21 Dec 2015 23:57
I Did the Steps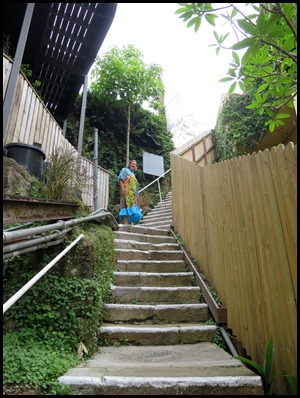 Day Nine Post-Op. I was determined to do half the steps today, I really needed to prove to Bear that I was well enough to be taken out on the bus tomorrow as promised, only if you are a good girl. But, I am. We'll see.
Things went well and, with a breather I made it to the top. There I was rewarded with a Beez Neez coloured Suzuki – what a machine.
I asked Bear to take a picture of the decorated hedge, but was caught having a sit down.
Whilst I finished my rest Bear took a picture of the plaque at the top of the steps.
Cammeray Marina. The suburb name of Cammeray comes from Cammeraygals, the original inhabitants of this land who occupied the clifftops and waterway of Middle Harbour. The boatmen and services of Sydney Harbour played a vital role in North Sydney's early development and the land occupied by Cammeray Marina has a continuous history of boating services since before 1880s. The tradition of boat repairs is now in the hands of the Rabbitts family, the owners of the marina since 1960s.
North Sydney Council. North Shore Historical Society. The Rabbitts Family.
Bear collected the post from the box at the bottom of the first flight and as it was as light as a feather I was allowed to carry it into the office for Nereida. I went to speak but was gasping a bit. "Don't speak until the second hand is at the bottom." I had forty seconds. It was then wonderful to chat, the only time previous to now was the day we arrived and quite a bit has happened since then. Nereida was very pleased that I had made it to the top as last year her mum had had a similar event but had spent eight days in intensive care. How lucky I am. The doctors had said "three days later and ..........." My excitement flooded out, I had done it.
Outside, Clara the elderly lady, was utterly unimpressed with my achievement. Back home for a long, cool drink before lunch and a victory on the backgammon board. I even helped with supper but lost at Mexican train dominoes, oh well, time for bed, a very happy Pepe.
ALL IN ALL YEPEE
VERY IMPRESSED
---