Tamar Valley

Beez Neez now Chy Whella
Big Bear and Pepe Millard
Wed 20 Jan 2016 23:07
The Tamar Valley Lookout
We parked Mabel at the Tamar Valley Lookout and walked a few paces and found a lovely barbecue cooking station. Incredible.
On the way up the steep path, I thought I saw a glimmer of a black eye. Fighting through the pound-puppy bags, there it was. I ought to accuse you of Gerry bashing. I wish I had done it, but you're not an Old Age Pensioner until May, then I can.
Of all the hundreds of thousands of cars that could pass just as I took this picture – a bug..........
At the top was an information board about Mathew Brady.
We enjoyed the views.
We did the touristy pictures.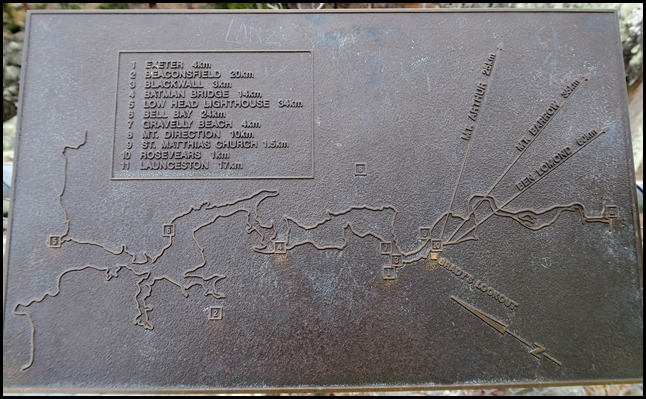 We looked at the map.
Loved number four – Batman Bridge.
We had a go at a selfie.
The rocks below us were huge.
The rocks and the eucalypts gave away the fact that we were not in Plymouth.
Back down the steep path to Mabel, one last piece of information on the last post.
ALL IN ALL SIMILARITIES TO OUR TAMAR
A REALLY BIG TAMAR VALLEY
---