Historic Cemetery

Beez Neez now Chy Whella
Big Bear and Pepe Millard
Wed 17 Sep 2014 11:57
Collingwood Historic Cemetery
Collingwood Historic Cemetery 1857-1895. In 1857 the government survey allocated fifteen acres to a cemetery but only one corner was ever used. The earliest identifiable grave is that of Thomas Roil who died in 1867. The last burial was George Boggis in 1902. Although the new cemetery had been gazetted in 1895, Boggis wished to buried in the old cemetery to lie alongside his wife Eliza.
The cemetery owes its origins to the Gold Rush days of 1857-58 when it was thought Collingwood would soon grow into a large town, like many other historic cemeteries, tales of tragic losses of drowning, accidental death or sickness. Within families, children were buried together when an epidemic struck. The graves bear testament to the fragility of life and the fortitude of those few who reached an old age. Every spring snowdrops emerge on several long forgotten graves.
We have chosen some graves from our visit today and with grateful thanks to the Heritage Society and a wonderful little booklet by Chris Petyt, have some of the stories of some of the people who rest here.
John and Mary Riley.
On the 25th of May 1842, John and Mary Riley boarded the sailing ship Thomas Harrison in England and began a voyage to New Zealand, arriving in Nelson on the 25th of October the same year. They were among the earliest immigrants brought out by Arthur Wakefield to pioneer a new land. They hoped for a better life in New Zealand. John, a cabinet maker and lay preacher, married Mary, a daughter of William and Agnes Bolton on Christmas Day 1829. They brought with them to the new land three children: William Calverley born 1832, Mary Ann born 1836 and John Bolton – J.B., born in 1840. Although setting up home initially on a one acre block near Queens Garden in Nelson, John came out to New Zealand under the Wakefield scheme which would make land available in three different sized lots:- a one acre town block, fifty acres suburban and one hundred and fifty acres rural and the purchase of one of these was his intention. Things moved slowly in those days and John bought a one acre block close to the Brook on which he built his home. The Riley family stayed there until 1855. During those years John and Mary fully utilised their small block producing apples, gooseberries, cherries and peaches. They kept two cows, two heifer calves and a pig.
As the young family grew, John continued working as a carpenter earning five shillings a day, a good sum in those days and possibly reflecting the high value his trade commanded. However John came here to be a farmer and eventually in 1852 he and Mary purchased fifty acres at Spring Grove. It appears that the Rileys never lived there and three years later sold it. At the same time John sold the one acre block and dwelling at the Brook. Receiving one hundred pounds for each, he now had enough money to purchase one hundred and fifty acres in Massacre Bay, now called Golden Bay.
The land, situated on the west side of the Aorere River, was flat, partly bush covered and cost ten shillings an acre. The area became known as Ferntown and remains so today. John and his son J.B. moved to Massacre Bay in 1855 and were followed by Mary and the other four children five weeks later. The Riley dynasty had begun.
The house was not finished when Mary arrived so they had to live in a tent and as one can imagine life was hard. Coming from the relative metropolis of Nelson, Mary and the children were lonely. John purchased more land in 1855, Onaio Island in 1858 and two small adjacent blocks in 1871. The family was dependent on irregular coastal vessels for their material supplies. Eventually the cottage was ready for occupation. It consisted of a sitting room, a small kitchen and storeroom and two bedrooms downstairs. The upper floor contained two more small bedrooms – attic, with small windows.
In January 1857 son J.B. and a friend William Lightband discovered gold less than eight miles from the farm and the resulting increase in activity resulted in Massacre Bay becoming known as Golden Bay. By the end of the year a tent township had established east of the Aorere River and named Collingwood. John built a rowboat and he and J.B. profited from the gold rush by becoming packers. By 1858 Collingwood's tents were being replaced by wooden dwellings but in 1859 most of the town burned down in the town's first fire, an event repeated twice in more recent times. The Riley family continued to prosper with many grandchildren but in 1871 Mary died at Ferntown. John dies eight years later at seventy five, owning two hundred and six acres all told. Buried side by side here in the cemetery.
Mary and John Riley.
The Nelson paper had a brief report: We learn with regret of the death of Mr John Riley, senior of Golden Bay. The deceased, who was 71 years of age, had lived for 24 years in the district, where he had gained the respect and esteem of all his neighbours.
A notice in the paper stated simply: Died Strange; November 2nd at Nelson, Robert James Strange, second son of the late Robert Strange Esq. of Devizes, Wiltshire, age 46. Robert's grave, unusually, has a footstone, inscribed R J S 1875 on the side facing the body. Robert was born in Devizes on the 11th of August 1828. His father Robert was a solicitor, and the younger Robert studied law too. Robert was always a sickly child and it appears he was sent out to New Zealand for his health. He came out on the Berkshire, probably working his passage as a clerk as he doesn't appear on the passenger list. On board he met Blanche Crooke, they fell in love and married at the Episcopal Church in Nelson on the 25th of March 1850, barely six weeks after arriving here when Blanche was seventeen and Robert was twenty two. They lived in Nelson for a while, and in 1855 Robert was working as a miller, living in Nile Street. He was also involved in exploration, and with Travers and Oldham and two Moari guides, explored the Tophouse region until bad weather intervened.
When Robert and Blanche moved over to Collingwood, Robert ran the ferry across the estuary, and in July 1860 was charged with not providing a bell for the use of passengers requiring the ferry. The verdict in the Warden's Court was that his licence should be cancelled if the bell was not provided within two weeks. But Robert's main job was as a member of the police force in Collingwood, from about 1859 until 1866. He was designated Chief Constable of the Aorere Police, and later Sergeant Major. In his diary he related how he once rode his horse down to Cobden, near Greymouth, to arrest a man and take him back to Nelson as a prisoner for trying to steal gold. He was, of course, armed and his pistol was kept by the family for many years afterwards. It seems the fresh country air and new lifestyle had caused a considerable improvement in his health. After the amalgamation of the Collingwood and Takaka police districts, Robert was promoted to Resident Magistrate, on a wage of one hundred and eighty two pounds per year, with a constable under him.
Later he wrote and borrowed money from his father to buy land at Swamp Road, two miles out of Collingwood, where he built a house and established a farm. Robert and Blanche had two sons, who mainly ran the farm, and one daughter, Evaline, who married John Bolton Riley on the 23rd of September 1868. Blanche died in 1884.
From the Colonist: Died 13th March 1884 at Collingwood after a long and painful illness, Blanche relict of Robert James Strange age 50 years. Blanche died of cancer. Her maiden name was Blanche Crooke and she came from Rugby in England, where her father was a plumber and glazier.
Constantine Allan.
The disease of which Mr Con Allan died was "Addison's Disease" – one of the rarest diseases known to the medical world, and about the treatment of which very little is known. It is an affliction of the "superrenal capsules," two little organs connected with the kidneys, the functions of which are also somewhat of a mystery to medical men. We might state that an insurance policy on his life taken out in 1886, with the A. M.P Society, had accumulated nearly seventy pounds profit by the way of bonuses, the sum assured being three hundred pounds, on which about eighty five pounds had been paid in premiums. This is the bright side of life insurance. The deceased's estate is worth over five hundred pounds.
Con Allan was the brother of David – also on the tombstone, who died aged nineteen in 1875 in a drowning accident while crossing the Takaka River, his body was never found.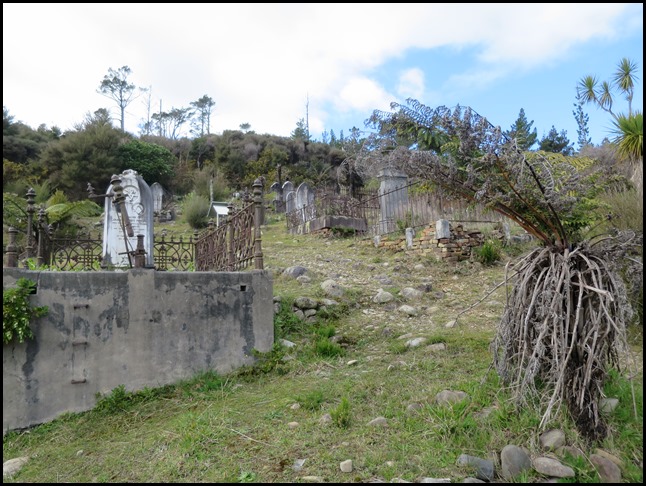 In parts the cemetery was really steep.
We read the information boards, one was the plan for the town and the other the names of the residents of the cemetery.
The Berry brothers both died from diphtheria. Warden Berry died aged six on the 12th of March 1894 and his brother Leonard died aged four on the 5th of April 1894. They were the sons of Arthur and Barbara Berry.
The Golden Bay Argus:- Considerable anxiety is just now being caused in the minds of parents throughout the district, through the visitation of an epidemic of sickness amongst many of the children, which presents all the symptoms of the dread disease diphtheria.
The James brothers both died from diphtheria and shared a funeral. George E James died on the 8th of August 1894 at the age of fifteen, his brother John W James died two days later aged seventeen. They were the sons of John James junior and Margaret Jane Bain, grandsons of John James and Mary Ann Roil.
The Golden Bay Argus:- Diptheria is essentially a disease of the throat affecting first the tonsils and thence spreading downloads to the bronchial tubes and upwards into the nostrils. An attack always begins with a fever and ends fatally in about forty eight hours of the appearance of fungoid of the tonsils.
Bear successfully negotiated his way between two graves and an uneven bit. I on the other hand, got hold of what I thought a stealthy bit of iron. It turned out to be the gate bit relatives use to tend their loved one. I had to stop myself swinging in on dear Henry Widdowson Turnell, no disrespect intended and my right ankle was none to happy with the experience. Henry's memorial has one of the most distinguished headstones and has stood the test of time. The local paper reported: Fatal Accident Dr Turnell Drowned.
We regret to state that news was brought by Lady Barkly this morning of the supposed death by drowning of Dr Turnell, the Resident Magistrate and Warden at Collingwood. It appears that he left the Court House at Takaka for Collingwood on Monday afternoon, and waited at Waitapu until seven p.m for the fall tide to enable him to cross the Takaka River. On Thursday, as he had not arrived at home, Mr J D Brace started out to ascertain the cause of his delay. An immediate search was made, and his horse was found at the mouth of the river with the bridle broken and both stirrups gone. The horse was known to be restive in the water, and it is supposed that it reared and threw its rider. Up to yesterday afternoon the body had not been recovered, but a large search party was out, and it was intended to drag the river. Dr Turnell will be greatly missed in the district where he has resided for a long time and gained the respect and esteem of all inhabitants.
Funeral of the late Dr Turnell.
The remains of the late Dr Turnell were conveyed by boat from Takaka to Collingwood where they were interred in the cemetery in the presence of a large number of residents in the district by all whom the loss of the deceased will be greatly felt, his kindness of disposition and readiness to assist those who were in trouble having endeared him to all with whom he was brought in contact. The service, in the absence of a clergyman, was read by Mr Marten J.P. It is strange, and a melancholy fact, that all the graves in this cemetery two only contain the remains of those who have died of natural causes, the others having met with their deaths by accidents of one kind or another.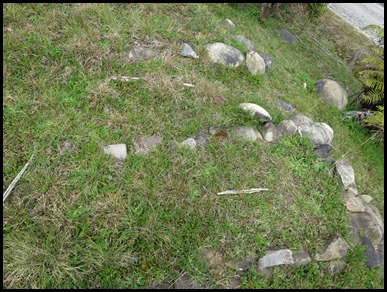 We bimbled around the area of many unmarked graves. One belongs to a lady called Tabitha.
The news reached town yesterday that a death had occurred at Collingwood Sunday last which had given rise to certain suspicions of foul play, and, consequently, that an enquiry was to be held into the surrounding circumstances. The deceased, whose name was Tabitha Jane Cook, was the wife of a man named Cook, and the two had for some time been living together on the most unfriendly terms, so much so that they were compelled to separate, but a short time ago the woman went back to live with her husband. On Sunday last she was taken suddenly ill after partaking of a meal, and appeared to be in great pain as she screamed violently, exclaimed "I am dying" and less than a quarter of an hour was a corpse. A post mortem examination was made and it was deemed necessary to send the stomach and a portion of the intestines to Dr Squires, by whom they will be forwarded to Wellington in the Ladybird for analysis.
At the inquest the results showed that she died from the effects of strychnine, but there was no evidence as to how it was administered, and the case was closed.
A settler at Collingwood who came over to visit Nelson on Monday has furnished us with ta most melancholy list of casualties that have occurred in Golden Bay within the last two or three weeks...... Mrs Heyward, an old and respected settler in the same valley, died in an awfully sudden manner last week. She was sitting at tea with her family, when, without the slightest warning, she fell back dead in her chair.
Elizabeth's husband, Thomas, was about nine years younger, and outlasted his wife by eight years, dying in 1885.
Another of our oldest settlers has gone to his long home. Thomas Heyward, who has been associated with Collingwood since its earliest days died last Monday morning. The deceased gentleman has been suffering for the last few years from the effects of paralytic strokes and was entirely imbecile, so that his release is one which could hardly be regretted. The funeral, which took place last Tuesday was largely attended by town people and by miners from up the country.
Thomas had paralysis for two or three months before he died. He was married twice, the first time in England. He came out to New Zealand about 1856, married Elizabeth soon after, and when we first hear of them they ran an inn, called the Heyward's Inn, at Washbourn Flat, at the junction of the Slate and Aorere Rivers. This settlement, later called Slateford, was one of the major centres in the goldfields with a couple of inns and stores at its peak. In 1859 he also recorded as running a store and butcher's shop at Slateford with John Lash. The inn also served as the post office and when Thomas sold it for two hundred and forty pounds to his son-in-law, John Lash, in 1867, the name was changed to the Post Office Inn. John Lash married Henrietta Heyward at Slateford in 1866, and they had fifteen children, the first seven born at Slateford. In 1877 they bought a one hundred and fifty acre property called Rockville, above the Devil's Boots. In 1861 Thomas may have had a look at prospects at the new West Coast goldfields, as a Heyward is recorded as arriving in Nelson from the Buller on the Gypsy, which was making regular trips to the West Coast. After selling the inn at Slateford, Thomas and Elizabeth moved into Collingwood where Lucas' Almanac for 1867-68 has him as a storekeeper and butcher. His address in 1867 is given as Manuka Valley, Collingwood, but by 1879 the name had changed to Manukau Valley. They were also reputed to have reputed to have farmed at Mackay's Pass, at a place called Heyward's Hill.
Miamin Kingsman. A fatal accident is reported from Collingwood, where a man named Miaman Kinsman was working on his claim with his mate, H Brewer, on Saturday afternoon, when an unexpected fall of earth took place, and a boulder struck the deceased with great force. He merely ejaculated "Oh my!" and never spoke again but died an hour later.
Both names are mis-spelt on this tombstone, it should read Miaman Kinsman. He mined at what was known as the Canterbury Hills, around the caves on the way to Druggan's Dam, and died whilst cutting a tail race. A newspaper report of the inquest stated that he "was well known on the gold fields and much liked; many miners travelled a long distance to pay the last tribute of respect to him." Miaman had three brothers, two of whom died at a very young age. The survivor, Richard Kinsman, was licensee of a hotel at Bedstead Gully in 1872, but also a miner, and in 1875 he was reported as owing fifteen pounds, with others, in rent on gold mining leases.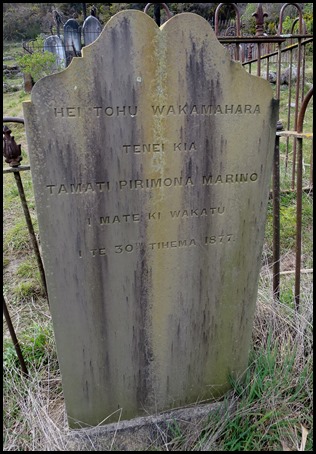 We saved our favourite until last – guide and friend, Tamati Pirimona Marino.
The Nelson Evening Mail reported: 29th of December 1876, at Nelson, Tamati Marino, chief of Ngati-Turangapeke, 80 years.
We notice the death of Tamati Marino, the last chief of the Ngati Turangapeke tribe, at the grand old age of 80 years.
Tamati was well known and much respected on North Island for his services in restoring order amongst the rebellious natives north of the Waitara in the early days of the Taranaki settlement. A number of natives have assembled at Auckland Point to escort his remains to Collingwood tomorrow for internment there.
Tamati was a member of one of the sub-tribes – hapu, who joined Te Rauparaha's hostile migration to the South Island in 1827, he was chief at Aorere from 1831. He sold land to Captain Wakefield and was given ownership of Reserve Land around Aorere and out at Wanganui Inlet. During the Land Wars of 1860 many Māori returned to the North Island. Tamati did not join the exodus as he was an entrepreneur with interests in Golden Bay. He part-owned the vessel Erena and held a gold claim at Te Tai Tapu. Tamati lived a long and eventful life and died with no surviving children.
It is thought that Tamati's headstone records the date it was unveiled on the 30th of December 1877. He is one of only three Māori's buried in the cemetery, sadly the other two lay in unmarked graves.
ALL IN ALL COMPLETING THE CIRCLE ON COLLINGWOOD
SAD TO SEE SO MANY YOUNG PEOPLE
---