To Indo 4+5

Beez Neez
Skipper and First Mate Millard (Big Bear and Pepe)
Tue 19 Jul 2016 22:57
To Indonesia – Days Four and Five
18th of July 2016. Day Four. At 08:30 we had completed 453 miles with 148 to go. Sunny and mild we were tootling along at 6.17 knots. I had a pleasing five two win at backgammon bringing the years totals to 109/91 to me. Huh, but the year is still young (thank goodness), must do something about this. Revenge was meted out all afternoon on the tri-ominoes....... Now we are in happy harmony with the sea and Beez this is the point at which you could sail forever with decent sleep, eating and a general feeling of 'being in rythm'. Incognita nearby.
A lovely set of crepuscular rays.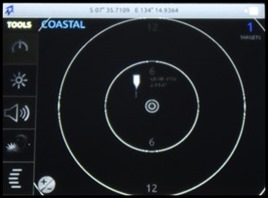 Just after five I was really enjoying listening to Pillars of Fire with Grain May as my new chum on the AIS. I began our final straight toward Tual. All I could see of my new friend – her length 229 metres, width 36 metres and draught of 8.7 metres, she is on her way to Gove with her Class A cargo happily spuddling along 11.9 knots.
At a quarter to six the moon suddenly put his lights on so I had a blaze to my left, away on the horizon to the right were a string of lights, nothing showing up on the AIS.
19th of July 2016. Day 5. By 08:30 we had done 583 miles with 130 to go – time to slow down to around four knots to ensure we go up the channel between the two islands in daylight. I got up at ten to see all around us were local fishing boats. The lights you left me with at six, eight were working and some were resting.
We are now sure that we are in Asian waters with this classically cut working girl.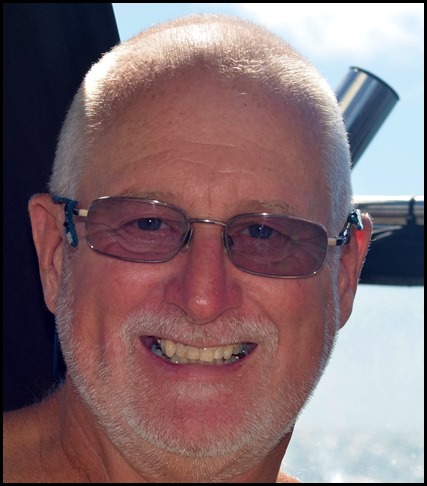 The day before we arrive anywhere is always a busy morning, hair, toe and finger nail cut, laundry, followed by something that feels like a age since we last performed...............
....................a quick check in the flag book to see which side is up and......................
The Indonesian flag raising ceremony.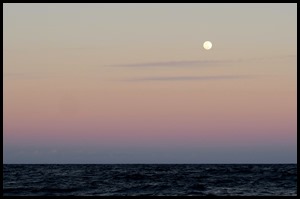 I fought back from four nil down to reach four all until a sneaky wave helped Bear to a five four win. Growling. Oh come on it seems like an age since I won. I was quite happy about that. The rest of the afternoon was spent on tri-ominoes – I actually managed a few wins..... The working girls were still around us and Incognita was up ahead, sunset to our left was somewhat overshadowed by a rather handsome moonrise on our right.
By the time Bear settled to sleep in the cockpit, Beez had a new figurehead. After a good preen our visitor tucked his head under his wing and followed the same snore pattern as the skipper. After I had gone to bed at 22:00 he had a few little flights disturbed by a friend buzzing him. By the time I came on at two he was once again in his preferred position – soundo.
I thought I would open my tin of tuna over the side of the girl and squeeze the brine overboard, great plan. I waggled on a wave, managed to save the tin opener gripping said tin but managed to get the juice all over the plastic and down the side – pictured in daylight this is not a good look for Beez.
ALL IN ALL PEACEFUL AND BUSY
CONTINUED FINE SAILING
---