Manuel J. Cobos

Beez Neez now Chy Whella
Big Bear and Pepe Millard
Sun 7 Apr 2013 22:21
Manuel Julian Cobos
Manuel Julian Cobos, a man of Spanish descent and father of Manuel Augusto, became interested in San Cristobal Island. In 1879, the elder Cobos had great influence both in business and politics, he managed to get mainland prisoners assigned to him, employing them as forced labourers on San Cristobal. T
his extraordinary businessman and yet, in the eyes of many people, a tyrant, founded a small empire of production, but he also created a kind of concentration camp, where his will was the only law.
The schooner, which linked the islands with the continent, was the lifeline of the community and was named after the head man himself. It took care of transporting the island's products eastward to Guayaquil, and the principal provisions back west to the growing island community.
The prisoners on San Cristóbal worked like slaves without salary. The demands of the head man and his supervisors were often inhumane, with punishment for laziness and disobedience ranging from flogging and solitary confinement to exile on one of the a desolate islands or even execution. Don Manuel did not hesitate to personally perform the punishments.
Manuel's house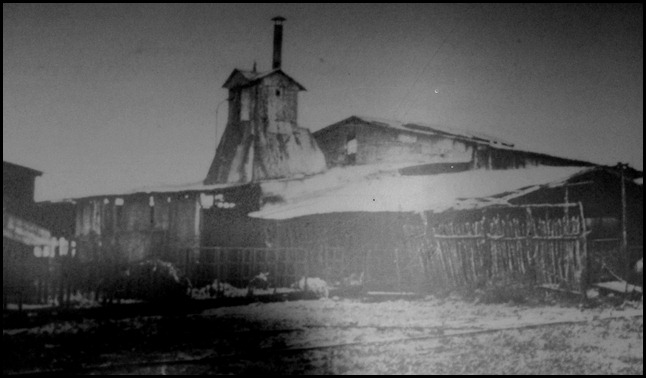 The sugar mill of El Progreso.
When the production of the sugar fields justified a large investment, Cobos imported machinery from Scotland to install a sugar mill. He had a railway built, drawn by oxen, to carry the products to the port. Water was brought from the mountain to the installations. He transformed the island into a centre of production, but he deformed its nature.
Within a short time he had constructed a four and a half mile-long road from the southeast shore of the main bay up into the fertile highlands. Here he founded a village with two to three hundred inhabitants. The community was given the benevolent name of "Progreso" and his house "Hacienda Progreso." After several years of hectic construction activity, the sugarcane and coffee plantations yielded a good harvest. A modern steam-powered sugar factory was built. At the factory there was also a steam-driven generator and electric lights were installed. Down at the bay, later known as Wreck Bay because of the conspicuous shipwreck in the middle of the entrance, a small wharf with rail tracks was constructed. Here the governor's house and the island's only lighthouse were also located. With the help of a German engineer, pipes were laid from the crater-lake "El Junco," in the highlands, to Progreso and down to the wharf. In South America around the turn of the century, interior electric lights and piped water were real luxuries. Progreso lived up to its name during these early years.
The new steam-powered machinery. Rogerio Alvarado married Josephina, Cobos older sister
The population of El Progreso reached four hundred workers, many of them were volunteers but others were convicts, sent by the Guayaquil authorities. Manuel J. Cobos maintained an iron discipline in complicity with the authorities, who depended on him for everything. The fines he levied turned his workers into life-long debtors. In 1882, he shot five suspects. At least fifteen workers were exiled to other islands, where some died of thirst.
The most interesting case of banishment was that of Camilo Casanova, who lived for more than three years on Santa Cruz, like a Robinson Crusoe. Foreign yachts visited the island, but none took him off. He was rescued after the death of Cobos and a sign was discovered that read, "Please do not remove this man, because he is twenty times a criminal."
The railway. Manuel's grave (now empty).
In 1904, Manuel J. Cobos fell victim to a conspiracy, directed by one of his trusted foremen.
Nicolas Martinez, Recuerdos de un viaje, Quito, 1908 wrote:
Don Manuel J. Cobos could be as bad as is claimed and even a criminal as people say, but that is not a reason to fail to recognise in him a man of prodigious energy and of an indomitable character, since only an individual who possessed these abilities could fashion an enterprise of the magnitude of "El Progreso" on a desert island..
Alex Mann, Yachting in the Pacific, London, 1909 wrote:
I knew Manuel J. Cobos..... He lived for twenty-five years like an autocrat in the midst of a community of criminals, governing with an iron hand and making his life depend on the revolver in his belt..... The dock, the trails, the water system and the cultivated fields......are the best monuments to his indomitable energy, but when one reflects upon his lack of humanity, our respect is darkened by the rejection of the infamous methods he used.
"My father's methods showed that our family descends from Spain!—… the Spanish inquisition I am referring to," the junior Manuel commented dryly. Bang stared at him, but the tropical night made it impossible to detect any facial _expression_. The host continued to relate how his father's ruthlessness finally led to an uprising, as gradually he started to demand as much from regular employees as from ex-prisoners. On the first bloody rebellion he was hurt, retreated, and some days later took cruel revenge. But in 1904 his days were numbered. One of his formerly faithful foremen, Colombian Elias Puertes, could no longer tolerate his dictatorial methods. In a final revolt he stole Cobos' revolver, and from close quarters shot three bullets into his superior's face and abdomen. It is incredible that Cobos managed to escape through a bedroom window on the first floor, and crawled away to hide in the bushes, but he was soon found by his enraged employees who hacked him to death with machetes.
"The bedroom in which my father lived is located directly behind us," Cobos Jr. said. Even though comfortably seated in easy chairs, with the taste of excellent cognac against their palates, a shiver ran down the spines of Bang and Aschehoug. They stared at their host. They noticed the revolver that Cobos carried in his belt since they first met him down at the harbour. Why had he not taken it off?
"I was only six years old when my father was killed," continued Cobos. "I lived on the continent and hardly had any contact with him. I remember him only vaguely. My sister Josephine was fifteen years old. Shortly afterwards she married Rogerio Alvarado, and it was they who took over management of the island after my father's death. I was sent to Paris and London to receive an education and learn languages. Among other things I studied sugar production, so at the present time I try as best I can to keep the old factory going."
He waved his arm with an easy going gesture, and the two Norwegians laughed, much relieved as the sinister mood was broken. They understood that Cobos Jr. was a more peaceful and less hard-working man than his notorious father. Obviously he would have liked to live a more intellectually-stimulating life. And he missed the sweet and easy going student life in Paris. "C'est ne pas gay ici," sighed Cobos, as he emptied his glass and added, "but thirty three thousand pounds of sugar each month are also sweet!" He rose from his chair and bid his guests good night.
ALL IN ALL VERY WILD WEST
.
`.
---