Flight to Lima

Beez Neez
Skipper and First Mate Millard (Big Bear and Pepe)
Thu 9 Sep 2010 22:38
Lone Flight to Lima
When my 70 - 300 mm lens hit the floor and died, we all decided that I needed something suitable to capture the Condor (hopefully) later in our tour, I was only left with my wide angle and 50 mm. I had the time to fly on to Lima, overnight in a B+B, (as Peru has no late afternoon or evening flights) early flight back to Cuzco the next morning and rejoin the merry group in Cuzco.
Plan. I searched the net found the Nikon dealership in Lima (the only one in Peru), Jose told me he had several lenses to choose from in fluent English. With Anne sitting beside me for moral support and Alan drinking beer with Bear, time to find and book flights. Didn't happen so we felt if it was meant to be I would be able to sort it out when we got to Puerto Maldonado Airport. I must have felt it would be OK as I booked my overnight at Miraflores Lodge in Miraflores. As luck would have it whilst in the check in queue, I saw a guide seeing his clients off, he was by chance a Nikon man who had recently dropped his 500 mm lens off a lookout post just after taking a picture of a Puma. I could not have sorted it out without him as Kenny the ground staff man spoke little English. So I need to say a HUGE Thank You to Jhin Pierr Solis. He will sort us out with the best wildlife and birding tours if we manage to visit Peru again.
Bear and the Freyans left me aboard at Cuzco, I was left with stunning views on my onward flight to Lima
Thirty eight thousand feet over ever changing clouds
The high pointy hills soon gave way to rounder flatter ones as we approached Lima
The cold Pacific Ocean, due to the Humboldt Current. A car park for chums outside Lima Harbour
Nearly there
Landed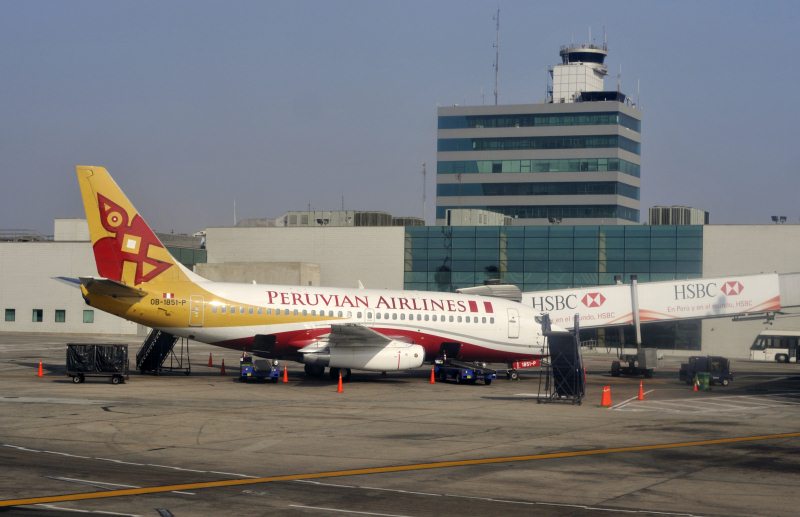 A new one on me - Peruvian Airlines
I gathered my bag, took a taxi to Jose who was brilliant, another HUGE Thank You, lens bought. Taxi to Miraflores Lodge, as luck would have it the reception chap spoke no English but he was meeting the man who had installed their webcams who did, between the three of us I checked in, organised my taxi for half past five the next morning, found out where I could get some supper and got the internet security number. I went to my room settled Beds and my pillow. Went off and got a small cheese pasty and a tiny chocolate éclair and settled to do some blogs. It felt like my old life, being alone in a hotel room, but only for one night and hopefully the last ever night away from Bear.
ALL IN ALL A BRIEF ADD ON AT-VENTURE
---