Last Cape Town

Beez Neez
Skipper and First Mate Millard (Big Bear and Pepe)
Sun 26 Jan 2020 23:57
Last Cape Town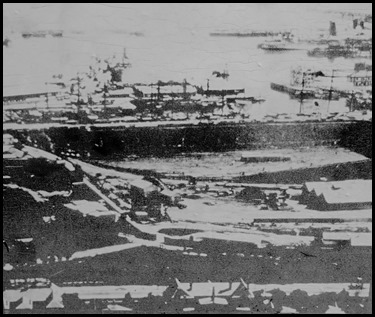 The last few days have been all about preparing Beez for the journey to James Town, St Helena. Sorting, tidying, organising food into crates for ease of access, filling the freezer with meals for Bear and running the Hoover about. Frequent trips to the Mall for bits for the grandchildren and on the last bimble we found another information board: The Alfred Basin. You are now on the North Quay, looking at the Inner Alfred Basin. Up to 1860 this area looked very different. It was all dry land, with the U-shaped Chavonnes Battery on a small promontory, ready to defend Table Bay. Then the battery's left wing and everything behind it disappeared when the Alfred Basin was excavated and joined by the sea by the Cut – that is why the basin narrows at one end. The stone was used to build the breakwater.
Initially, there was much opposition to the project from the Eastern Cape parliamentarians, who felt their cities should have the docks instead of Cape Town, but Governor Sir George Grey managed to get the funding approved. By the time the docks were officially opened mid-1871 – once again by the Duke of Edinburgh – they were already so busy that some ships had to lie at anchor in the roadstead for up to a week at a time.
Pride of place went to the mailships of the Union and Castle companies, Cape Town's link with Europe, and they were given special berths. But not all Capetonians welcomed the harbour, the boatmen who had formerly ferried people and cargo to and from ships in the bay found themselves thrown out of work.
Built: 1860 – 1870. Designer: Sir John Coode. Resident Engineer: Thomas Andrews. Contractors: Labourers and unemployed persons. Costs: 300,000 pounds.
..
Our last evening was spent with a 'little leaving do' on Nauti Nauti. Rob from Fob popped over but had to leave to meet his children – lovely to see him. Kimi took this picture of the rest of us. Craig and Jane (Fob), us, Patricia and Allen (our hosts) and Trevor (Slow Flight).
Not too much encouragement needed to pose less reverently.
Late on, Allen posed with our 'gift', an in-joke between our two boats. It came about before Christmas when the men were tasked to make sure we had enough Malteser lookalikes. In the massive Mall in Port Elizabeth we couldn't have been further from Woolworths. Bear was sent back and returned with a huge supply while the rest of us did 'the proper shop'. We enjoyed a final game of Golf – a card game Patty and Allen taught us. The first lesson I declared that it was "like being taught to swim by a drowning man." So much laughter since we have been neighbours here at the V+A Marina and tonight was no exception. Home at one in the morning......
The journey we begin on the morrow.
ALL IN ALL LOVELY TO HAVE BEEN AMONGST SUCH GOOD FRIENDS
SUCH A GREAT SEND OFF
---