To Jerejak, Penang

Beez Neez
Skipper and First Mate Millard (Big Bear and Pepe)
Fri 7 Dec 2018 23:57
To Jerejak Island off Penang
Up at seven on a very dull morning I had quite the view for ten minutes or so as the skipper disentangled the anchor from a fishing net. Once en route we wiggled through nets, markers and fishermen. The sun coming up behind the mainland.
Things brightened a bit.
A bit ominous.
It was nice to have company and several in a big fishing fleet had AIS.
A tug and tow. Not recommended to slip between the two. No, that would just be plain daft.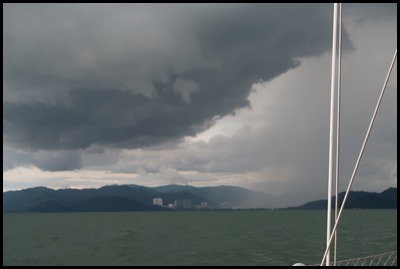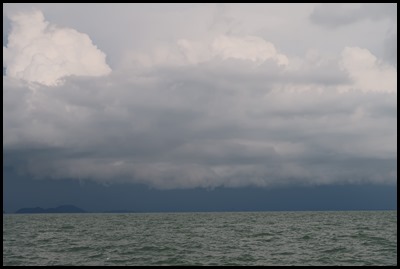 Late afternoon as we approached Penang things came over quite dark and rainy. To the right, six sets of lightning shot between the clouds and the sea and white flashes lit the upper clouds. Our new regard for the bright, firework stuff just now wish it would stop, beautiful as it may be – no more damage required for Beez, so Zeus / Jupiter desist, pretty please.
This working girl came racing past hoping to get in before the storm but we watched as the rain began to fall.
The next hour was solid rain but it began to clear as we approached Second Bridge.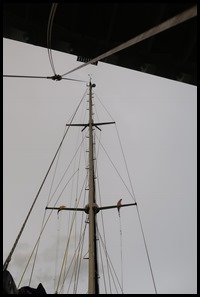 Going under the bridge. Then crossing the shallow bit to anchor next to Jerejak Island. We were told a while ago that a boat was chased off by locals when they attempted to anchor but we saw no one and no one appeared.
A look back at the bridge then we tucked in at the spot we were last time. Six thirty five and just shy of sixty two miles today and ready to settle to a game, supper, a shower and a sherbet with an episode or two, well that was the plan until half way through our backgammon game a crowd of mosquitos appeared and attacked me with brutal force. Indoors it is then, coil lit, strip wash instead. I'll be brave and shower off the back of the girl. Easy for you, you never get eaten.... clearly not sweet enough, you said it, you said it..........
ALL IN ALL A BETTER DAY DESPITE THE WEATHER AND UNTIL THE MOSSIES ATTACKED
CALMER, LONG DAY MOTORING AS NO WIND
---