Shakespeare's New Place

Beez Neez now Chy Whella
Big Bear and Pepe Millard
Fri 29 Jun 2018 22:47
Shakespeare's New Place
The final house in the Shakespeare sequence we visited was New Place, the bard's home from 1597 to 1616.
In 1616, on William Shakespeare's death, New Place house passed to his daughter Susanna Hall, and then his granddaughter, Elizabeth Hall, who had recently remarried after the death of her first husband, Thomas Nash, who had owned the house next door. After Elizabeth died, the house returned to the Clopton family.
In 1702 John Clopton radically altered, or rebuilt, the original New Place – contemporary illustrations suggest the latter. In 1756 then-owner Reverend Francis Gastrell, having become tired of visitors, attacked and destroyed a mulberry tree in the garden said to have been planted by Shakespeare. In retaliation, the townsfolk destroyed New Place's windows. Gastrell applied for local permission to extend the garden. His application was rejected and his tax was increased, so Gastrell retaliated by demolishing the house in 1759. This greatly outraged the inhabitants and Gastrell was eventually forced to leave town.
The Shakespeare Birthplace Trust acquired New Place and Nash's House in 1876. Today the site of New Place is accessible through a museum that is housed in the Nash property next door.
In through a gate where the house used to stand and we were in a pretty garden that gave us a idea of the footprint of the original house. To our left is the house that was owned by Thomas Nash.
A metal ship and a rather imposing sculpture at the end of the path.
The formal garden that was here in Shakespeare time, that would have been to the rear of New Place.
William Shakespeare bought New Place in 1597. It was the only home he ever purchased for himself and his family – his wife Anne and their daughters Susanna and Judith. Shakespeare's son Hamnet died aged 11 in 1596, the year before the house was purchased.
It is thought Shakespeare paid about one hundred and twenty pounds for New Place. At the time, the yearly income of a Stratford schoolmaster was about twenty pounds. New Place was the largest house in the centre of Stratford-upon-Avon. Located next to the Guild Chapel, it was an impressive property appropriate to Shakespeare's wealth and social standing. Shakespeare owned New Place for nineteen years until his death in 1616. During this time he wrote more than half his plays.
Whilst thou liest warm at home, secure and safe. The Taming of the Shrew. Act 5, Scene 2.
New Place was built in 1483 by Hugh Clopton. In 1540 New Place is described as 'a pretty house of brick and timber'. Recorded as having ten fireplaces. in 1602 Shakespeare bought one hundred and seven acres of land in Stratford for three hundred and twenty pounds. In 1605 Shakespeare pays four hundred and forty pounds for a share in the Stratford tithes, from which he made about sixty pounds a year.
Shakespeare's Stratford. Stratford-upon-Avon is where William Shakespeare was born, educated, lived his early adult life, married and became a father. It is also in Stratford that Shakespeare makes his financial investments. These included his purchase of New Place (seen in red on the map), other houses that he let, and farmland from which he received rental income.
William's father, John Shakespeare, was awarded a coat of arms in 1596. This meant that following his father's death Shakespeare could call himself a gentleman. At the time, Stratford had a population of about 2,500 people but there were only 45 gentlemen in the town. Some had been born into the title, while others were businessmen who successfully applied for their own coats of arms.
Four gentlemen in Stratford are known to have carried a sword as a symbol of their status. Shakespeare may well have been one of these, as in his will he leaves his sword, an important and intimate possession, to a close friend.
Exemplification of a Fine. An exemplification is an official copy of a legal action, known as a fine. This one records Shakespeare's purchase of New Place from William Underhill. Dated 4 May 1597, it bears the official seal of the court and was issued in the name of Queen Elizabeth I.
Shakespeare paid for this copy to be made to prove his ownership of New Place. He did not pay for the elaborate initial 'E' of Elizabeth's name to be reproduced.
New Place was a five-gabled gatehouse with its long gallery on the upper floor, faced onto Chapel Street. It extended 33 metres (108 feet) from Chapel Street eastwards along Chapel Lane. The almost central door (seen on the right of the building) led to a passage dividing the hall on the right from the service range on the left.
Upstairs we looked up at the higgledy-piggledy roof and chimneys of Nash House. Column Capital. A capital is the shaped top of a column. This one dates from 1702 when New Place was rebuilt by its then owner, Sir John Clopton. It was recovered from New Place following the demolition of the building in 1759.
From the upper floor of the trendy-feeling museum we had not only a better view of the formal garden but also the large garden beyond. From here we could also see the theatre, a short walk for WIlliam if he 'had to go to work'.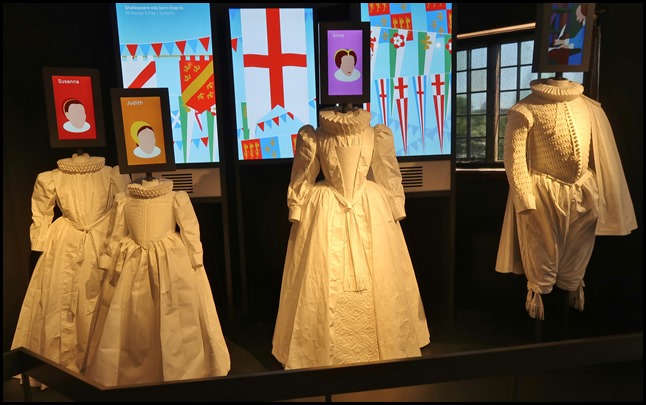 Examples of clothes that would have been worn by Susanna, Judith, his wife and the bard himself.
The Shakespeare Birthplace Trust Portrait of WIlliam Shakespeare – oil on panel in a painted wood frame 1610 - 1615. And one man in his time plays many parts. As You Like It. Act 2 scene 7. William was indeed a man of many parts:- son, brother, husband, father, grandfather, actor, playwright, shareholder of the playing company, part-owner of the Globe Theatre, landowner, landlord and businessman.
Shakespeare was a shareholder in the playing company, the Lord Chamberlain's Men. His name appeared in print for the first time when his poem Venus and Adonis was published in 1593. The Globe opened in London in 1599. Shakespeare paid one hundred pounds for a share in the theatre. Shakespeare and some of his fellow actors were given scarlet to wear in James I triumphal procession in 1604. In 1613 Shakespeare bought a gatehouse for one hundred and forty pounds close to the Blackfriars Theatre in London.
William Shakespeare's Will.
This is an executor's copy of Shkespeare's will, made shortly after his death in April 1616. His daughter Susanna and her husband Dr John Hall are named as executors in the will. This means they were responsible for undertaking – or executing – his wishes.
William Shakespeare was buried in a prominent position in the chancel of Holy Trinity Church, Stratford-upon-Avon, on 25 April 1616. Shakespeare began writing his will in the January of the same year. The final version, dated 25 March 1616, is preserved in the National Archives, London and bears his signature. There are a number of amendments to the document. This suggests that Shakespeare changed his mind about some of the bequests he had chosen to make to his friends and family. Of the 25 people named in his will, 21 were connected with his life in Stratford. "called the newe place wherein I nowe dwell" quote from his will.
To his wife his 'second best bed with furniture' (may not seem much but the second best bed was the marital bed in those days and seen as quite a romantic gesture (the best bed was reserved for visitors only use)).
To his daughter, Susanna, New Place, two houses in Henley Street, all his 'barnes stables Orchardes gardens lands tenementes and hereditamentes'.
To his daughter Judith, '£150 of lawful English money' . She also inherited her father's silver gilt bowl.
None of the items mentioned in Shakespeare's will are known to survive, but we do have examples of the kinds of objects he left to his family and friends. 1.Silver gilt bowl. 'I gyve & bequeath to my saied Daughter Judith my broad silver gilt bole'. Silver drinking bowl or standing cup, about 1540. (On loan from the collection at Charlecote Park).
Sword, 'to Mr Thomas Combe my sword'. Combe was a member of a wealthy family in Stratford-upon-Avon and a close friend of Shakespeare's. Having inherited his father's coat of arms, Shakespeare was entitled to carry a sword in public as a symbol of his status.
3. Spoon.'I gyve & bequeath unto (Elizabeth Hall) All my Plate that I now have'. Shakespeare's granddaughter Elizabeth Hall was only eight years old when he died, but he leaves her all of his 'plate', a general term for metal tableware.
Pewter, with a hexagonal stem tapering to an end shaped as the head and shoulders of a monk or priest wearing a hood. About 1500.
Memorial Ring. 'to buy a ring'. In his will Shakespeare leaves the sum of 26 shillings and 8 pence to friends, including fellow actors John Heminges, Richard Burbage and Henry Condell, to buy rings. rings were a popular Memento
Mori at the time, which means 'remember (that you have) to die', and were a way of remembering a dead person as well as reminding the wearer of their own mortality.
Gold coins 'to my godson Willm Walker 20s in gold'. Shakespeare specifies that the bequest to his godson is 'in gold'. The coin of the time known as a 'sovereign' was a gold coin worth 20 shillings, or one pound.
i Gold sovereign – 1594-6. ii Gold sovereign 1594-6. Gold half-sovereign 1594-6.
An example of Shakespeare's seal. This gold signet ring bears the initials 'WS'. One amendment in Shakespeare's will suggests he lost his seal ring and could only sign the document: 'whereof I have hereunto put my Seale hand'. Could this be Shakespeare's lost signet ring? It was found in 1810 near Holy Trinity Church, where his daughter Judith was married on 10 February 1616, just a few weeks before the will was finalised.
In the words of the bard.....
We ducked through the Nash house, went down the stairs and through the shop, time to get the Hop On Hop Off back to Anne Hathaway's House, where we left the car. A very enjoyable gambol through Shakespeare's life.
ALL IN ALL LOVELY TO LOOK BEHIND THE MAN
REALLY INTERESTING HISTORIES
---