LM Birds

Beez Neez
Skipper and First Mate Millard (Big Bear and Pepe)
Mon 16 May 2016 22:57
Lady Musgrave Birds
We timed going ashore for after the tour ferry left, not that many had come but still it's lovely to have the island to ourselves. The sky was abuzz with terns rushing about most with little fish in their bills.
On the beach there was a mothers meeting in progress, amazingly camouflaged........
.......and a chick begging for food.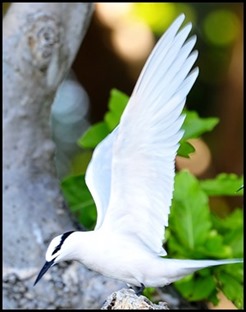 Hooded terns, very acrobatic, suddenly turning on a dime in flight and always busy.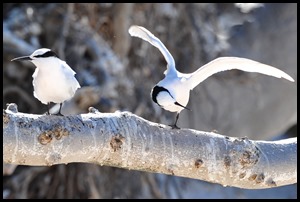 Romance in the air ??? He tried an impressive stance and got shouted at, then he tried foot tapping and she gave him the cold shoulder so he went back to the wing spectacular.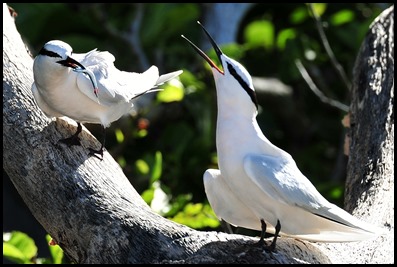 Intrigued, we watched as he went off and returned with a fish. Surely she would be wooed. No, she shouted at him again.
He didn't know what to do next, but had another go – failed, she deserted him.....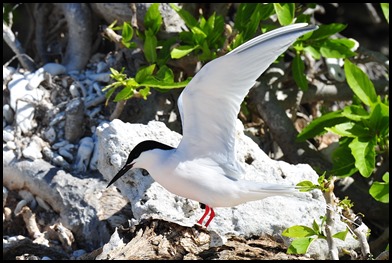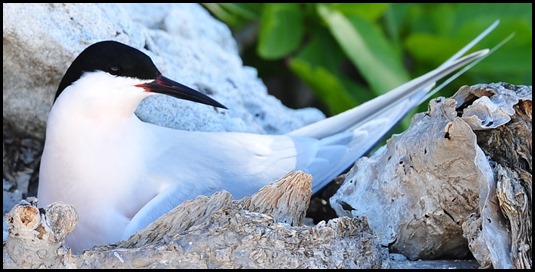 Roseate terns – pretty birds.
A few steps into the woods we saw a chick right above our heads, he tried crying out for food but when this failed he thought he would give the preening business a try.
Mum did come back but despite much squeaking and us wishing, no, not interested.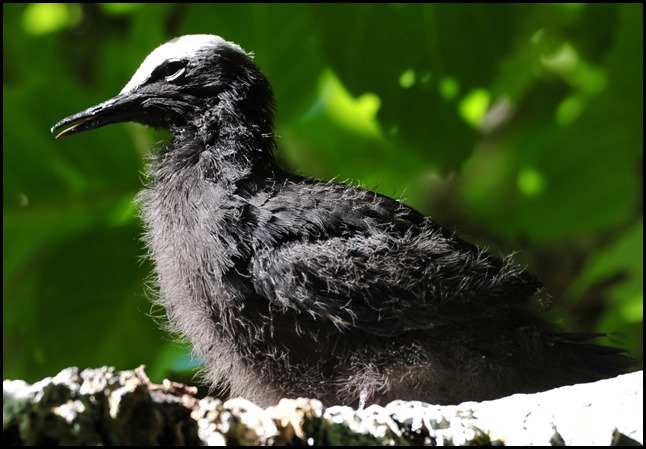 More squeaking, then resignation. Oh well, we'll move on.
We were lucky to glimpse a couple of silvereyes – so quick and shy, the second about to feast on something bug-like.
Buff-banded Rails are as fast as Roadrunner, these were the best two of the seven we saw, all high speed scooters.
By contrast these chaps came in to roost actually looking tired – we could lean up for pictures, they were not worried at all.
It's their neat webbed feet that made us laugh, so wrong on a tree branch.
More came in all the time, meanwhile back at our favourite chick we found dad, mum nearby. Time to head back to the beach.
Even seagulls look handsome here.
A pair of pied oystercatchers.
A fly-by of brown boobies.
A pair of herons looking haughty, proud and chic.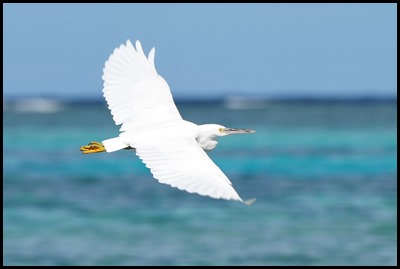 Graceful in flight.
A female white-bellied sea eagle came to survey the visitors.
Meanwhile, her man stood sentry on the navigation light, but favourite of the day......
ALL IN ALL A PERFECT PLACE FOR THESE BIRDS TO CALL HOME
A TAME BUNCH
---