Key West

Beez Neez now Chy Whella
Big Bear and Pepe Millard
Tue 8 May 2012 22:17
Our First Bimble in Key West
Beez in Man of War Harbour
First job was to find the City Marina Dinghy dock, next the 'log in' place, then where the shops are and lastly where the touristy bits are. Twenty five minutes (about a mile and a half) in Baby Beez took us from way off to the left of the picture to the blue arrow. We asked directions and walked to the dock masters Office (red arrow). Later we found the Bight Marina dinghy dock (yellow arrow), parking here is within walking distance of the centre of Key West (area all around the white arrow). The town is famed for "Conches", writers, artists, retirees and a large gay community, all living in restored Bahamian-influenced Victorian homes. A melting pot of Caribbean, Latin and American influences, home for many years to Ernest Hemmingway who put the town on the map.
Armed with information and maps we took a cab to the Federal Court House for Bear to log us in. The airport-type security found we were carrying a lap top so I sat and waited outside. Bear appeared half an hour later having waited behind a couple of yachts in from Cuba – handing over their fruit and veg and arranging for boat inspection. From here we are just a couple of blocks away from Duval Street, time to be tourists for a few hours until we move Beez.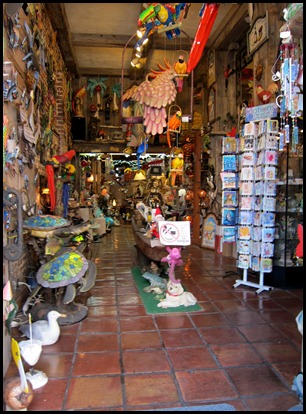 Opposite was a great shop
We wandered down Duval Street and had a drink in Sloppy Joe's (own blog) and late lunch in a quiet Pirate Bar where they did a great mud slide
We gathered loads of local information and bought bus tickets and Little White House passes from the lovely Leslie
Key West is fine with us, they like bugs and trikes
Some beautiful homes, the last flower on this tree before all the leaves come out and the mile walk back to Baby Beez
The local police protect and serve Paradise
Chickens wander everywhere, no Kentucky Fried in Key West and these chaps are protected, if you hurt or kill one it is an automatic $500 fine – their job is to eat insects. When there is a big downpour the whole area gets sprayed from the air to prevent mosquitos, no arguments from us. We saw this spider who wears a jacket to look tough, but really he is only a tiny chap.
We got back to Baby Beez and spuddled around. The protected lagoon is behind a fifty foot power line (too short for Beez to go under to the small City Marina dock) but shows the local presence of the wise owl and his osprey allocation.
We stopped to watch two crabs 'cuddling' beside a beer bottle.
The floating city next to the dinghy dock- a real mix.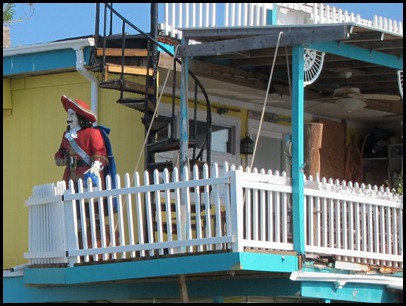 This home had its own guard on the balcony
This one is fully mobile with a paddle wheel at the back
The one on the left is a very jaunty angle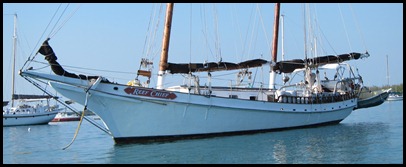 Back in the anchorage I said calling a boat Reef Chef was not a great name – that'll be Reef Chief was the droll reply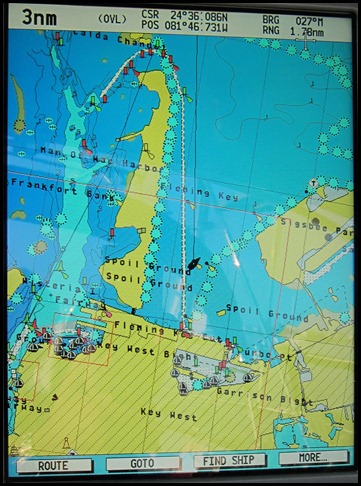 We had to move just around the corner, it took over an hour against an amazing current
ALL IN ALL A BUSY DAY
---