To Papeete

Beez Neez now Chy Whella
Big Bear and Pepe Millard
Sat 3 Aug 2013 22:57
To Papeete, Tahiti, French Polynesia
Wednesday the 31st of July. We went ashore to buy bread, enjoy another ice lolly and check the weather. This little chap came to say farewell as the captain confirmed the weather window was a good one.

Final chores and at half past three engine on, skippers watch, I was in charge of pointing out the buoys as I always do (to my red / green sight deficient man), with the added fun of holding the IPad and following / showing helm our progress. What colour is the one behind the chap in his canoe. What man in his canoe. The one over there. A frustrating comment to hear when you have your hand clapped to your forehead seeking a vessel that is clearly not there whilst hanging out of the cockpit windscreen trying to take a final picture of Tubuai. Where I repeat. Over at two o'clock. Is he dressed in black. Yes. Is his canoe black. Yes. Is a wave just about to hit him. Yes. Has he waved to you. No........................That will be the coral marker then.....................Ohhhhhhhhhhhhhhh. I wouldn't have minded so much but as we had neared the final bend I had patiently pointed out the colours, their positions AND the said marker, in fact the very same one as when we had come in. Oh that's too long ago to remember. Oh dear. This could be a very long journey of three hundred and fifty miles and clearly the lack of listening to anything but the first few words in a sentence is obviously getting worse. That's a bit harsh, said over hysterics. See Pepe sigh and shrug......
.......................the chap in his canoe, note no paddle to be seen. Good start captain.
The GRIB files had suggested fairly big winds overnight so a reef in the main and genoa as soon as we were out in deep water. Engine off and all settled within a hour of setting off. Marvellous, out came the backgammon. It is now our quest to see if we can play every day at sea no matter what the conditions. A very pleasant game only spoilt by me losing 5-4. Mmmm. At dusk beef curry lifted my spirits and the skipper made his cockpit nest, his newish habit to have his first sleep nestled across the way from me. I have got used to the snoring, honest....Darkness fell, the first of my two night watches and the one that if things are going to get interesting – now is the time. No disappointments here then as the wind went up to thirty five knots, no problem as the sea was so friendly and Beez was cracking along at over seven knots. By the time I went off at ten the leaning was all wrong. We have spent most of our sea lives leaning to the right with balance compensations a thing of natural habit. This was all so alien, things that have been on shelves for five years decided to leave home and wander. Walking downstairs, bracing and abluting took on a state of saga and everything took twice as long, you can get the idea if you imagine your level world suddenly being canted at twenty degrees or so. I got into bed, I tried to settle uphill. Tried a bank of Bears pillows behind me. A big wave had me air born but instead of being thrown against the wall as normal, I was heading to the en suite / floor and took on the look of Tom as Jerry planned for him to run into thin air and try unsuccessfully to claw his way to terra firma. Beds and the boys were very put out and needless to say when I was called at a quarter to two I wasn't sorry at all, no sleep (but never expect much until either of us are in the rhythm) but this time with an aching arm from the grasping and grabbing. Did you have to sleep like a starfish was my chirpy welcome to the cockpit. I muttered something about not using big words like sleep and bade him good luck as he set off.
1st of August. Nothing out of the ordinary, other than the leaning being horrible and a distinct lack of sleep. The towing generator, (cracked but new parts due to greet us when we arrive (Thank You Alison at Duogen as ever a complete star)) decided to make the noise of a playing card pegged to a bike spoke. Not wanting to risk it the skipper pulled it in. The power it provides was sorely missed and we had to put the engine on to charge us up. Funny to think that in gear it would actually slow us down, but that's the way it is. Sailing boats are happiest sailing and none more so than Beez. At midday we had done 119.3 miles, I thought was poor until it was pointed out that the number was for twenty one hours, by twenty four it had risen to 141.9, perfectly happy with that.
Before and after.
Friday the 2nd of August. Domestic maintenance day. I began with a hair trim, not an issue with my head in a carrier bag, clippers buzzing. I'm thinking of a comment but must not make it too dangerous as I'm next and it could come back and bite me in the form of pain. Then I would see her smile sweetly and apologetically say oops as she accidentally on purpose nicks something that bleeds slightly. The other favourite payback is sneaking up behind me and whipping out a nose hair with a satisfied grin on her chops. What are you mumbling about. Nothing dear. Hmmmmm.
Clippers in hand, check. Number one for beard, check, number two for head, check. It was nasty the once I got them the wrong way round. Bloody worse the once you forgot altogether and a shiny furrow appeared across the top of my head. Oh in hundreds of times it only happened the once, you wore your cap and it was all OK in a week or so. Mmmmmmm, again I think it best to use silence at this point.
Bracing with one hand, it was a bit of a giggle, especially as the leaning still felt so wrong but soon the captain looked less like Captain Birdseye and my toe nails were painted. Time for a game. Now Bear always has the job of rolling the towel to make the board level, now it was my turn and the task was horrible. I got moaned at as waves hit and things moved, dice jumped and men waltzed. 137 nautical miles. In tomorrow.
Saturday the 3rd. I came on at two to find lots of lights twinkling. Tahiti. Smashing.
IPod and traditional screen. Overnight I wound in the genoa, turned to wind and slowed to a snails pace so the skipper could get a good sleep and more importantly we would time our arrival to be in daylight. Never have fancied going in to a new place in the dark, wouldn't even do Plymouth now, although we used to.
I was allowed to go to bed at dawn for a couple of hours as the skipper didn't mind dawdling. He took the second picture – a pretty morning sky.
I leapt up very excited to see lots of buildings, our first city in ages AND big planes.
The rolling clouds reminded us of Table Mountain, Cape Town.
At half eight, no sooner than I wrapped my mitts around the wheel than I had a fast ferry to my left coming out and a rather brightly painted one to my right going in. Pape'ete is a busy port, so as rules dictate Bear got onto Channel 12 and asked permission to enter. A chirpy heavily accented voice welcomed us in English.
Ferries are one thing when you have just cracked your eyes open, but, I also had the weekend nutters rowing about me, waving in welcome and calling Bonjour. I held my breath as I waited for the ferry bow wave to hit this chap but he seemed unconcerned, turned into it and bobbed over the top.
Looking back to Moorea - many yachties have told us that this is the most beautiful island and indeed some have said it is their most favourite place to visit in the world, looking forward to that then. The gathering clouds show us that the weather system that is forecast is coming in behind us.
Nearing the port, note tiny white mark to the right of the buoy.


As we passed, said tiny white mark was a chap enjoying a spot of fishing. Another weekend nutter.
Prize winner though is this chap out with his spear gun. What is he walking on, a coral bed. Oh, how weird.
The original picture was just a plane landing, turning and taxying. That was when I saw the chap.
Nice scene.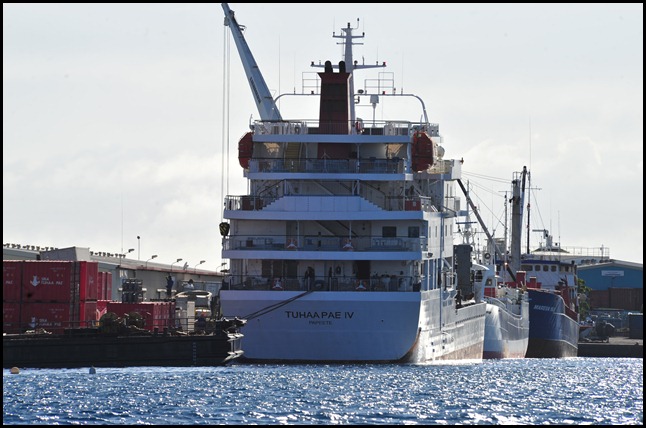 We passed the commercial port and lo and behold, our old friend Tuhaa Pae IV was in. So nice to catch up with old friends. Bear got on the radio once again, this time to hail Scott-Free. Steve answered, gave us instructions of where to head and both he and Chris were there on the jetty side, helping us land next to Sheer Tenacity (out at the market – Ooo another joy to look forward to). As soon as we were settled they very kindly invited us to breakfast. Fresh orange juice, French stick and a cuppa, perfect. Breakfast soon melded to coffee and on through lunch as we caught up on adventures since the Santa Cruz in the Galapagos. The wonderful thing about the community that we live in, is meeting up with friends, especially those with a similar sense of humour and a special couple such as we were with right now. Out came the map we would get from the harbour master on Monday, exciting things were pointed out - where to get pearls set, McDonalds, Apple shop, Carrefour - so many jewels to explore in the coming days. I'm going to love it here, not so sure about the visa card. Well it is our first marina in six months and proper shops......Yes, the skipper has his own jewels in the shape of chandleries and the DHL office to fetch our parts for the towing generator. We had thought to miss Scott-Free but luckily for us their new mainsail has done its own circumnavigation, arriving on Monday.
Chris mentioned that every night in the square nearby, mobile food vans appear, and there is a particularly good Chinese one, we were on for that like a shot. After a few hours rest, too dangerous for us to go to sleep, we were once again aboard Scott-Free, hugs on meeting up with Rod and Mary (Sheer Tenacity) and meeting Dave and Jenny (Alexes) who were going home to eat fresh fish from the market. I'm going to like it here too. Later, we settled on the table to the right of the youngsters in black; the lad on the left played the ukelele and the others sang some lovely songs in French, Polynesian and English, their harmonies were great, our waitress spoke very good English too and soon our orders were placed. In the morning there will be no evidence that this open air experience exists as tables and chairs are stowed in a hangar and cleaners wash the area to spotless. It really reminded us of our al fresco dining in Marrakesh, many fresh fruits, ice creams but here crepes and brie, even a full roasted pig – the air was filled with all kinds of wonderful aromas. The atmosphere was wonderful, the company was excellent and the food demands this be a regular event.
On our way home we passed a giant that had been converted for Kerry Packer, now owned by his son. One of the three 'toys' aboard was as big as Beez.
We haven't seen this night scene for what seems like a very long time.
Or this one, next to a main road, but so close to the shops it will make a nice change. Beez tucked up behind Sheer Tenacity – no they are not dirty, it's just the way the light has hit them. Tomorrow chores and list writing Ooooo how exciting. Good wi-fi on board but for now sleep beckons – the end of a really great day.
.
ALL IN ALL I'M GOING TO LOVE IT HERE
ANOTHER MILESTONE REACHED
---