2nd Visit to K P-K

Beez Neez
Skipper and First Mate Millard (Big Bear and Pepe)
Sun 15 Jan 2017 23:47
2nd Visit to Khao Phing-Kan
We left Beez at 'our' hong and spuddled off in Baby Beez.
To our left an island with a glorious overhanging peak.
Khao Phing-Kan ahead.
We headed for the north west beach (James Bond Island to our left).
Few tourists left at this time of the afternoon but it was a smashing surprise to find Errol and Claire (Restless M).
We did the tourist poses with JBI behind us as the sun came out before setting.
Father and son.
We explored the caves on the other side of the island.
A couple of 'arty-farty' pictures.
Incredible, all the grockle stalls – closed.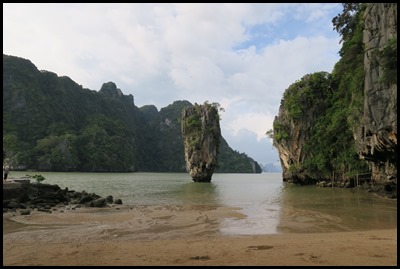 Now to get 'that' picture.
ALL IN ALL A TREAT TO COME AFTER THE VISITORS HAD LEFT
SMASHING TO GET THE PLACE TO OURSELVES
---