Logging Out

Beez Neez now Chy Whella
Big Bear and Pepe Millard
Tue 22 Mar 2011 23:37
Logging Out of The Turks and Caicos Islands at South Dock
Up we jumped to get the hire car back to Avis, at the back of the airport for nine o'clock. The lady called Juilbert who brought us back in his shiny minibus. On our way back we asked to be dropped along the main road to go and log out. We had three sides to a square to walk on what we will just call 'unmade' road and leave it at that. At the end of the first road the views down to Sapodilla Bay
No mention of my poor left heel (Plantar Fasciitis) but it hurt quite a bit. Last road, then in the corner C+I (Customs and Immigration Office)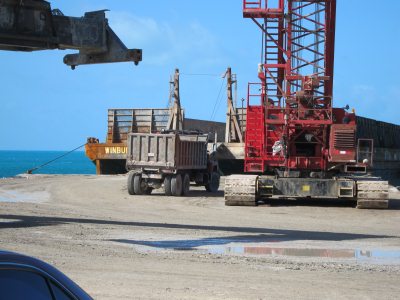 All cleared out, we stood and watched sand being off-loaded, the Customs man had told us it was from Jamaica. Then the walk back to Baby Beez
Everything perked up for me no end, when I found my 'One Careful Owner'. This was an event. The island of Providenciales had been a barren desert of OCO's as they all get 'tidied' away to scrap yards - and that's now considered cheating to photo any girls and boys in such a place. Well here tucked off the main road, out of sight was this queen.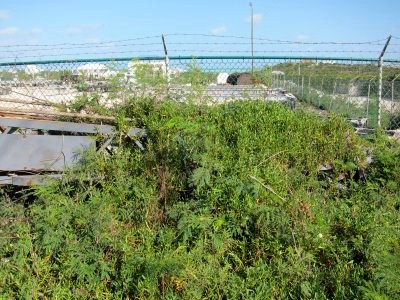 Exposed in all her glory - now we have a minimum entry requirement, as the standards have had to increase - Must Have Tree or at the very least a Big Plant growing through said nominee
Next minute I'm in my element with so many trailers to look at, AND a new category 'One Carefully Owned Glove'
Back out on the main road, Bear couldn't believe that this post had been killed, with so much space to have avoided it
On the corner by the Royal turks and Caicos Police Station was a fancy booze shop, complete with lady who spoke no English - amusing time buying Diet Coke cans
At the dinghy dock we met the crews of Nancy Dawson (Randy and Susan) and Mi Amante (Charlie and Michelle), all from Canada. A happy little convoy on the morrow, all heading the same way. They were off to the thrift shop with loads of 'stuff' they had sorted from their ladies. If I'd have known the Salvation Army had a shop here I could have had a real good rummage and got rid of a few bags full. Thank the Lord for his mercy and kindness. Coward. Yes, I've had a nice time here and don't want it spoilt with you feeling round my hidey holes, thank you very much. With that we went for a mini spuddle on Baby Beez and saw South Dock from the sea.
Our last shot of the girl before saying 'farewell' to the T+C Islands
ALL IN ALL A SMASHING TIME AND A LATE ENTRY ON THE 'OCO' FRONT
..
---