Osaka Station

Beez Neez now Chy Whella
Big Bear and Pepe Millard
Wed 1 Nov 2017 23:57
Osaka Station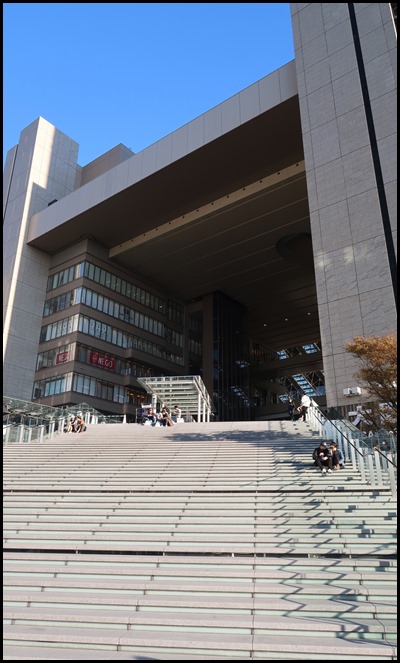 Osaka Station entrance, so lovely at night.
I loved the building next door.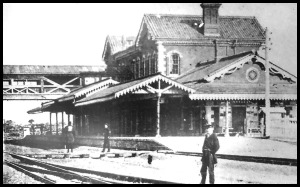 Osaka Station
1874, 1901 and today.
We have come to expect huge walkways, shops and restaurants so

Osaka Station needed to come up with something different, the statistics are pretty impressive -

Osaka Station and Umeda Station, effectively part of the same complex, together constitute the busiest station in Western Japan, serving 2,343,727 passengers daily in 2005, and the fourth-busiest railway station in the world.
The first impressive thing we saw was the enormous frieze over the door, which includes kangaroos......
We head to the top floor looking up at the ceiling.
Christmas lights in a huge curtain.
I sometimes wonder just how many pictures I've taken of Bear. The curtain lights soften and darken....
We stood and watched how neatly everyone queues. A train comes in, no rush, people wait until folks get off and on they go maintaining their lines.
A train leaves and just a few who missed it or the new queue to see.
We walk back to our platform and like the easy to find to and from.
Easy to find our station and the direction of travel.
Our chap arrives after a few minutes.
We decide to eat at our digs, a Chinese, we are the only customers – always a worry.
The starter was prettily presented, the rest of the meal was a multiple choice as the two waitresses spoke not a shade of English.
One item may have indeed been very tasty.......
...but neither of us ordered the Bum Wraps.........
.
ALL IN ALL LOVED THE ESCALATORS AND THE PARTY FEEL
THRONGS OF PEOPLE WHO ALL SEEMED TO KNOW WHERE THEY WERE GOING
---