Caraminas

Beez Neez
Skipper and First Mate Millard (Big Bear and Pepe)
Sat 2 Aug 2008 19:30
I am writing this from Portosin, finally I have internet, so I can catch up with the blog.
We are not sure exactly when Bear fell on his knee but by the time he had tied up he was in quite severe pain.
You know its bad when you see the very big fishing boats in and the crew in the pub. First time we have ever seen white horses in a marina and proof on windex.
I did video the windex and got forty-five point seven but it changed so quickly the best I got on camera was the forty-two point two. I only felt dry land on day six.
Five SOLID days of wind day and night, the lowest being twenty two knots.The noise awesome. Sleep was sketchy (oh not for skipper) I got a new lifetime best on Tetris.
During this time we watched series two of Numbers and series one of Criminal Minds back to back. Eastern Promise, (hey anything for me to see Viggo Mortensen naked).
The DVD fest continued with Night at the Museum which was a laugh. Fargo, just plain weird and many more.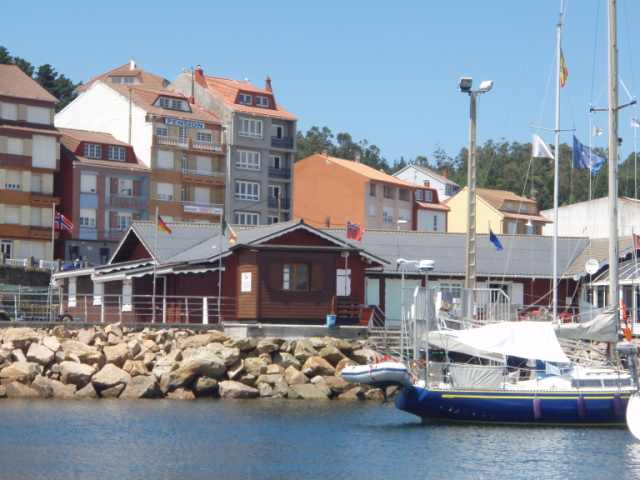 First day of sun I took this photo. We loved Harbour Control, its the little shed, complete with desk, passport control and computer.
When we arrived we thought this would be a pretty town, the headland had complete buildings. The middle photo shows the marina hotel, under the shelter great hordes of
elderly men met daily to discuss their naval fluff while the women pushed and shoved in the small, stuffy supermarket, a word used very loosely. At least the foraging was good.
We collected these mussels off the end of the pontoon, this is a whole washing up bowl full of very large chaps.
These grain stores were all over the town, small, medium and large. We saw pitiful bald turkeys and chickens kept in terrible conditions in back yards and the smell awful, right next to pretty
houses. Allotments in the middle of flats and shops. Dogs tied to lamp posts with an old basin of murky water. Not the place I wanted to be stuck for two weeks but due to skipper's knee.........
The result was very painful and this brought about an inflammatory response and ended up with a huge ankle, foot and a big toe that looked like a toffee apple. Bed rest, nursing and poultices.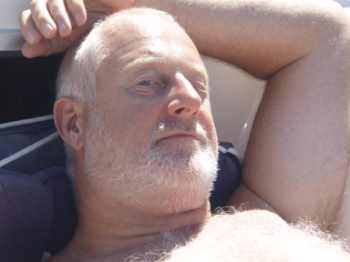 I knew he was alive by his impression of a whelk snoring, he heard me giggling so closed his mouth, then heard the camera click and opened an eye.
FREEDOM, I felt like Steve McQueen in The Great Escape when we finally left on Saturday second of August.
---