Supplies Arrive

Beez Neez
Skipper and First Mate Millard (Big Bear and Pepe)
Fri 19 Jul 2013 22:07
The Supply Ship Tuhaa Pae IV Arrives
We heard a loud noise, stuck our heads out and Tuhaa Pae IV was right next to us.

Waving from all on board, bow thrusting and neatly docked.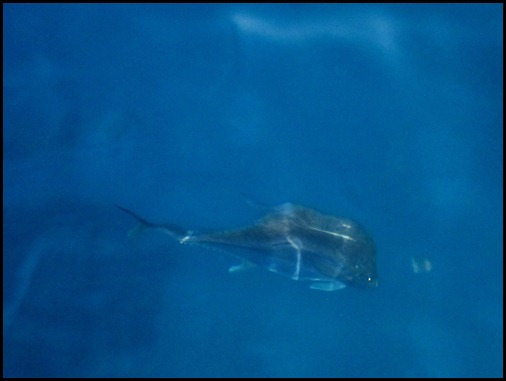 Later, we went ashore to find the islands Tiki. Bear was tying Baby Beez to the wharf and I spotted this two foot long chap, not a clear picture, well he is ten feet down. Perhaps a spot of fishing may be in order off the back of Beez Neez.
Unloading, Bear loves the entertainment.
Especially when a man was 'unloaded'.
After our bimble it was time to head back to the wharf. Beez and a local boat.
In the soft light before dusk.
Everyone worked hard all day. Strangely tons of volcanic based aggregate came off last, wonder why they don't quarry and mix their own. Not sure what the boat is doing on the top of the pile.
Baby Beez, her new friend and Beez just in shot on the right.
On our way home at dusk, we were intrigued with this craft.
We stopped to watch, the final item to be loaded, not just the boat – the whole thing.
Her nose on arrival and just before she left.
ALL IN ALL QUITE AN EVENT
---