Baiona

Beez Neez
Skipper and First Mate Millard (Big Bear and Pepe)
Wed 13 Aug 2008 23:54
Baiona
Baiona is historically one of the poorest areas of Spain. The people are of Celtic descent with strong belief in myths, legends and all things mystic. It is seen in the local pottery and many shops sell all sorts of witches, from hideous cartoon fountains with the witches atop, to serious sculptures featuring covens and ghouls.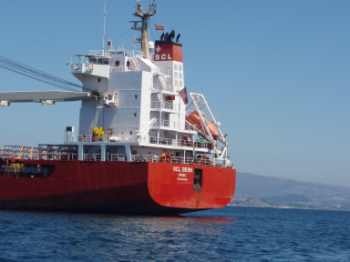 I took the photo of Bear showing no life jacket, he says he told me about it being too hot, I don't remember any such chat. As we passed the SCL Bern, he told me that the first mate was naked, is this some kind of hint??. The hat Martin and Kim bought skipper for his birthday, I'm not sure if he looks more like Bill or Ben.
Baiona is in the provence of Portevedra and was founded by Diomedes of Aetolia in 140 BC. It has had several names in its colourful past. In 1585, the inhabitants of Baiona repelled an attempt to take the town by the privateer Francis Drake, is that posh for pirate?. Five years later Phillip the II of Spain beat the pirates that were laying the Galician coast to waste with a fleet of 98 boats and 17,000 soldiers.
The normal population is around 11,000 this rises to around 45,000 in the summer from all nationalities. Other than tourism the next economic activity is the fishing industry.
The shallow end of the marina, skipper had written out what he wanted to say to the harbourmaster and checked in the Spanish dictionary, the answer came back in perfect English. Beez is in the middle at the back on a very substantial pontoon, with free internet, water and electricity with a 20 euro deposit on the connector. The showers were in a portacabin, boys hot and as per usual girls cold, more showers for me on board.
A view of the marina from the very affluent shops, one non PC selling real fur coats and a furniture shop where you could buy a zebra skin mat. The old chap in this picture was well over eighty, we watched him clamber up into his boat without the aid of a step and skuttle about happily. Bear was most worried he was going to fall in. The building in the front is the very nice yacht club belonging to the marina next door.
Monterreal Fort has been a walled precinct for over 2000 years. As well as the Celts the town has seen Phoenicians and Romans. The monument to King Alfonso IX of Spain, was built in 2001 to commemorate the VIII centenary of the founding of Baiona as a royal village. It is by Juan Vietez and shows Alfonzo as the protector and benefactor of the town. I mentioned in the Pinta blog that Pinzon had arrived in Baiona with syphillis caught from the Native South Americans, he was the first person to bring the disease to Europe and indeed the first victim. By 1494 half the population was infected, so if the town suffered so much why oh why did they build a hotel to honour the man???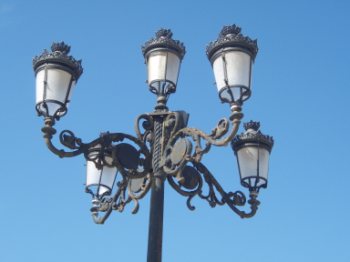 You see some lovely little bits of original architecture, then a block of flats built following the curve of a sheer granite face. This was a really pretty courtyard with a very nice resturant at the back.
DISASTER. We had played a game of sequence and folding up the board I caught the edge of my glass. A pint glass with just a half an inch in the bottom, it fell beautifully into my laptop that was open right next to me. I of course blamed Bear, I only had it open because I was playing Bob Dylan for HIM. Pandermonium broke out, upside down, shaking, tissues all over the gaff, net result, I really did for it, only 6 keys now work, so out came the roll up keyboard, as useful as a chocolate teacup, letters stick down, you really have to press hard. I had a bit of a cold and stupidly pressed the wrong button, instead of going back a couple of days to try a function restore, I wiped everything back to factory settings. Thank you to Martin and Miffy for verbally holding my hand and helping me with resets. I had been bitten on the end of the nose by a midgy, the bite then got wind burnt and the sun finished it off. COMMENT Bear said I had ACUTE BEAKITIS. The roll up keyboard served better as a hat. Bear DID feel sorry for me and bought me a new, cheap proper keyboard. Late in the evening I sent him off with it under his arm to ask the first Spaniard how you did @ as it is a third function on the number 2. In France I had been taught to use Alt Gr, not this time, just as it was going over the side Bear tried it in the same place as an English keyboard, now I have to look at any function key on the laptop as it had loaded it as if it was UK.
Monday is traditionally wash day in most households, no different in this one, Bear had just finished giving the girl a good power hose and I had just pegged out all the washing when the heavens opened. We are made of sterner stuff than to be thwarted. Up went the conservatory and next thing skipper is midst the handiwork of Mrs Woo. What do the crew do when its pouring. Play games like sequence, backgammon and upword, why we have to play like our lives depended on it I'll never know, but its the only time there are harsh words!!!!!! This little fish was too busy feeding, if you look you can see loads of others just swimming off, they are so skittish the slightest shadow and they are off. I HATE tapping, clicking or thrapping, I actively seek to eliminate it. It took us ages to work out the clacking through to a real Marilyn Monroe air kissing noise was these little fellas, which is fine in the day but late at night there are hundreds feeding on the algae under the boat. They regimentally hang and suck along like a parade in Red Square. The kissing is when they force themselves on their side and come right up out of the water. After the hellish all night noise of Sanxenxo, the silence hear was deafening, exept for these chaps.(great little bottom cleaners, I love them, but she says she can still hear them over my snoring!!!)
COMMENTS
PEPE I had a panic attack when I lost steerage, I was so busy overseeing Bear do a course from start to finish on the plotter, (he had done all the elements before but not from start to finish etc). I had forgotten I had put the autopilot on when I had checked my troll line.
BEAR bit into what we had bought as apple turnovers and found they were full of fish paste, so pleased it wasn't me.
GREAT COMMENT. A boat had had to stay for four days because as they came in they found their bow thruster only worked spasmodically. Thoroughly fed up, they tried everything to put it right before moving on, when the metal boat parked next to them left, it worked perfectly.
We stayed an extra day here as there was a four metre swell today, will leave in the morning, August 14th. We had a smashing time with Anne and Michael (Nimue) fellow bloggers on mailasail.
---