Binh Tay Market

Beez Neez now Chy Whella
Big Bear and Pepe Millard
Sat 30 Dec 2017 23:37
Binh Tay Market
On our city tour we bimble through Chinatown en route to the biggest market in the city.
Cross the road with the now normal Oooooo as we go.
Wiggle past a fruit and veg shop just as her delivery arrives.
At one of the entrances we were not prepared for what we would get into. The covered, non-food side of the road houses aisles barely wide enough for two people to wriggle past each other, the noise is incredible and as we need nothing, we head back across to the food market.
Successfully through the sea of motorbikes, we have to bimble through the bike park.
The smell of billions of dried shrimp hits like a baseball bat.
I hold my breath through the dried fish bit.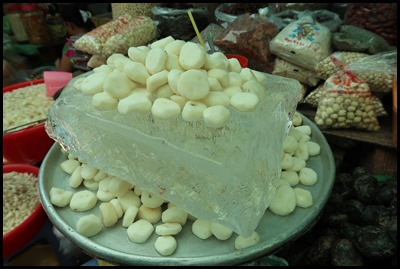 I shuddered at the bowl of tripe, shrugged at the black, thick, gooey stuff, whatever on an ice block and dried crabs.
Millions of dried mushrooms give way to eggs – black, furry, quail, chicken, ancient and 'unsure in a shell'.
Baskets, herbs and spices.
Fruit and meat, oh a scooter comes through.
Sausages, New Year stuff and a pot shop.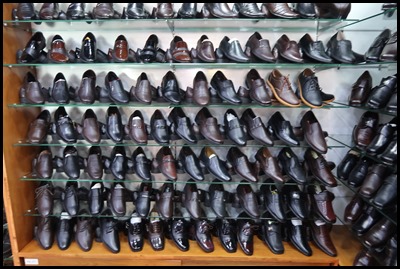 We stick our head in the men's department of a shoe shop. These plastic beauties on sale for seventy five pounds.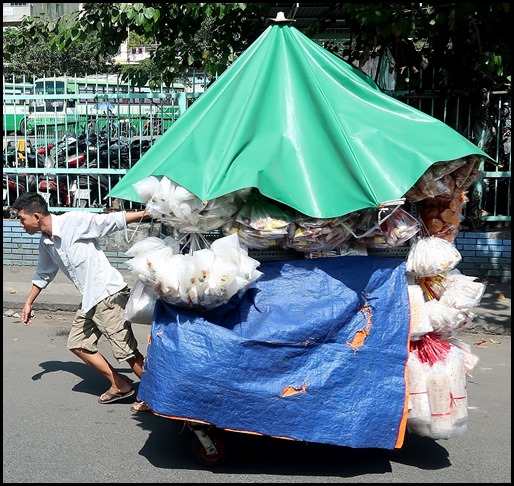 This chap's stall is laden and off he heads to sell his wares.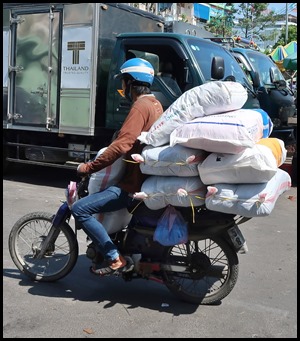 Motorbikes have to work hard here
This bike may eventually have been the winner with four people still loading it. This chap barely had room to sit.......
..........but the winner of the day is.........this young lady, and off at no snail's pace.
We head back to the safety of the bus, admiring the 'normal' looking plastics shop.
ALL IN ALL ORGANISED, LOUD, AROMATIC.......... CHAOS
TYPICAL ASIAN MARKET MADNESS
---