Oscar's Fete

Beez Neez
Skipper and First Mate Millard (Big Bear and Pepe)
Sat 1 Jul 2017 22:57
Oscar's School Fete, Wembury
A glorious, sunny day for a school fete.
Two o'clock some of Oscar's class performed a maypole dance.
Maypole dancing is a form of folk dance from Germany, England, and Sweden. There are two forms. The first and most popular consists of dancers that perform circle dances around a tall, garland-festooned pole. In the second, dancers move in a circle, each holding As they move around the pole, the dancers intertwine their ribbons either in a web around the pole or to plait it to the pole, the ribbons, the dancers retrace their steps.
Oscar (in the cap toward the right).
We watched as the ribbons made their pattern and then the steps were reversed – a good job.
Next, we watched Jacob on a pony ride.
All went well until his steed passed wind...........the face says it all.
Smelly it has to be said. Jacob had to pinch his nose.
Kim (pale blue cardy tied at waist) took to the serious business of ladies tug-of-war.
First pull – an easy win, all smiles.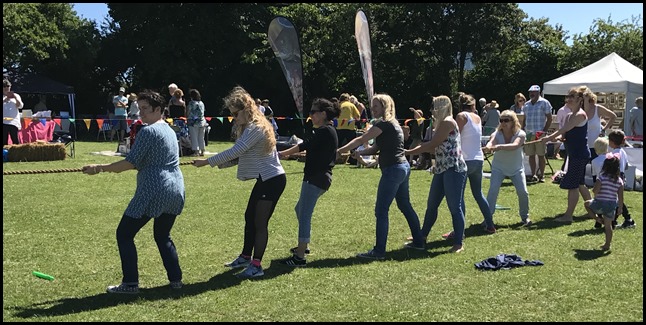 The opponents never looked confident.
Laughter before the second pull.
Taking up the slack and pulling.
Another easy win, so best of three was over with the two successes. We had to shoot back to Eva as we are having Andrew and Edward for the rest of the weekend. So lovely to see a school fete well attended, children and parents alike having fun topped off with proper English weather for summertime.
ALL IN ALL A JOLLY BUSINESS
A LOVELY STEP BACK IN TIME
---