Mountain Heart

Beez Neez now Chy Whella
Big Bear and Pepe Millard
Fri 4 Mar 2011 23:47
Mountain Heart
When we arrived in St Croix, GB and Sarah said they were going to a concert in aid 'Kids of Notability' (a non profit charity here on the island that takes music and composition to school kids), "would you like to go if you can get tickets". Yes - we haven't been to a live gig for nearly a year. No idea who were are going to see, should be interesting. Sarah phoned a local bookshop, got two tickets held, sorted. So after our morning at Buck Island, lunch ashore with some really good mudslides and painkillers we were looking forward to something new that evening. GB and Sarah and picked us up and off we headed with the aid of SArah's antipodean GPS to the Island Centre, a semi-natural theatre - half open, half covered.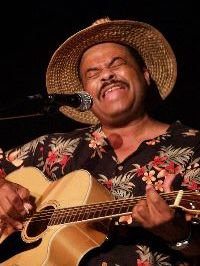 The opening act was Mark "Big Poppa" Stampley. This Chicago born multi-style guitarist and vocalist calls his Carriblujazzean music a reflection of his musical journey that had had him performing and recording blues, jazz, reggae, soca, calypso, rock, hip-hop, salsa, merengue, bossa nova, folk and gospel music. So good was his blues we went straight home and bought "Here come big Poppa Stampley" on ITunes.
Mountain Heart was next, featuring Jim van Cleve on fiddle, Josh Shilling on guitar, Barry Abernathy on banjo, Jason Moore on bass, Jake Stargel on guitar and Aaron Ramsey on mandolin. The band originally formed in 1999, and have gained legions of fans. We are now counted in that number. Our first band with no drummer..........
As one of the most highly awarded ensembles ever assembled, Mountain Heart, or members of the band, have either won or been nominated for multiple Grammys, ACM, CMA, and IBMA Awards. They have appeared on the revered stage of the Grand Ole Opry in excess of 100 times and have shared the stage with acts ranging from Lynyrd Skynyrd, Montgomery Gentry, George Jones, Merle Haggard, and Brad Paisley to Alison Krauss, Tony Rice, Travis Tritt, Yonder Mountain Stringband, LeAnn Rimes and Patty Loveless.
Barry: Winner of 1997's Banjo Player of the Year award from the Society for the Preservation of Blue Grass Music in America, Barry began his musical career performing bluegrass gospel with Silver Creek, but first came to national attention as a member of one of the decade's hottest bluegrass bands, IIIrd Tyme Out. From 1994 to 1998, the Georgia-born banjo player/lead vocalist was a featured member of Doyle Lawson & Quicksilver, recording five albums with the award-winning ensemble before leaving to form Mountain Heart. Barry's heartfelt and earthy vocal tones are in perfect compliment to Josh's soaring tenor lines and his banjo playing defies logic, considering he was born with no fingers on his left hand. Barry's on-stage demeanor and his ability to relate with his audience is one of the cornerstones for Mountain Heart's exciting live performances. Wow.
Aaron Ramsey: At the age of 26 Aaron has been immersed in playing music for over half his life. Bass was his first instrument, but mandolin is his musical love. Aaron began playing mandolin at the age of 12 and by 13 was participating in his Dad's Gospel group, Damascus Road. Then, he won the MerleFest mandolin competition at the age of 17 in 2002. He was a founding member of The Linville Ridge Band, playing mandolin and guitar from 2002 through early 2006. In March of 2006, he became a member of Randy Kohrs' band, the Lites, playing bass. Later that year, he moved to the mandolin and recorded mandolin and bass on several cuts of Randy's two most recent recordings, I'm Torn and Old Photographs. As a member of the Lites, Aaron also got to contribute his mandolin playing to the 2006 IBMA Album of the Year, Celebration of Life: Musicians Against Childhood Cancer.
In the fall of 2007, Aaron was called on to fill-in for Adam Steffey with Mountain Heart. Later, Barry Abernathy said given the short notice, he could not have asked for Aaron's playing to have been any better. Barry was impressed. In December of 2007 Aaron followed Josh Shilling's lead, from earlier that year, as he played his first official gig with Mountain Heart, on the stage of the Ryman Auditorium.
His voice is so deep, surprising for his frame but we loved the song he sang 'Little Sadie'.
Josh Shilling: Lead vocal, piano and guitar. Now based in Nashville, Josh boasts an impressive combination of experience and musicianship belying his youth. Only twenty six, he joined the band in 2007, his robust vocals, evolving signature piano stylings and nimble guitar work enhance the group's rich acoustic sound. Half way through the bands set the band did a few numbers with Big Poppa Stampley and his voice really showed a mix of range, later on in the set, he sang and played Superstition by Stevie Wonder and it was truly awesome, next he sang It's Just The Way It Is by Bruce Hornsby and the Range and the crowd loved it.
Jim VanCleve: has got to be one of the world's best fiddlers. At thirty four he has performed, as one of the most in-demand top-call session musicians in Nashville. He has played for Willie Nelson, Jonny Cash, Dolly Parton, Emmylou Harris and many, many more. His solo album "No Apologies" in 2006 earned him a Grammy nomination and IBMA Fiddle Player of the Year.
Jason Moore: Bass player. He has a truly infectious and ferocious bass line and is the anchor of the band. He played a funny looking electric bass that looked like a skinny guitar rather than a full sized instrument. So it was rather novel to see him cavorting around the stage instead of being rooted to the spot.
Jake Stargel: Guitar, hit his strings so hard he shredded a few. Unbelievably he is only twenty and the newest member of the group. He first came to national attention five years ago playing with the Lovell Sisters, the The Greencards. His guitar solos really rocked.
The individual members of the band had overwhelming talent, but together they made for a really special sound and so versatile tripping through many different genres. We will certainly look out for them as we meander up the East Coast. As soon as they had finished on stage they were at the top of the hill by the refreshments chatting to anyone who wanted to meet them. I wandered over to look at the CD's for sale and yapped to Barry for a while, he asked that we email and let the boys know where we were on Beez Neez and how we were getting along. Charming, simply charming and so friendly and approachable.
Bear bought this cd for Sarah as a 'thank you' and me. Barry signed it - and I was made up
ALL IN ALL I COULD EASILY BECOME A BLUE GRASSER
NEW TO ME AND A LOT OF FUN
---