Ketawai Bimble

Beez Neez now Chy Whella
Big Bear and Pepe Millard
Sun 23 Oct 2016 22:47
A Walk Around Ketawai Island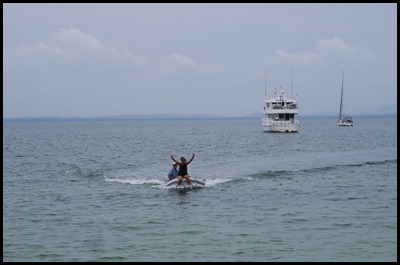 About half the boats left early this morning, the rest of us met on the beach at half past ten to walk around the island of Ketawai, eat lunch and then this afternoon we would be privileged to release four month old baby turtles. Ian and Melian (Indian Summer) arrive in style.
We didn't get too far before we had to pose with weekend visitors.
Then with police and officials.
Children playing.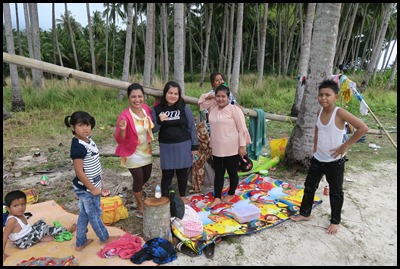 Happy weekend campers.
Baby and little girl...........
Some of the army of helpers brought over from Bangka to look after us – including a doctor in a fully equipped tent. I got my own back on this handsome youngster, he took my picture so I took his. We manage to leave the "fotto, fotto", "mister, mister", "selfie, selfie" hordes, and carry on with our bimble.
A local boat coming in with Beez Neez in the background.
Bear falls in as he cocks his leg over a tree stump and gets snared in a fishing net. He is threatened with severe pain if he falls with Melian's phone when he takes this picture of Me, Melian and Karel (Tehani-Li).
The merry group chats as we bimble. A local fisherman tries his luck in the shallows.
Islands we will zig zag through on the morrow.
Caribbean memories. Looking forward and behind – we have gathered some children.
We get to a dead end and divert into the forest. Loads of butterflies, red centipedes and snails.
We have to tramp through undergrowth, cassava, papaya and un even floor scattered with coconut husk – poor Karel has bare feet but we follow our little guide. Dr Livingstone moments or what ???.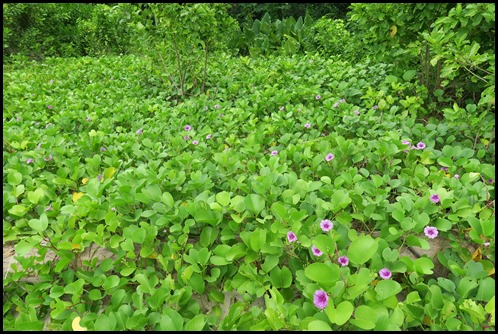 After half an hour we walk through pretty, creeping weeds back out onto the beach.
Natural born posers.
A great finale, Baby Beez rope was caught under Restless M's dinghy, Bear pulled and went flying.......
The kids play on and in Baby Beez and suddenly the sky darkened.........
The flat, calm sea became messy in a sharp, heavy squall.
We stood on the beach to watch our girls. Robbie (left) watched with us.
This was seen as a golden opportunity.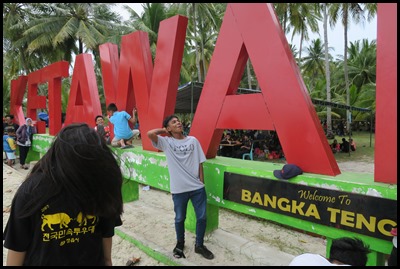 I caught this lovely lad my turn to say again, again.
All settled we went for lunch.
After lunch we released our pair of turtles. Good Luck Little Ones.
We go back to Beez for a game or two. As we were getting back in to Baby Beez to go in for supper I do something new......I throw Bear's Crocs in and one bounces out and sets off.........
Everyone has gone home, the place is deserted save for the group looking after us.
I present our ensign on behalf of the northern hemisphere and Karel presents hers for the southern. The Tourism Minister for Bangka and District accepts ours and Robbie accepts from Karel. We settle to a delicious supper left by the cooks, free beer and water. Another memorable day – we will all be sad to leave in the morning.
ALL IN ALL NOT A SPECK OF RUBBISH ON THIS PRETTY LITTLE ISLAND
GREAT TO SEE A WEEKEND ISLAND BEING ENJOYED BY THE LOCALS
---