Jack's Blowhole

Beez Neez
Skipper and First Mate Millard (Big Bear and Pepe)
Thu 31 Jul 2014 22:57
After our unscheduled stop at Cannibal Bay we followed the Wicked Witch's instructions along the gravel road and over the Catlins River.
Soon we saw Jack's Bay. xx xx
You-know-who got a fit of the giggles when he saw the sign to 'watch for children'. We are used to seeing kiwi, penguin, sheep, skid, snow, ice and all manner of other warnings. Well it just tickled me. Yes dear........
We did take care and drove the last bit very slowly. There is a small group of holiday homes near the beach which must be gorgeous mid summer. Not even a paddle from us, far too cold for that. In fact no one else here but us.
Not absolutely certain what Jack's Blowhole is, but twenty minutes seems a reasonable tramp to find out.
Later on we found out. Here is the Google map of the tramp.
The first bit took us on a gravel path past some interesting trees. Twenty minutes was a bit shy of the truth as it turned out and we did have to negotiate some very steep, wet, muddy bits. Why oh why didn't I have my welligogs on, no doubt and yet again, to keep them in pristine condition. Well they are rather smart aren't they. Yes dear.....
As with the bay and nearby island, Jacks Blowhole is named after the famed Ngāi Tahu chief, Tuhawaiki, known to early European settlers as Bloody Jack - apparently he was fond of using the expletive. After losing a battle with one of

Te Rauparaha

's scouting parties at

Cannibal Bay

, he was trapped with his men on False Island. Tuhawaiki escaped by leaping from the cliffs into the sea and swimming eight kilometres to Tuhawaiki Island.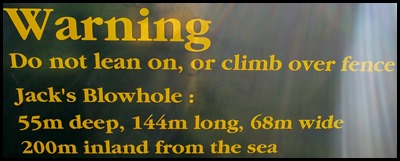 The blowhole is in Tunnel Rocks Scenic Reserve, it was formed when the roof of a large subterranean cave was eroded by the sea and fell in. This is an exposed coastline and heavy swells from the southern ocean can create an impressive display. The waves are compressed through the underground tunnel and explode into the blowhole.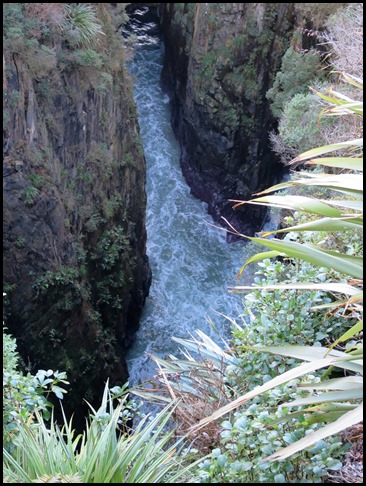 There was plenty of roaring sound effects from both the water and the onrush of air, created by the surge from the sea expelling the air from the tunnel. Apparently, the best time to be here is at high tide with an onshore wind, nonetheless we were glad to be here, if nothing else because it is called Jack. We waited on the viewing platform for half an hour or so and then made our way back to Mable.
Halfway back we stopped. The track ahead and behind us looking toward Jack's Blowhole.
There were lovely views from up here; the broad sweep of the coastline down to Penguin Bay to our right.
The amazing thing about New Zealand is how quickly views change.
Bearing left we could once again see Jack's Bay.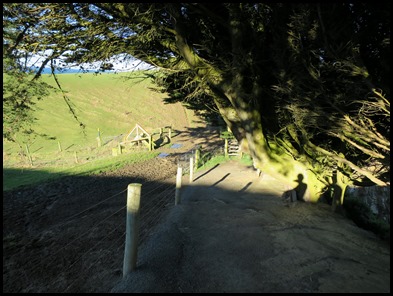 The route to the blowhole is marked by painted poles and a couple of stiles. That's the one that I got an ingress at....grrrrrr.
A rather handsome thistle.
Safely back to Mable ankles intact, we had our sandwiches with Jack's Bay.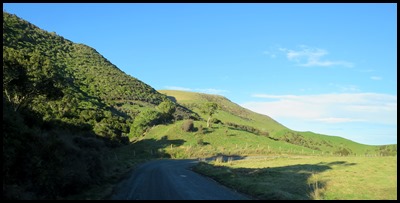 Back on our way.
Such greenness.
ALL IN ALL THE NOISE WAS GOOD
A BIT DISAPPOINTING BUT IT WAS VERY DEEP
---