To Wallys Leg

Beez Neez now Chy Whella
Big Bear and Pepe Millard
Tue 3 May 2011 22:44
En Route to Wallys Leg, Georgia, USA
It still amuses us to see a girl 'parked on a grass verge' - This morning was no different, just along from were we had anchored Beez on Amelia River was this girl tucked behind the main anchorage. We were up and ready to leave at eight thirty, we soon crossed the Cumberland Sound and in to Georgia, YEAH, our second State.
.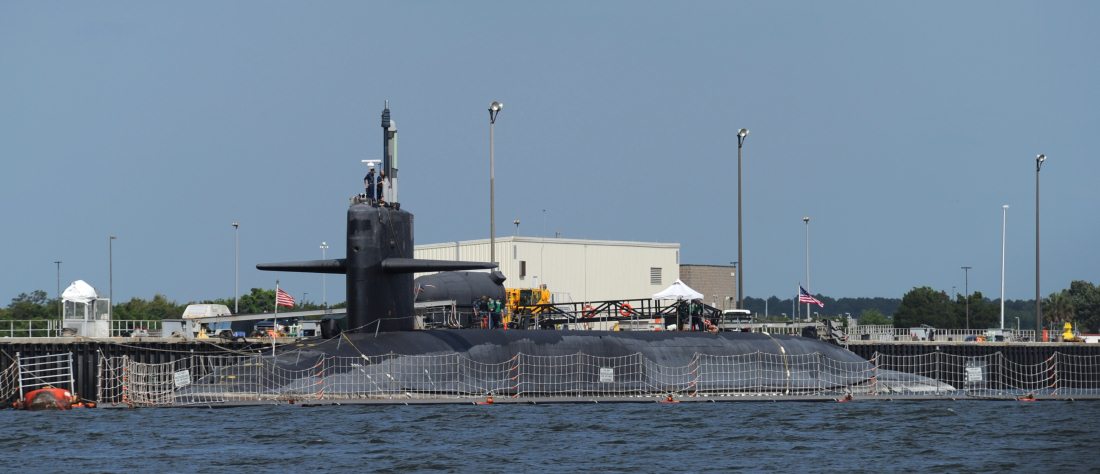 Our next 'deep bit' had us passing a small US Navy base, complete with submarine, security boat patrol and HOS girls Westwind and Black Powder.
Motor Vessel HOS Westwind is one of the eight Submarine and Special Warfare Support Vessels that are part of the 26 ships in Military Sealift Command's Special Mission Ships Program (that's quite a title). She has a civilian crew of 11 and is chartered. Her vital statistics are - length 250 feet, beam 54 feet, draft 14.7 feet, displacement 2,850 tons and her usual speed is 10 knots. As soon as we left the deep water of King's Bay Base we were back into wiggly, narrow and shallow water.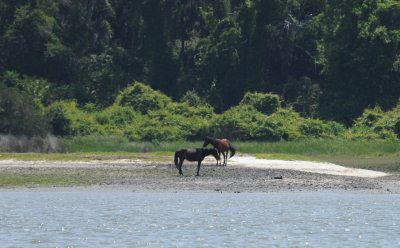 Quite odd to see a firing range marker, then the famous wild horses on Cumberland Island.
No sooner than we were past Jeckyll Marina and under the bridge, than it was really shallow. Beez doing her ice-breaker pattern in the mud, all was well though
The very deep St Simons Sound and later 'pick a route' - take the high bridge route then - up the Mackay River
All was
going good
as the skipper would say. Me at the wheel, as we left yet another skinny bit to head in to really deep water, St Simons Sound. I'm used to checking over my shoulder frequently to see what's slipping up our rear; whether we need to tuck over to one side to let a big motor cruiser come through, are we going to get bobbed by big wake, etc etc. "OH THAT'S A
VERY
BIG GIRL", not what I expected at all and bearing down on me at quite a lick. I was in the throes of crossing the deep, wide bit, rather like in a car crossing an A road whilst on a country drive. I was meeting the car carrier Mediterranean Highway. She belongs "K" LINE, short for
Kawasaki Kisen Kaisha, Ltd that
provides safe and speedy car transportation service. As early as 1970, Toyota Maru No. 10 was placed into service as Japan's first specialized car carrier, so-called PCC (Pure Car Carrier). Mediterranean Highway - IMO 9250220, Call Sign H9WT, her DWT 17228, she was built in 2002 and carries fully laden 6015 cars. Not the biggest lady in the fleet - that honour goes to Jasper Arrow capable of carrying 6678 cars. All bound for Portishead ???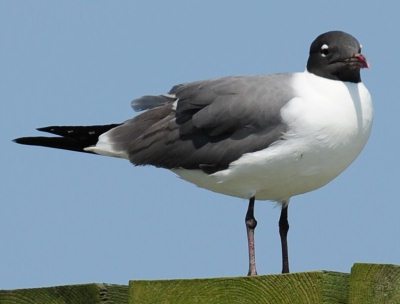 Meantime a fishing trawler passed by and dropped her fishing arms, all watched by this chap - whatever next
Shinko Building, 8 Kaigandori, Chuo-ku, Kobe 650-0024, Japan = "K" LINE Head Office and their girl
Passing us by and out to sea, quite a sight. Almost pleased to get to the shallow wiggly stuff
.
Glad to settle the girl at ten to six for an isolated evening
ALL IN ALL YET ANOTHER DAY OF HIGH ADVENTURE.
---